MAXQDA Manuals & Handbooks
The free MAXQDA Manuals assist you in providing detailed information on all functions of your QDA software.
If this is your first time working with MAXQDA you can get started very quickly with the help of our
Getting Started Guides.
---
MAXQDA User Manual
You can find detailed information about all MAXQDA features in the user manual
(PDF or online).
MAXQDA 12 User Manual (PDF)
MAXQDA 12 User Manual (Online)
The manual is relevant for:
---
MAXDictio Manual
MAXQDA Plus and MAXQDA Analytics Pro contain the dictionary and content analysis module MAXDictio. It makes it easy to explore the vocabulary used in a text as well as to find out the similarities or differences between the vocabulary of various texts.
MAXDictio Manual (PDF)
MAXDictio Manual (Online)
The manual is relevant for:
---
Stats Manual
MAXQDA Analytics Pro contains the stats module. Stats provides all the features to conduct quantitative analysis and statistical evaluations.
Stats Manual (PDF)
Stats Manual (Online)
The manual is relevant for: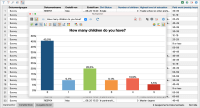 ---
Literature Management with MAXQDA
With MAXQDA, you can not only organize your literature and manage bibliographical data and excerpts, but you can actually treat everything as data! This unique combination allows you to automatically create lists of references for your own publications, as well as to analyze and visualize patterns in your literature by applying the whole range of qualitative, quantitative and Mixed Methods features that MAXQDA is famous for. The following guide will show you everything you need to know to work with bibliographical data in MAXQDA.
Literature Management with MAXQDA

The guide is relevant for:
---
Manuals for older versions of MAXQDA
---