MAXQDA Manuals & Handbooks
The free MAXQDA Manuals assist you in providing detailed information on all functions of your QDA software.
If this is your first time working with MAXQDA you can get started very quickly with the help of our
Getting Started Guides.
MAXQDA 12
Manual
Full user manual, offers detailed information about all MAXQDA features.
---
MAXDictio
Manual
Manual for quantitative text analysis module (MAXDictio). MAXDictio is included in MAXQDA Plus and MAXQDA Analytics Pro.
---
Stats
Manual
Manual for statistical data analysis module (Stats). Stats is included MAXQDA Analytics Pro.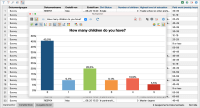 ---
Getting Started
Guides
Step-by-step instructions for new users. How to set up your software and start working on your first project in MAXQDA.
---
Literature
Reviews
Short guide that illustrates how to conduct a literature review in MAXQDA.
Manuals for older versions of MAXQDA
---
---