Make the most out of your literature review
Literature reviews are an important step in the data analysis journey of many research projects, but often it is a time-consuming and arduous affair. Whether you are reviewing literature for writing a meta-analysis or for the background section of your thesis, work with MAXQDA. Our product comes with many exciting features which make your literature review faster and easier than ever before. Whether you are a first-time researcher or an old pro, MAXQDA is your professional software solution with advanced tools for you and your team.
How to conduct a literature review with MAXQDA
Conducting a literature review with MAXQDA is easy because you can easily import bibliographic information and full texts. In addition, MAXQDA provides excellent tools to facilitate each phase of your literature review, such as notes, paraphrases, auto-coding, summaries, and tools to integrate your findings.
Step one: Plan your literature review
Similar to other research projects, one should carefully plan a literature review. Before getting started with searching and analyzing literature, carefully think about the purpose of your literature review and the questions you want to answer. This will help you to develop a search strategy which is needed to stay on top of things. A search strategy involves deciding on literature databases, search terms, and practical and methodological criteria for the selection of high-quality scientific literature.
MAXQDA supports you during this stage with memos and the newly developed Questions-Themes-Theories tool (QTT). Both are the ideal place to store your research questions and search parameters. Moreover, the Question-Themes-Theories tool is perfectly suited to support your literature review project because it provides a bridge between your MAXQDA project and your research report. It offers the perfect enviornment to bring together findings, record conclusions and develop theories.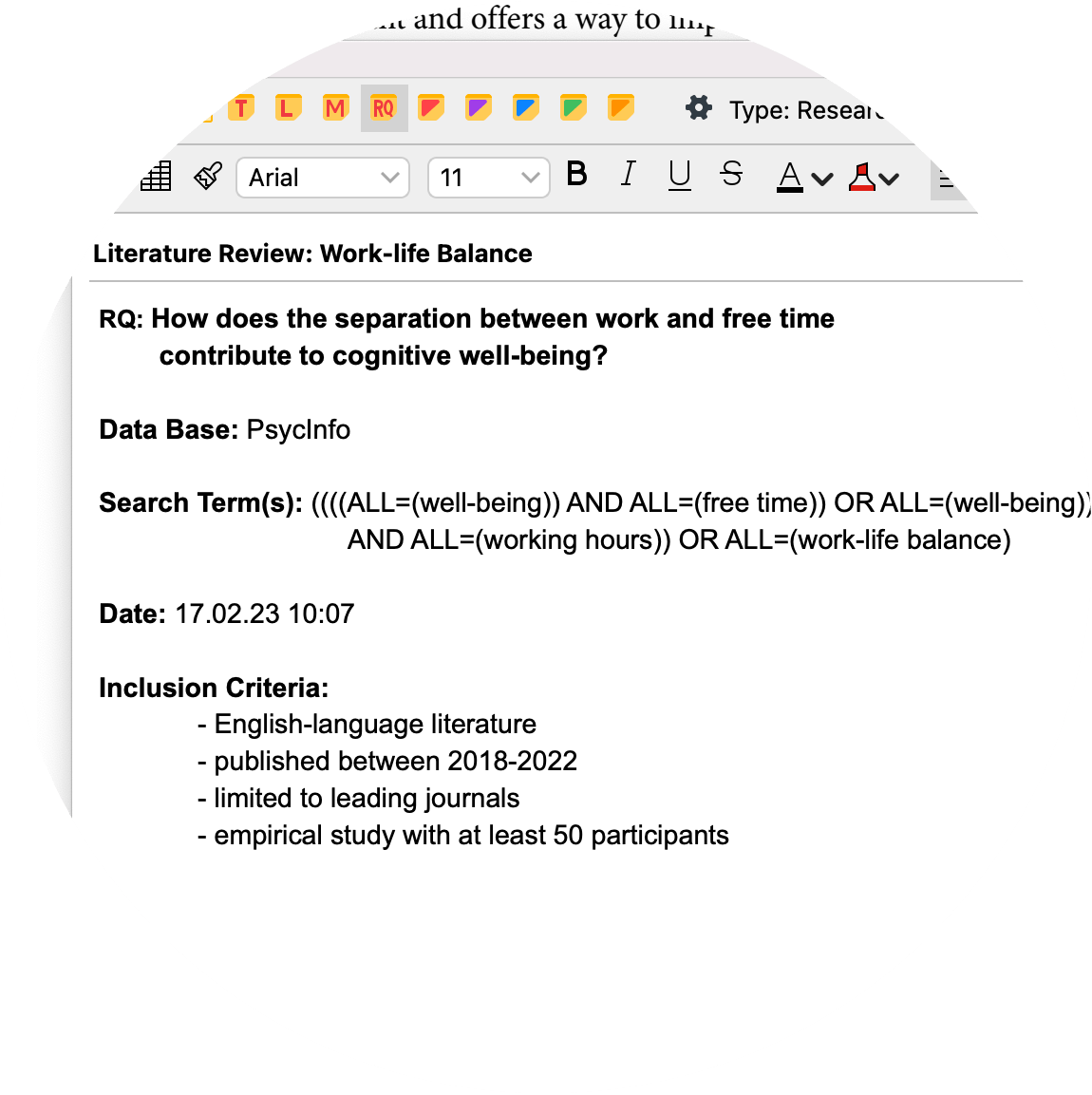 Step two: Search, Select, Save your material
Follow your search strategy. Use the databases and search terms you have identified to find the literature you need. Then, scan the search results for relevance by reading the title, abstract, or keywords. Try to determine whether the paper falls within the narrower area of the research question and whether it fulfills the objectives of the review. In addition, check whether the search results fulfill your pre-specified eligibility criteria. As this step typically requires precise reading rather than a quick scan, you might want to perform it in MAXQDA. If the piece of literature fulfills your criteria and context, you can save the bibliographic information using a reference management system which is a common approach among researchers as these programs automatically extract a paper's meta-data from the publishing website. You can easily import this bibliographic data into MAXQDA via a specialized import tool. MAXQDA is compatible with all reference management programs that are able to export their literature databases in RIS format which is a standard format for bibliographic information. This is the case with all mainstream literature management programs such as Citavi, DocEar, Endnote, JabRef, Mendeley, and Zotero.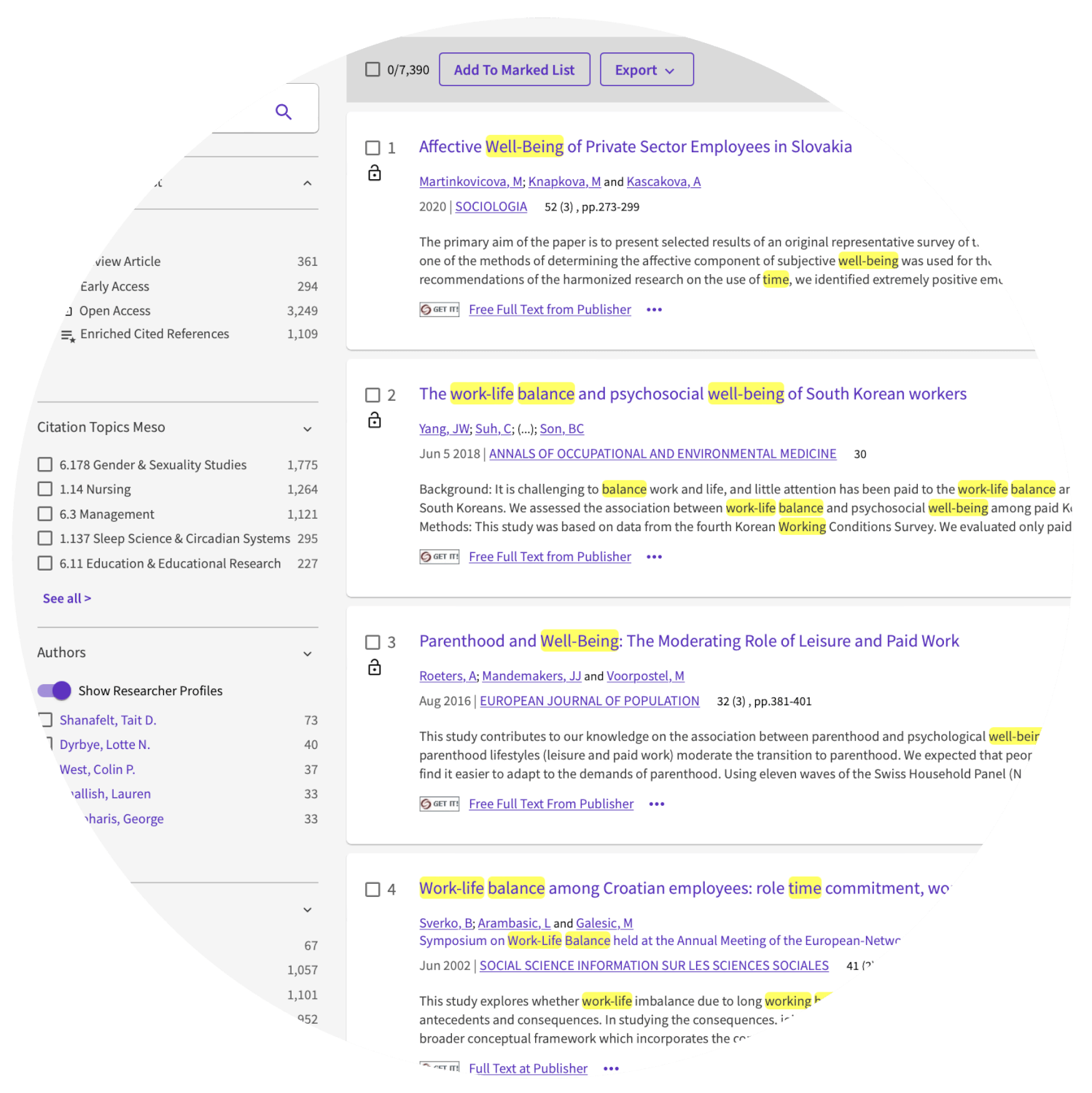 Step three: Import & Organize your material in MAXQDA
Importing bibliographic data into MAXQDA is easy and works seamlessly for all reference management programs that use the standard RIS files. MAXQDA offers an import option dedicated to bibliographic data which you can find in the MAXQDA Import tab. To import the selected literature, just click on the corresponding button, select the data you want to import, and click okay. Upon import, each literature entry becomes its own text document. If full texts are imported, MAXQDA automatically connects the full text to the literature entry with an internal link. The individual information in the literature entries is automatically coded for later analysis so that, for example, all titles or abstracts can be compiled and searched. To help you keeping your literature (review) organized, MAXQDA automatically creates a document group called "References" which contains the individual literature entries. Like full texts or interview documents, the bibliographic entries can be searched, coded, linked, edited, and you can add memos for further qualitative and quantitative content analysis (Kuckartz & Rädiker, 2019). Especially, when running multiple searches using different databases or search terms, you should carefully document your approach. Besides being a great place to store the respective search parameters, memos are perfectly suited to capture your ideas while reviewing our literature and can be attached to text segments, documents, document groups, and much more.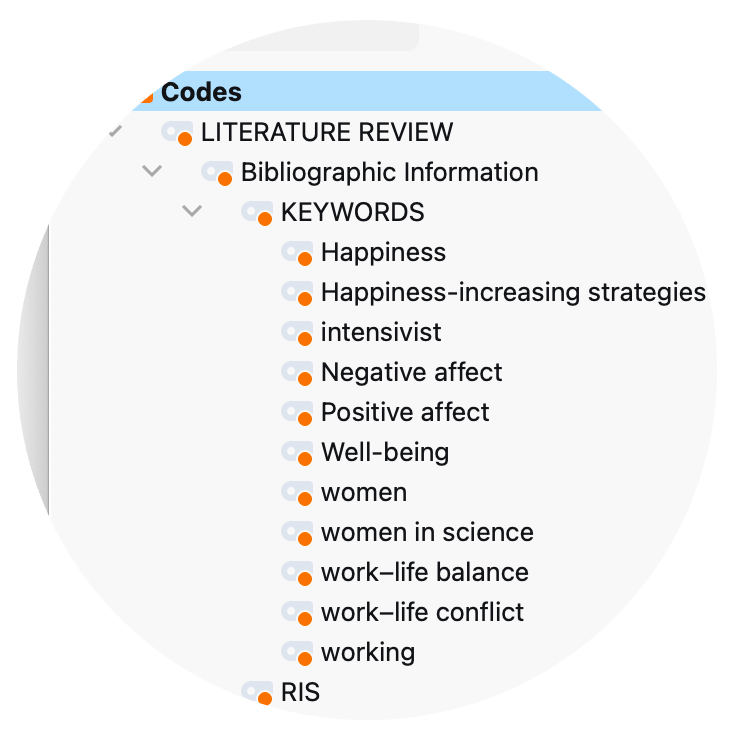 Analyze your literature with MAXQDA
Once imported into MAXQDA, you can explore your material using a variety of tools and functions. With MAXQDA as your literature review & analysis software, you have numerous possibilities for analyzing your literature and writing your literature review – impossible to mention all. Thus, we can present only a subset of tools here. Check out our literature about performing literature reviews with MAXQDA to discover more possibilities.
Code & Retrieve important segments
Coding qualitative data lies at the heart of many qualitative data analysis approaches and can be useful for literature reviews as well. Coding refers to the process of labeling segments of your material. For example, you may want to code definitions of certain terms, pro and con arguments, how a specific method is used, and so on. In a later step, MAXQDA allows you to compile all text segments coded with one (or more) codes of interest from one or more papers, so that you can for example compare definitions across papers.
But there is more. MAXQDA offers multiple ways of coding, such as in-vivo coding, highlighters, emoticodes, Creative Coding, or the Smart Coding Tool. The compiled segments can be enriched with variables and the segment's context accessed with just one click. MAXQDA's Text Search & Autocode tool is especially well-suited for a literature review, as it allows one to explore large amounts of text without reading or coding them first. Automatically search for keywords (or dictionaries of keywords), such as important concepts for your literature review, and automatically code them with just a few clicks.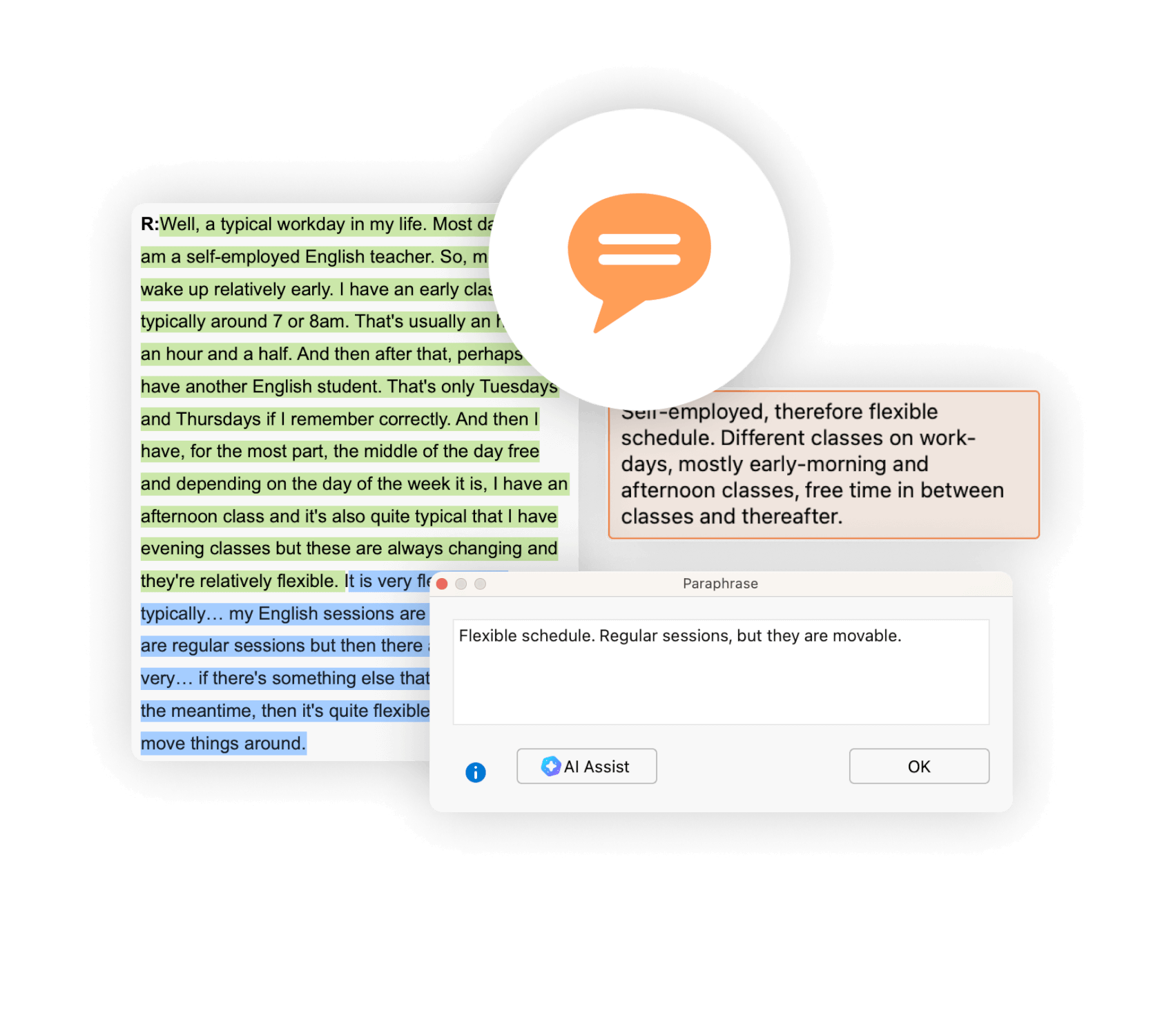 Paraphrase literature into your own words
Another approach is to paraphrase the existing literature. A paraphrase is a restatement of a text or passage in your own words, while retaining the meaning and the main ideas of the original. Paraphrasing can be especially helpful in the context of literature reviews, because paraphrases force you to systematically summarize the most important statements (and only the most important statements) which can help to stay on top of things.
With MAXQDA as your literature review software, you not only have a tool for paraphrasing literature but also tools to analyze the paraphrases you have written. For example, the Categorize Paraphrases tool (allows you to code your parpahrases) or the Paraphrases Matrix (allows you to compare paraphrases side-by-side between individual documents or groups of documents.)
Summaries & Overview tables: A look at the Bigger Picture
When conducting a literature review you can easily get lost. But with MAXQDA as your literature review software, you will never lose track of the bigger picture. Among other tools, MAXQDA's overview and summary tables are especially useful for aggregating your literature review results. MAXQDA offers overview tables for almost everything, codes, memos, coded segments, links, and so on. With MAXQDA literature review tools you can create compressed summaries of sources that can be effectively compared and represented, and with just one click you can easily export your overview and summary tables and integrate them into your literature review report.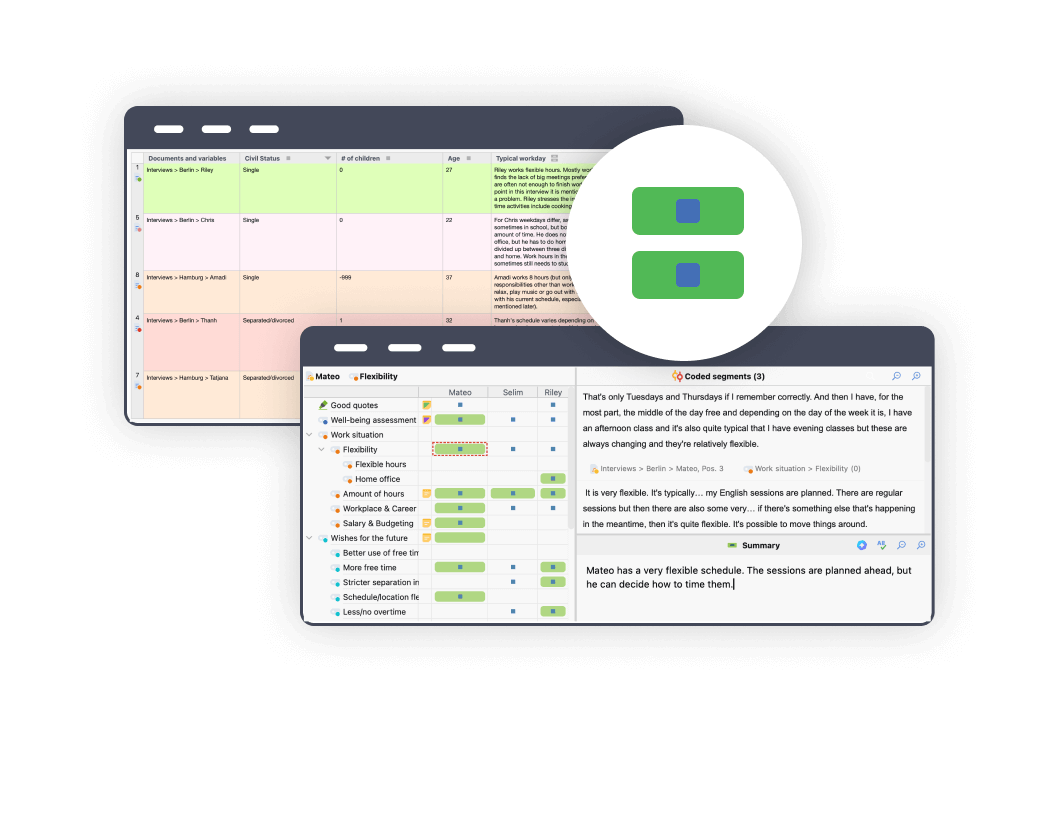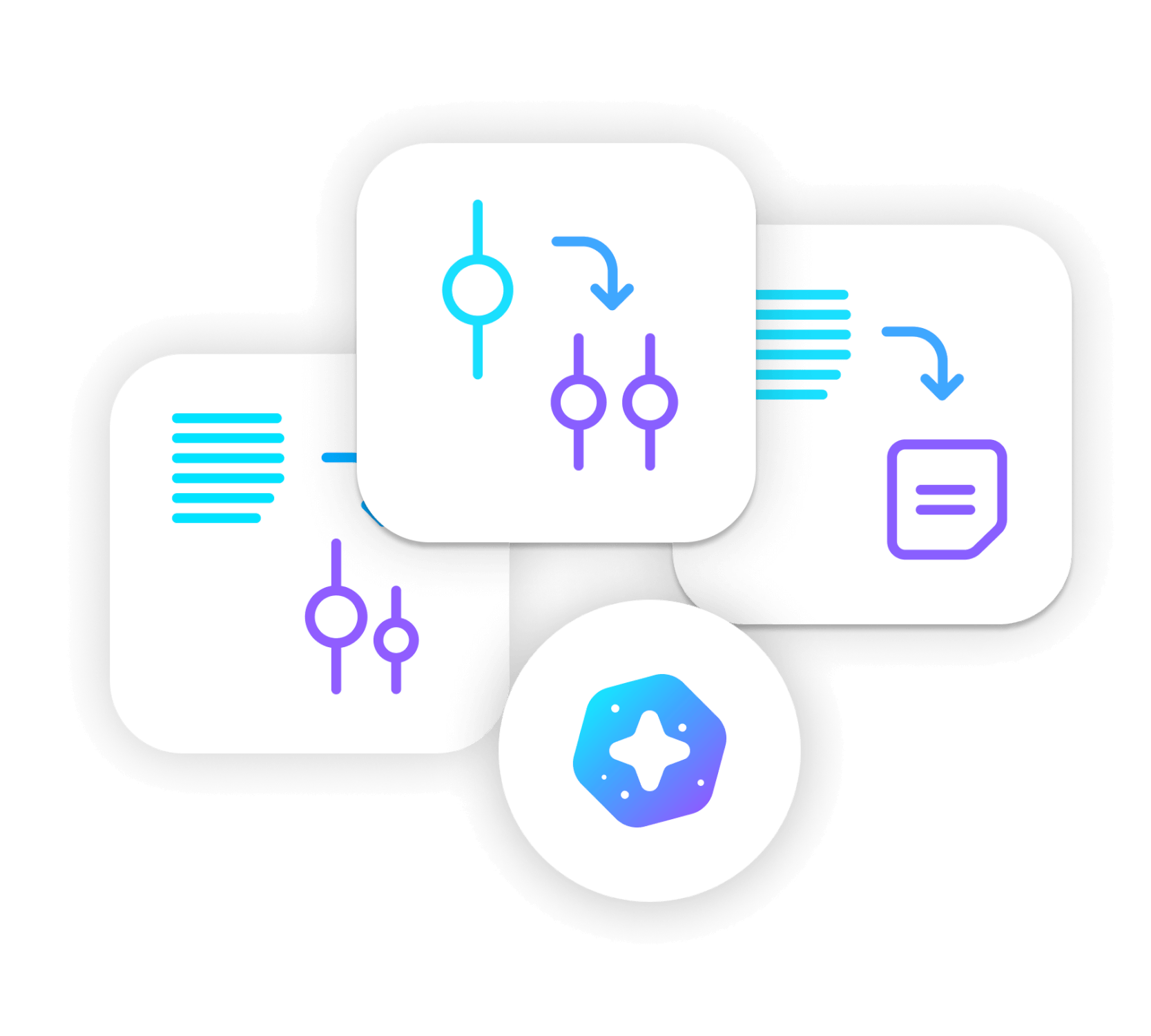 AI Assist: Introducing AI to literature reviews
AI Assist – MAXQDA's Ai-based add-on module – can simplify your literature reviews in many ways. Let AI Assist automatically summarize or paraphrase text segments. Automatically create summaries of all coded segments of a code or generate suggestions for subcodes. Visit our research guide for even more ideas on how AI can support your literature review: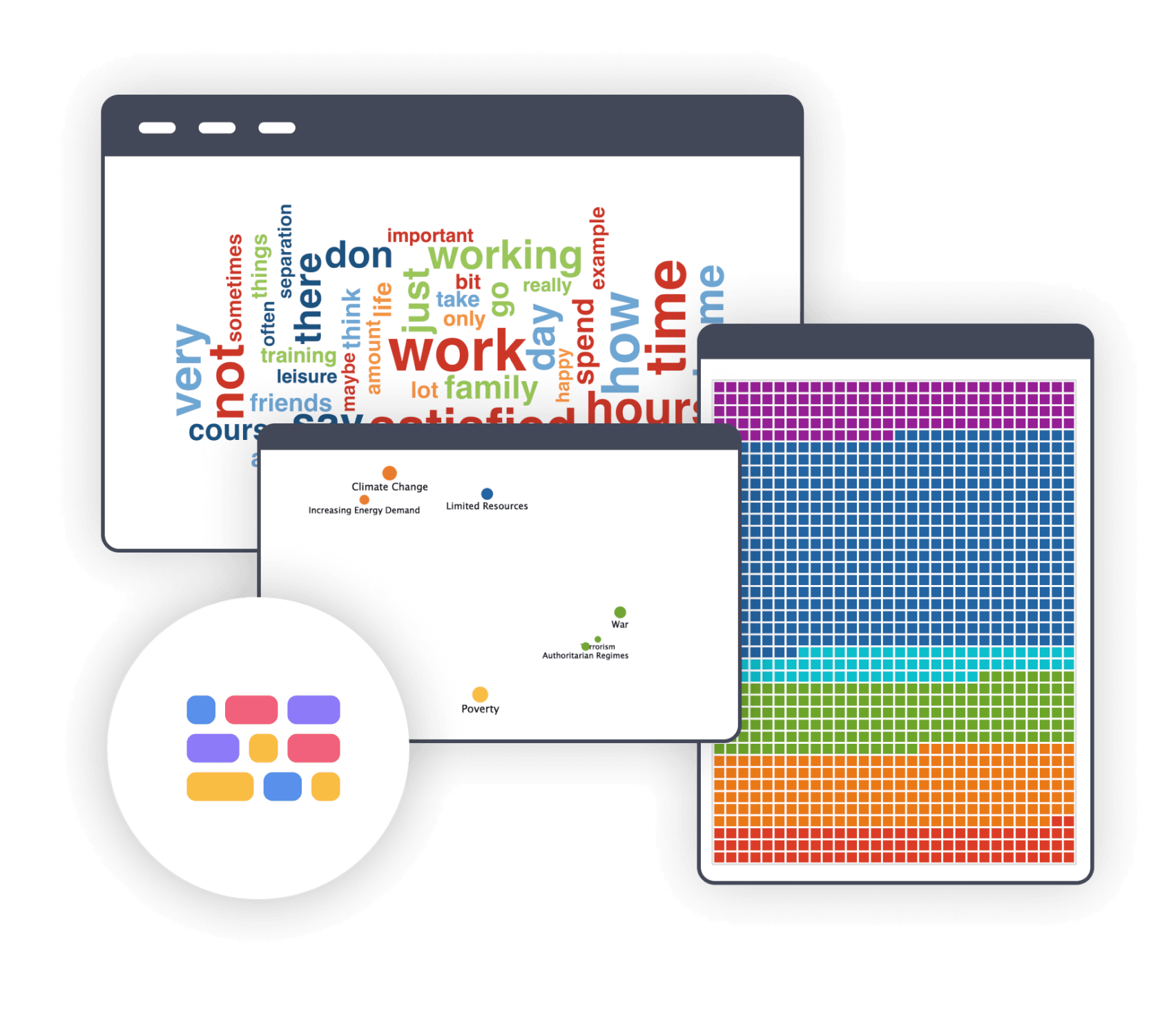 Visualize your qualitative data
The proverb "a picture is worth a thousand words" also applies to literature reviews. That is why MAXQDA offers a variety of Visual Tools that allow you to get a quick overview of the data, and help you to identify patterns. Of course, you can export your visualizations in various formats to enrich your final report. One particularly useful visual tool for literature reviews is the Word Cloud. It visualizes the most frequent words and allows you to explore key terms and the central themes of one or more papers. Thanks to the interactive connection between your visualizations with your MAXQDA data, you will never lose sight of the big picture. Another particularly useful tool is MAXQDA's word/code frequency tool with which you can analyze and visualize the frequencies of words or codes in one or more documents. As with Word Clouds, nonsensical words can be added to the stop list and excluded from the analysis.
QTT: Synthesize your results and write up the review
MAXQDA has an innovative workspace to gather important visualization, notes, segments, and other analytics results. The perfect tool to organize your thoughts and data. Create a separate worksheet for your topics and research questions, fill it with associated analysis elements from MAXQDA, and add your conclusions, theories, and insights as you go. For example, you can add Word Clouds, important coded segments, and your literature summaries and write down your insights. Subsequently, you can view all analysis elements and insights to write your final conclusion. The Questions-Themes-Theories tool is perfectly suited to help you finalize your literature review reports. With just one click you can export your worksheet and use it as a starting point for your literature review report.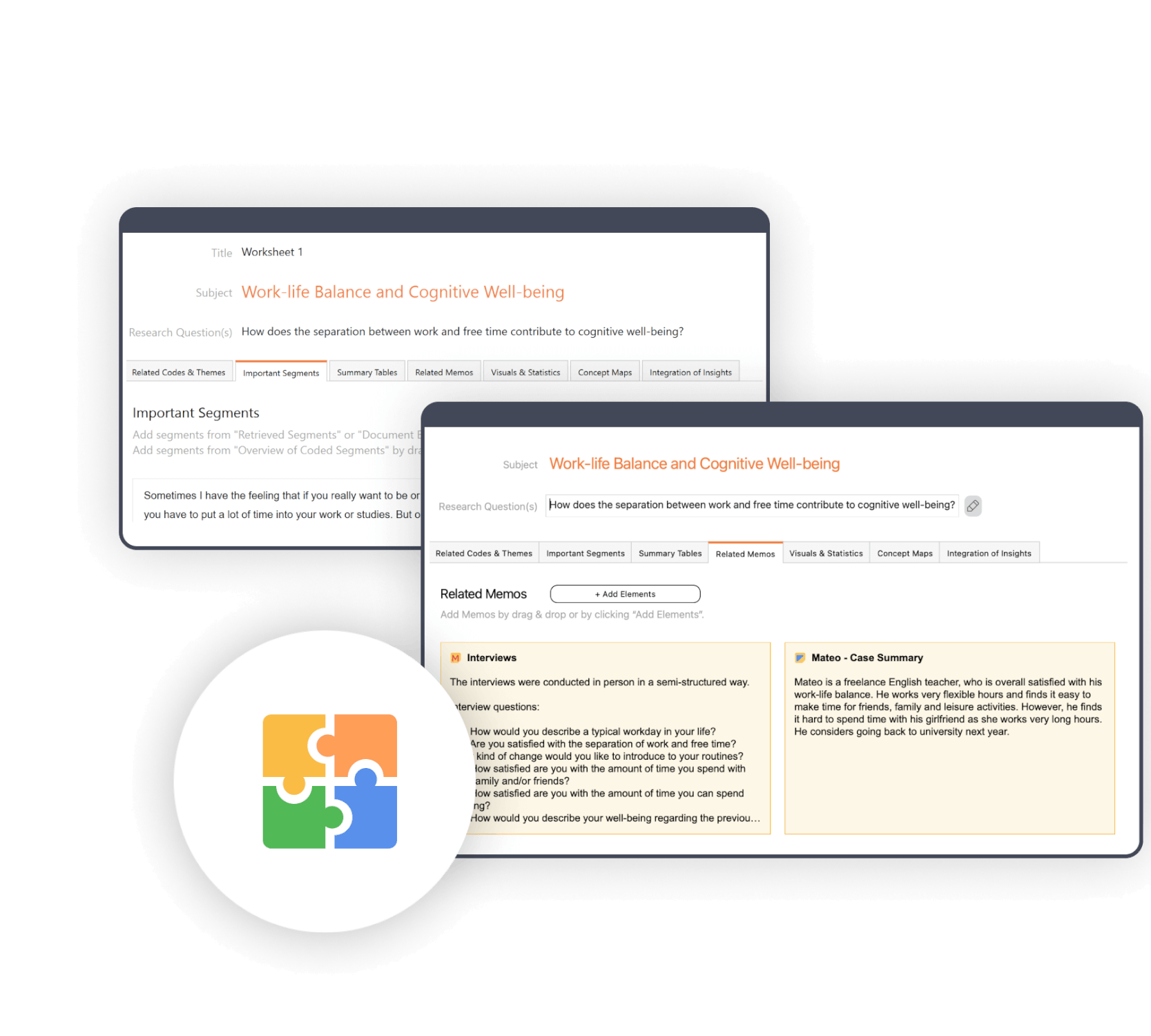 Literature about Literature Reviews and Analysis
We offer a variety of free learning materials to help you get started with your literature review. Check out our Getting Started Guide to get a quick overview of MAXQDA and step-by-step instructions on setting up your software and creating your first project with your brand new QDA software. In addition, the free Literature Reviews Guide explains how to conduct a literature review with MAXQDA in more detail.