If team members work on the same data, but in separate project files, they can use Teamwork export and Teamwork Import to transfer codes, memos and variables from one project to another. It is necessary, however, that the body of data for which these elements are exchanged are identical, which means team members should not go into edit mode and change the content of text documents.
Teamwork Export
You can export all codings, memos, and variables of a document, an entire document group, or all documents by right-clicking on the desired document group or document in the Document System and clicking on Export teamwork. A teamwork exchange file (.mex) is created and can be saved to a chosen spot. This export file can now be transferred to others in the team (e.g. by E-mail) who want to import your work into their project.
Tipp: If your team member does not have the same document(s) in their project yet, also export the document using the export icon in the document browser toolbar and send it along as a .rtf document. Your team member can then first import your document and in a second step import your codes, memos etc with the help of the MAXQDA exchange file (.mex).
Teamwork Import
To import a team members work into your project, right-click on the document or document group that you have both been worked on, choose Import teamwork and select the appropriate .mex file for import.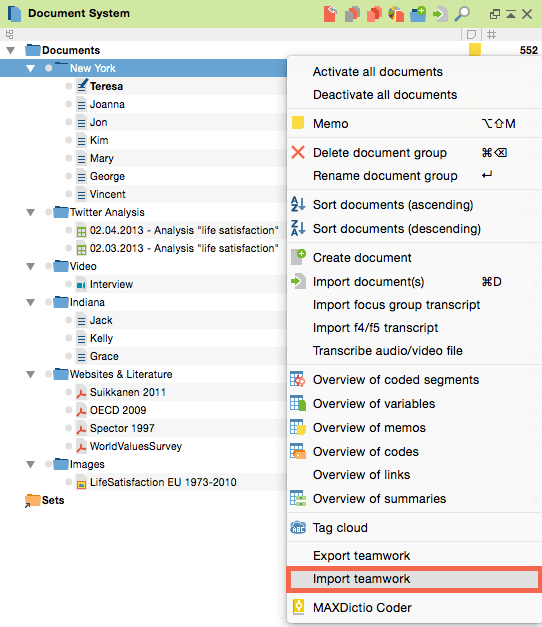 In the import window you can now choose which parts of the document material you would like to import. You can choose variables, codings, and memos, etc. At the top make sure that source and target files are selected correctly. MAXQDA presents a list of correspondences, according to document names, that may be modified by the user. Double-clicking the name of the target files opens a list where you can choose between all the document names of the selected document group.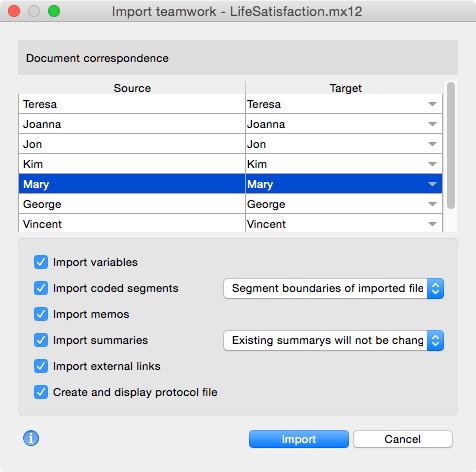 You can choose which exported data elements should be integrated into which target documents (this may be important in case you have identically named documents in your project file). The default setting imports all elements. In order to be in control of the import procedures, it is recommended that you create a protocol file. This keeps track of which documents has been imported with which codings, memos, and variables. Codings will be listed with codes and subcodes, as well as paragraphs.
Comparison of codings by different team members
At the very beginning of a project it might be helpful to start coding the data individually and then to compare and discuss coding strategies with your other team members. This can be facilitated with the teamwork export and import, if every team member create a main code with his/her name in the code system and arranges all the codes they create and use as subcodes of this main code.
It could be helpful if each person uses his/her own code color. In this way it will be possible to compare the different codings after the import of a team member's work. In the Code System window, there will be an additional main code tag with the name of your team member. All codings created by one team member have their own color so it is very easy to distinguish where there have been differences or consensus during the coding process. Usually this is a very good way to start discussing the coding of the material with your team members.