The Document Comparison Chart allows you to compare the codes used in each document. Open the function by clicking on the

icon in the MAXQDA toolbar or navigate to Visual tools > Document Comparison Chart.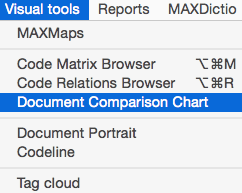 If you have activated codes or documents, you will be asked if you want to take into account only those. To include all documents and codes instead, click No. The chart will appear.
The documents are displayed on the y-axis, the paragraph numbers are on the x-axis. The colors correspond to the assigned colors in the Code System. In the example, pink represents the code Emotions, turquios represents the code Significantly Positive and purple represents the code Religion and Spirituality. You can see, that all these three codes have been assigned to the 21st paragraph of the document Grace.