Should you use the transcription software f4 (Windows) or f5 (Mac) to transcribe your audio or video material, you can import the transcripts into MAXQDA and link transcripts and media files to each other in MAXQDA, too. You just need to set up f4/f5 to create the transcripts with timestamps that MAXQDA is able to interprete.
It is very important to choose the option Insert timestamp at the end of each paragraph in f4/f5, as MAXQDA can only recognize time stamps that are at the end of a paragraph.

Export your transcript from f4/f5 as RTF file with time stamps. If you open the document afterwards you can see the time stamps in the text.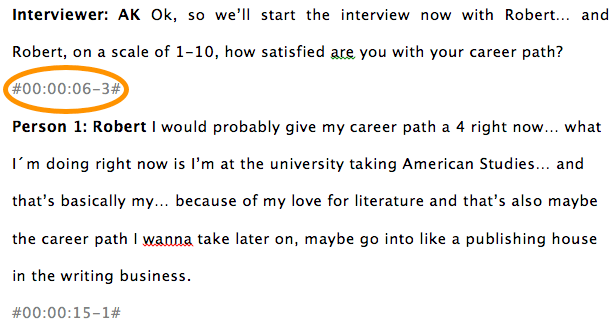 Import transcript into MAXQDA and link to media file
Open MAXQDA and import your f4/f5 file into the Document Browser via Documents > Import f4/f5 transcript.
MAXQDA automatically identifies the document as a transcript with time stamps and will immediately ask you to select the corresponding multimedia file, so it can be linked to the transcript. Just click on the media file and confirm with Open.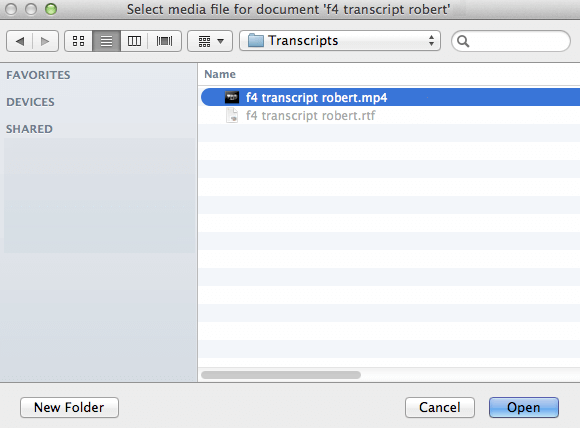 If you do not want to link to the media file, just click Cancel. Your document will still be imported into MAXQDA but not be linked to the corresponding media file. It is not possible to add the media file later, when the transcript is already imported into MAXQDA, the connection has to be made during the import process.