The Quote Matrix is based on the same idea as the Crosstabs function, i.e. to create a joint display of themes and quantitative variables. The Quote Matrix does this on a more detailed, non-aggregated level. Here the coded segments themselves are listed in the cells of the matrix, not only the number of coded segments for that particular cell. In the example below, we can see a comparison about what married and single people said about certain themes.
Code

Family status = married

Family status = single

emotions

Happiness does not remind me of one event. It makes me think of my life.  Even though there are bad times, overall I am very happy with the way I turned out as a human being and I like were my life is headed.

New York/Joanna: 34 – 35 (100)

Sadness reminds me of the death of my grandmother (Dec. 90′) and my grandfather (June 96′). Their deaths effected my life greatly.They were like my second parents. These two times were definately the worst times of my life

New York/GINA: 12 – 12 (100)

I feel as if I am very healthy and I know that I have a firm background on what being healthy means because of my interest in Nutrition and Exercise. I always to try to eat better and make the right choices and exercise on a regular basis. I really think that those two components contribute highly to health. But, health also means emotionally, mentally and even spiritually. I feel like my spiritual life really contributes to the rest of my health because I take care of my body because God tells us to in the Bible and everything else falls into place.

New York/Milly: 11 – 11 (100)

 

education

My career now is college. I am graduating this weekend from my Community Health Undergraduate program at Hofstra University. I am continuing my undergraduate studies at CW Post in the fall to get a BS in nutrition. Getting my RD is my major career choice. My satisfaction level on my career is only a 7 because I am not looking forward to going back to undergrad college but it is the only way I can achieve a license.

New York/GINA: 17 – 17 (100)

 

Overall I am pretty happy with my mental, social and physical health. I would like to improve my dedication to working out. I am the type of person who will work out 5 times a week for a month staight and then is slowly turns into less days a week until it is none. I get distracted by school work, my job or just being tired.

New York/Silvia: 42 – 42 (100)

My major is Dietetics and I am planning on working with children at either a center or a Children's Hospital and do meal plan counseling for children that need special diets because of sickness, or whatever the case may be.

I know that will not be happy in my occupation unless I work with children. I have a heart for kids and I found this out by working a summer camp for kids for the past 2 summers.

I started taking a Nutrition class last year and decided that it interested me and found out what kind of jobs that I could get involved with by talking with my counselor and it all worked out great.

(…)

New York/Vincent: 12 – 12 (100)

 
MAXQDA creates a table that shows the same coded segments that would be numerically listed in the Crosstab, but here they are displayed as text. In theory, it would be possible for you to create a Quote Matrix on your own by doing retrievals in MAXQDA for each group and copying them from the "Retrieved Segments" window into a table in Word, but the resulting table would contain only the segments themselves and no source data.
To create a Quote Matrix, proceed as follows:
First, activate the codes you wish to include in the Quote Matrix.

From the main menu, select Mixed Methods > Quote Matrix. The following dialog window will open, in which you can define the columns of the matrix: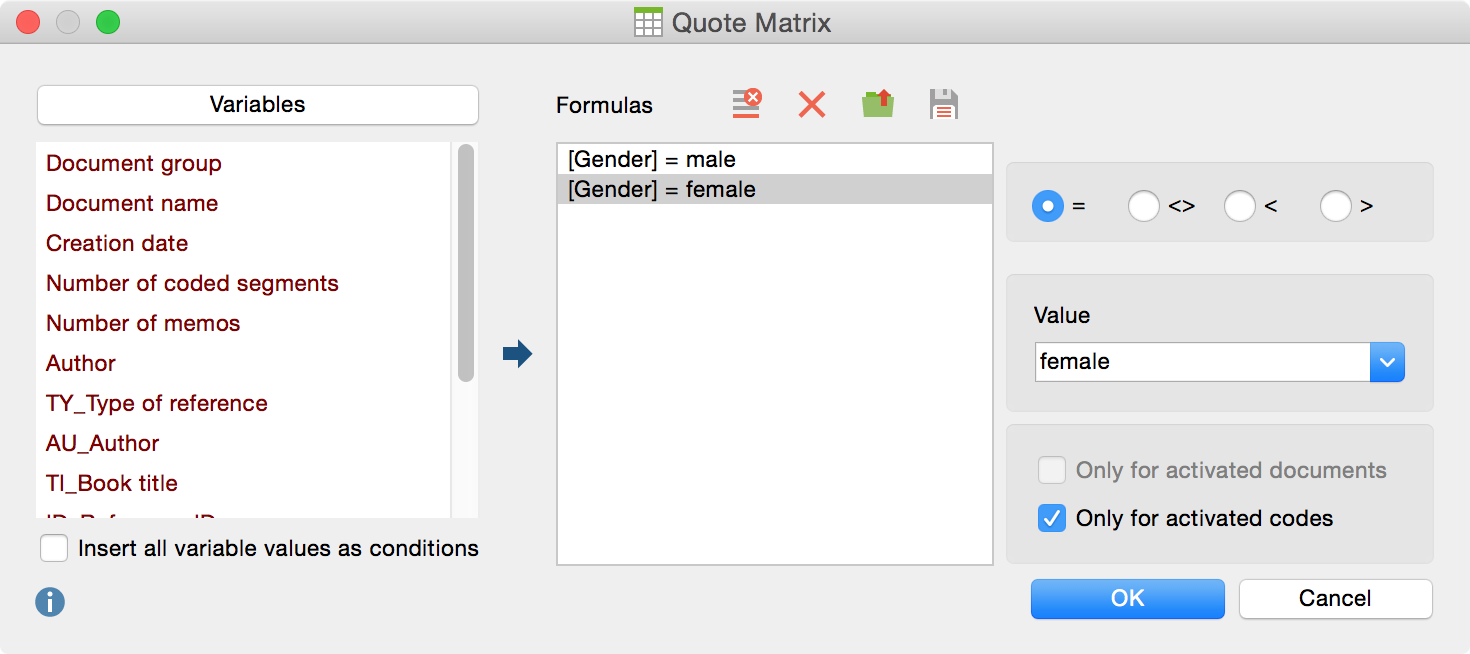 When you click OK, a dialog window will open in which you can create a file name and select the location where the Quote Matrix will be saved. The matrix can be saved as an Excel, HTML or RTF file. For a matrix with many columns, Excel format is recommended, for a matrix with few columns, RTF format is recommended. The file will open automatically upon export.
Tip: You can also generate a Quote Matrix directly from the Code Matrix Browser or Code Relations Browser or Crosstab by clicking the Quote Matrix symbol.