Literature about MAXQDA: books, PDFs and publications
The overview of books and MAXQDA literature on qualitative data analysis and evaluation compiled on this page offers you practical knowledge on working techniques when using MAXQDA, as well as on the methodical embedding of your analysis. You can also benefit from free download offers. In addition, the free MAXQDA Manual explains all functions of MAXQDA in detail.
You can also find more free literature on MAXQDA Press, the book publishing house of MAXQDA!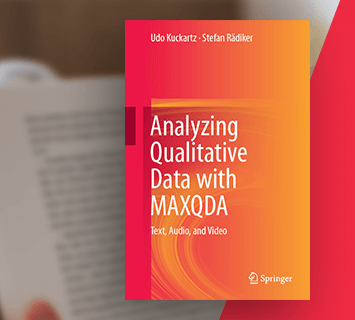 Analyzing Qualitative Data with MAXQDA
Text, Audio, and Video
Prof. Udo Kuckartz and Dr. Stefan Rädiker. Springer International Publishing, 2019.
How to analyze qualitative and mixed method data with MAXQDA
This book presents strategies for analyzing qualitative and mixed methods data with MAXQDA software, and provides guidance on implementing a variety of research methods and approaches, e.g. grounded theory, discourse analysis and qualitative content analysis, using the software. In addition, it explains specific topics, such as transcription, building a coding frame, visualization, analysis of videos, concept maps, group comparisons and the creation of literature reviews. The book is intended for masters and PhD students as well as researchers and practitioners dealing with qualitative data in various disciplines, including the educational and social sciences, psychology, public health, business or economics.
Content
Introduction: Analyzing Qualitative Data with Software
Getting to know the Interface of MAXQDA
Setting up a Project and Importing Data
Transcribing Audi and Video Recordings
Exploring the Data
Coding Text and PDF Files
Coding Video Data, Audio Data, and Images
Building a Coding Frame
Working with Coded Segments and Memos
Adding Variables and Quantifying Codes
Working with Paraphrases and Summaries, Creating Case Overviews
Comparing Cases and Groups, Discovering Interrelations, Using Visualizations
Analyzing Mixed Methods Data
Working with Bibliographic Information and Creating Literature Reviews
Analyzing Focus Group Data
Analyzing (Online) Survey Data with Closed and Open-Ended Questions
MAXMaps: Creating Infographics and Concept Maps
Collaborating in Teams
Analyzing Intercoder Agreement
Documenting and Archiving the Research Process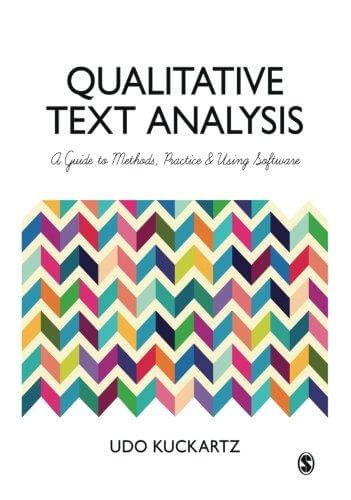 Qualitative Text Analysis. A Guide to Methods, Practice and Using Software.
Udo Kuckartz. Sage Publications, London. 2014.
How can you analyse narratives, interviews, field notes, or focus group data?
Qualitative text analysis is ideal for these types of data and this textbook provides a hands-on introduction to the method and its theoretical underpinnings. It offers step-by-step instructions for implementing the three principal types of qualitative text analysis: thematic, evaluative, and type-building. Special attention is paid to how to present your results and use qualitative data analysis software packages, which are highly recommended for use in combination with qualitative text analysis since they allow for fast, reliable, and more accurate analysis. The book shows in detail how to use software, from transcribing the verbal data to presenting and visualizing the results.
Content
Analyzing Qualitative Data – But How?
The Building Blocks of Systematic Qualitative Text Analysis
Basic Concepts and Process of Qualitative Text Analysis
Three Basic Methods of Qualitative Text Analysis
Qualitative Text Analysis Using Computer Assistance
Quality Standards, Research Report and Documentation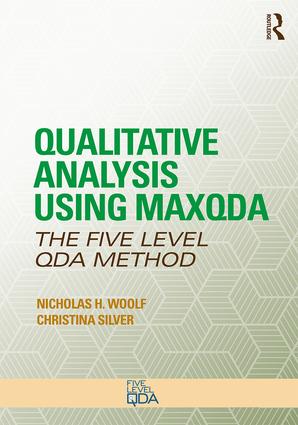 Qualitative Analysis Using MAXQDA. The Five Level QDA Method
Nicholas H. Woolf, Christina Silver. Routledge. 2018.
This book provides both an in-depth description of how MAXQDA works and comprehensive instruction in the five steps of the Five-Level QDA method. These steps are illustrated with examples from a variety of research projects. It also contains real-world qualitative research projects to illustrate the use of MAXQDA within the Five-Level QDA method. The book is accompanied by three sets of video demonstrations on the companion website.
Literature from MAXQDA users
The following is an alphabetical list of publications that MAXQDA users have submitted. It gives you an idea of the wide range of disciplines the software is used in and the many methodological approaches that it can support.
Many of the authors have given permission for us to include contact information for them in case other users want to communicate with them about their research and how they used MAXQDA. Feel free to be in touch with them.
If you've published your MAXQDA-supported work and would like to be included in the list, please contact us at info@maxqda.com. We'll be happy to share your work with the MAXQDA community.