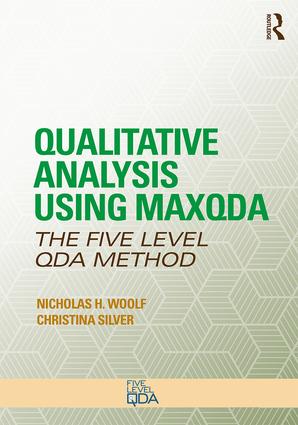 Qualitative Analysis Using MAXQDA. The Five Level QDA Method
Nicholas H. Woolf, Christina Silver. Routledge. 2018.
This book provides both an in-depth description of how MAXQDA works and comprehensive instruction in the five steps of the Five-Level QDA method. These steps are illustrated with examples from a variety of research projects. It also contains real-world qualitative research projects to illustrate the use of MAXQDA within the Five-Level QDA method. The book is accompanied by three sets of video demonstrations on the companion website.
Literature from MAXQDA users
The following is an alphabetical list of publications that MAXQDA users have submitted. It gives you an idea of the wide range of disciplines the software is used in and the many methodological approaches that it can support.
Many of the authors have given permission for us to include contact information for them in case other users want to communicate with them about their research and how they used MAXQDA. Feel free to be in touch with them.
If you've published your MAXQDA-supported work and would like to be included in the list, please contact us at info@maxqda.com. We'll be happy to share your work with the MAXQDA community.