Guest post by Medha Nayak.
In recent years, lethal encounters between humans and elephants have made headlines in Odisha, a state in eastern India. Media reports from the last five years (between 2014-2019) show 379 elephant deaths due to various reasons, including poaching and accidents, as well as 412 human deaths and 310 human injuries caused by elephants (Senapati, 2020; Maharana, 2019).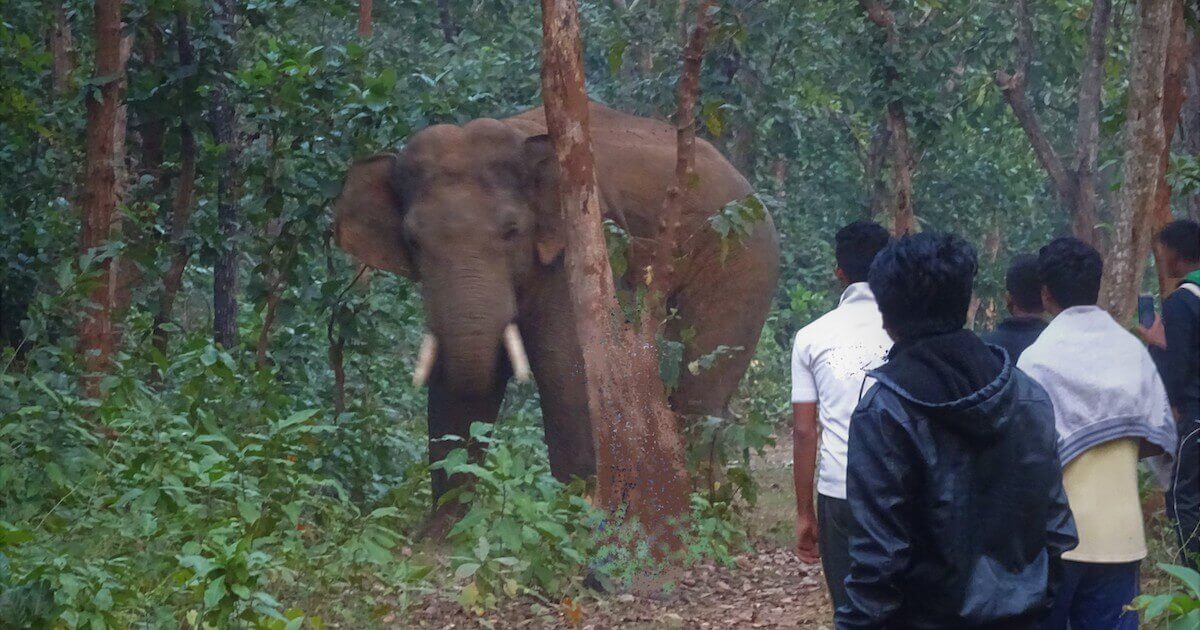 People are tracking elephant movements – a bunch of curious people and an enraged tusker
Human-elephant interactions are most likely to occur when humans go into the forest to access various daily-use resources or when elephants move out of the forest. The elephants generally foray beyond forests when they are bothered by increased human interferences such as forest degradation, fragmentation of their habitat, mining, and/or when they are attracted by alternative food sources, amongst others (Lenin & Sukumar, 2011; Fernando, et al., 2008; Sar & Lahiri-Choudhury, 2009). Then, when they sneak into human habitation areas, they negatively affect people's daily lives. People, in turn, harm the elephants in retaliation.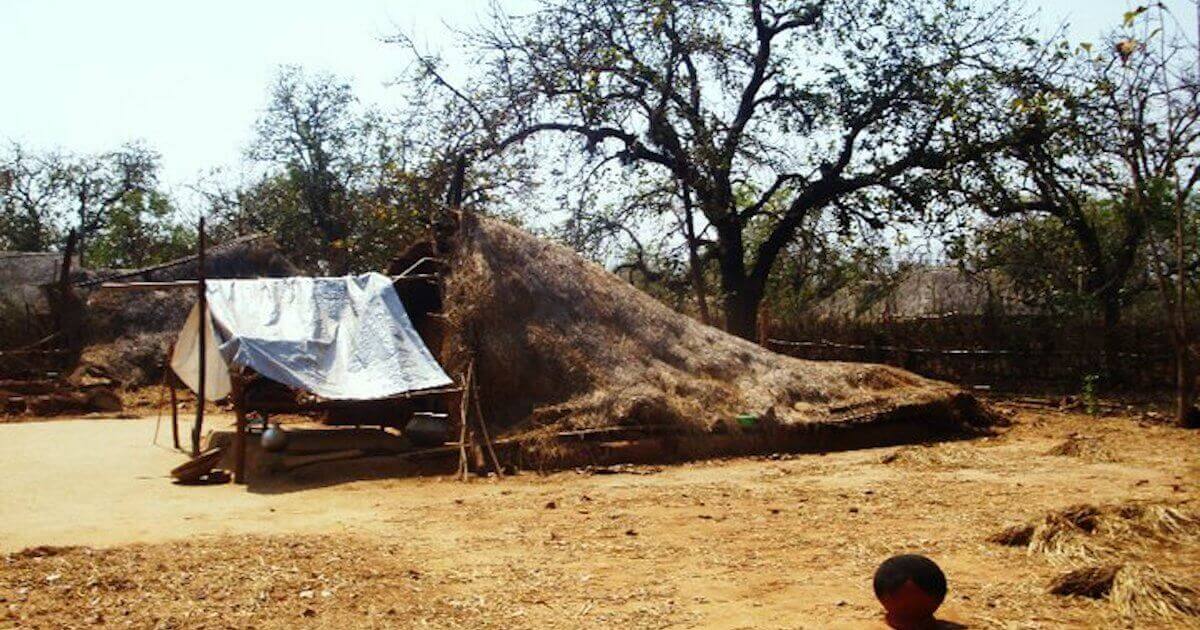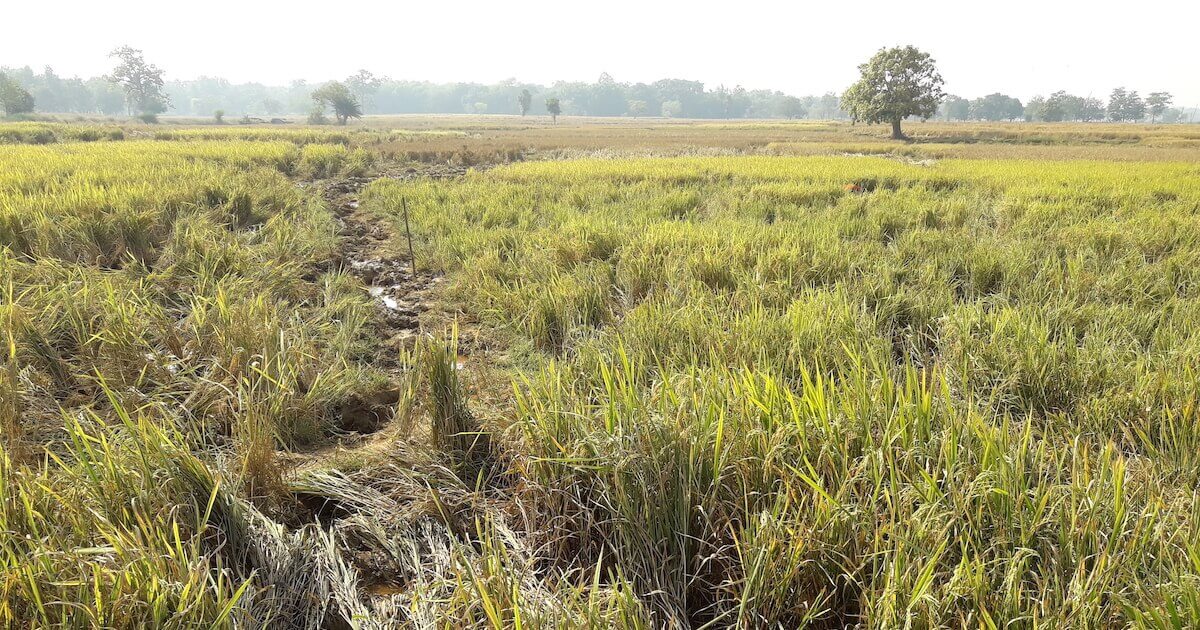 Elephants have pulled down a house and trampled crops.
This cause and effect relationship suggests that humans could play a greater role in alleviating this issue, so it is important to understand their viewpoint. For the purpose of this study, I have chosen the Balasore district in Odisha as my study area. Mostly during the harvest seasons, elephants visit Balasore from neighbouring states and occupy the forests of Gopalpur and Tinkosia.
Forest department records reveal that between 2010 and 2018, migratory elephants damaged crops on 2632.7 acres, destroyed 675 houses, and ended 6 human lives (Compiled from Balasore Wildlife Division reports; Udgata, 2014; Mishra & Nayak, 2014). In this setting, this project attempts to bring together narratives from stakeholders, i.e. the local community with respect to elephants.
DATA ANALYSIS WITH MAXQDA: EASY-TO-USE TOOLS FOR COMPLEX CONCEPTS
Here's how we used MAXQDA to understand human-elephant interactions in Odisha, India. MAXQDA helped us interpret our data and organise it into a presentable format. The steps we followed were as follows:
Selected the twelve most-elephant-affected villages in Balasore district as the sample.
 Organized Focus Group Discussions (FGDs) in the sample villages.
Transcribed data for each village and imported it into MAXQDA's "Document System" window.
Read every document line-by-line in the "Document Browser" window.
Assigned codes to the relevant texts.
Added memos to codes or record thoughts, observations, and insights.
Organized codes and sub-codes by categorizing themes in the Code System.
Used the Overview of Codes, Code Matrix Browser, and Interactive Quote Matrix functions to compare data (see below).
Used the MAXMaps feature from MAXQDA's Visual Tools menu to present the concept of human-elephant interactions (see below).
Learn more in a free MAXQDA webinar
CODE SYSTEM AND OVERVIEW OF CODES
Some functions that helped me to better realize my data analysis goals are listed below:
In the coding stage, I tried to identify key themes/ideas and assigned codes to them. After coding all the twelve documents designated for each sample village, I organized the codes in the "Code System" window. For example, 'Manifestation of conflict' served as a code while the items that describe the code formed the subcode: 'elephants destroy our crops and vegetation', 'elephants break house', and 'elephants kill/injure humans'.
The subcodes further carried another layer of sub-codes, that carried even more details. The frequency of occurrence of codes in all the documents appeared in the "Code System" window while the Activation functions for codes and documents allowed for easy data retrieval which lead to interesting comparisons of the data.
Screenshot 1 – Overview of Codes
CODE MATRIX BROWSER AND INTERACTIVE QUOTE MATRIX
I used MAXQDA's Code Matrix Browser to see how often each theme/code appeared across the villages. Next, I corroborated those results with quotes as compiled with the Interactive Quote Matrix. This function helped me to understand variation in perceptions across villages.
Screenshot 2 – Code Matrix Browser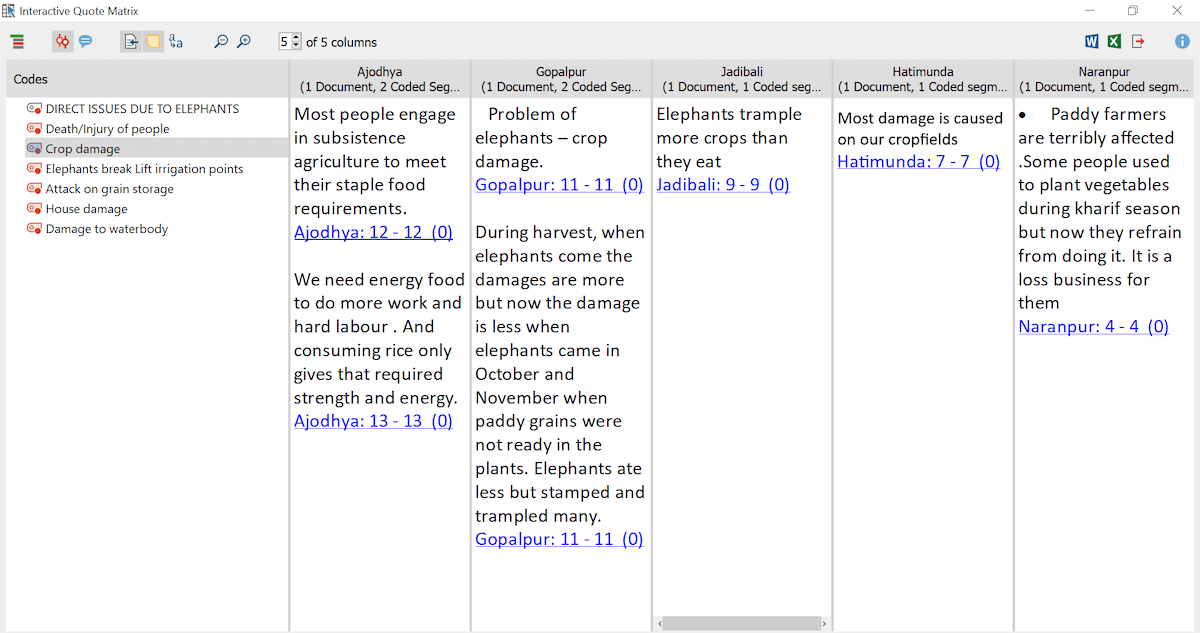 Screenshot 3 – Interactive Quote Matrix
MEMOS
Memos in MAXQDA helped me keep track of all the passing thoughts and reflections. While I browsed through the documents, I created In-Document Memos. The analysis of memos later was used to frame explanations for themes/categories.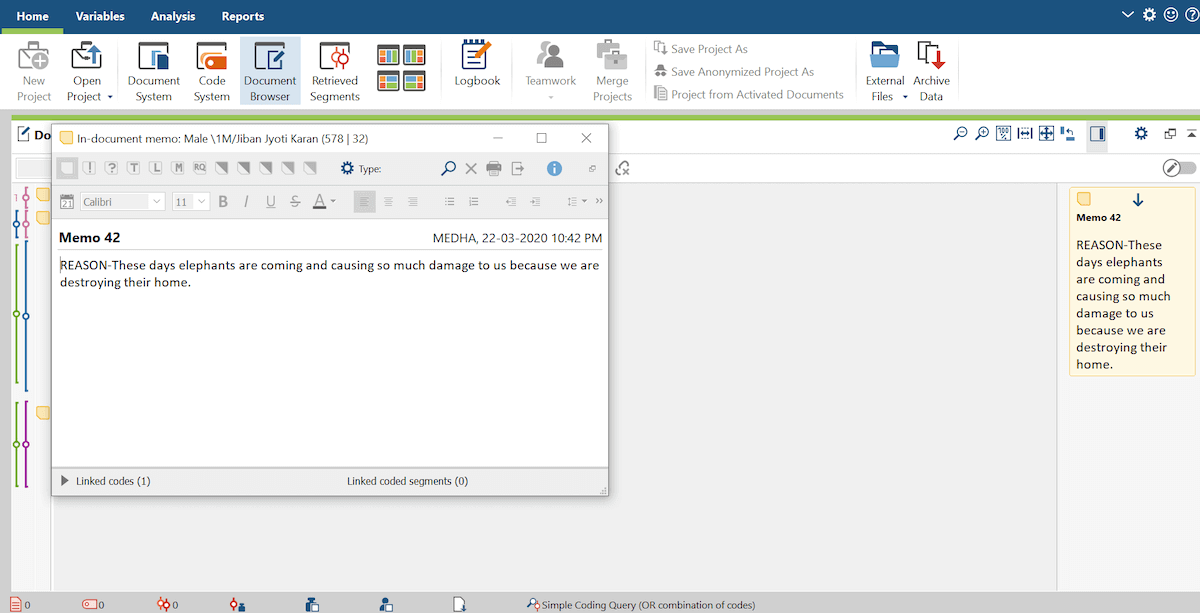 Screenshot 4 – Memos
MAXMAPS
MAXMaps was a much-needed break from the monotony of analysing texts and numbers. I used MAXQDA's Code-Subcodes-Segments Model to form some illustrative diagrams.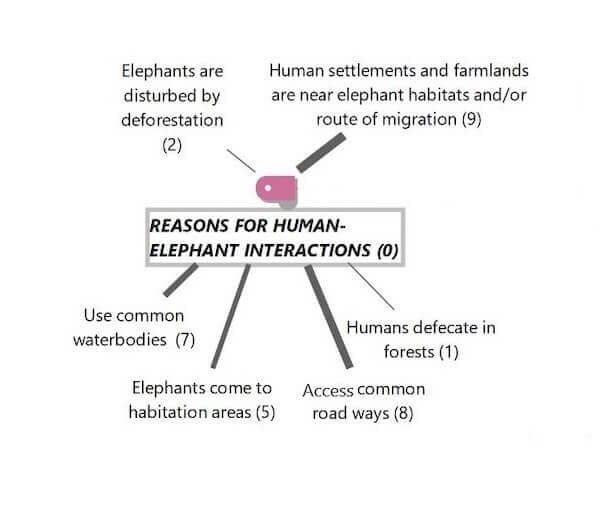 Screenshot 5 – MAXMaps
FINDINGS
According to the local community, some drivers of negative human-elephant interactions are deforestation and shortage of food resources in the elephant's abode. They reasoned that their vulnerability to elephants is high as human habitations and their farmlands are in close proximity to the elephant habitat and migration routes.
The major causes of their concern are crop and house damage due to elephants. People try to deter or chase away the elephants using different methods out of which they agreed fire to be most effective, after elephant-proof trenches.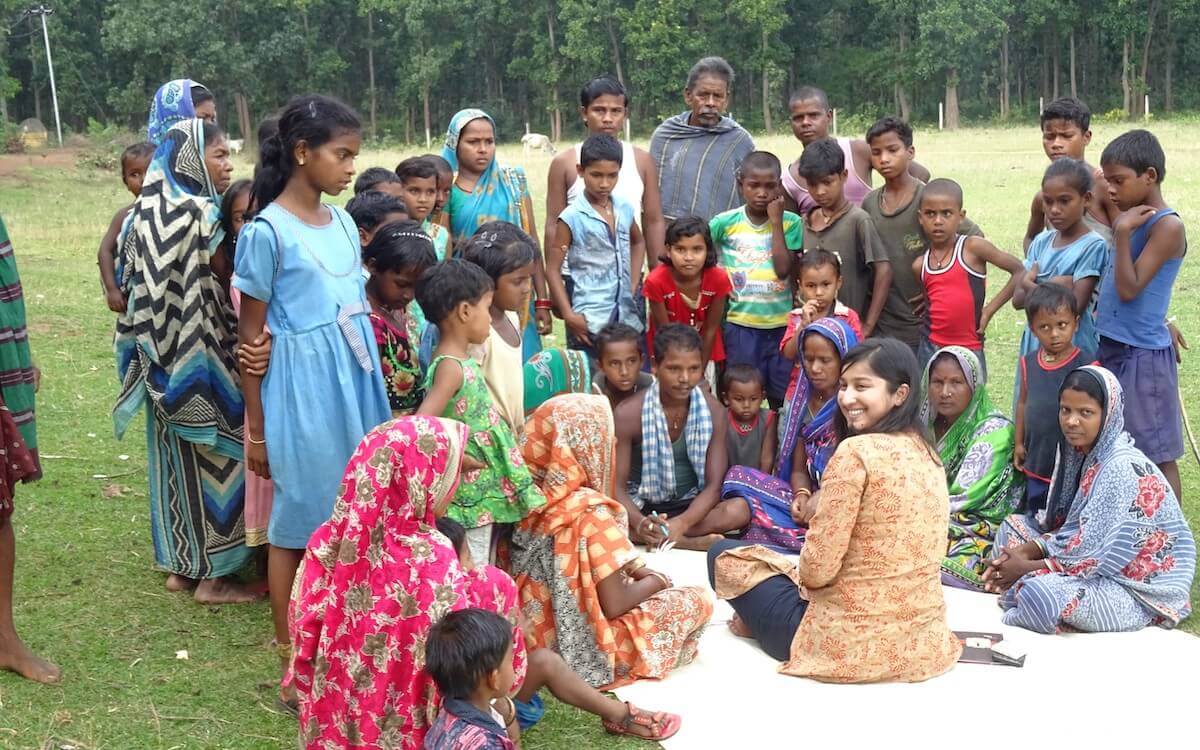 FGD in villages abutting forests inhabitated by elephants
Furthermore, they suggest the protection of forests and afforestation could secure the future of elephants. The perceptions that seemed to be fairly positive in the region mostly concerned the cultural significance of the elephants, but the economic losses compromised such cultural ties.
Finally, the study prescribes that awareness must be spread to keep elephants ecologically and culturally significant to improve their tolerance of people, implement better mitigation approaches to minimise conflict, and also attempt to incentivize the conservation of elephants.
REFERENCES
Fernando, P., Kumar, M., Williams, A., Wikramanayake, E., Aziz, T., & Singh, S. (2008). Review of human-elephant conflict mitigation measures practiced in South Asia . Vaud, Switzerland: World Wide Fund for Nature.
Lenin, J., & Sukumar, R. (2011). Action Plan for the Mitigation of Elephant Human Conflict in India. Final Report to the U.S. Fish and Wildlife Service. Bangalore: Asian Nature Conservation Foundation.
Maharana, S. (2019, March 28th). 87 elephant deaths in Odisha, highest in a decade. The New Indian Express. Retrieved May 05, 2020, from https://www.newindianexpress.com/states/odisha/2019/mar/28/87-elephant-deaths-in-odisha-highest-in-a-decade-1956962.html
Mishra, S. R., & Nayak, A. (2014). Human-Elephant Conflict by Inter-state migratory elephants(Elephas maximus) in Baripada & Balsore, Odisha, India. International Journal of Fauna and Biological Studies, 1(6), 19-22.
Sar, C., & Lahiri-Choudhury, D. (2009). Project: Elephant-Human Conflict in Asia, report on Orissa-India(Part-1), State Report(April 1992-June 2000). Kolkata: Education Centre.
Senapati, A. (2020, April 7). Elephants killed 527 humans in Odisha in 6 years: Wildlife group. Down to Earth. Retrieved May 05, 2020, from https://www.downtoearth.org.in/author/ashis-senapati-2149
Udgata, H. (2014). Migratory Elephants in Nilgiri-Balasore. Odisha Review(July), pp. 73-78.
See further examples of Focus Group Discussion analysis with MAXQDA:
About the Author
Medha Nayak is a PhD candidate at National Institute of Science Education and Research-HBNI, Odisha, India, in their School of Humanities and Social Sciences. Her research project is titled "Understanding human and elephant interactions in northern Odisha".