Today's blog entry is about the evaluation currently underway of an online community of practice – MHPSS.net – whose research team is utilizing MAXQDA for their coding and analyzing needs. The MHPSS.net platform is an online community of practice developed out of the vision to connect practitioners, policy makers, and researchers around the world working in the field of Mental Health and Psychosocial Support in and following situations of emergency and adversity.
Evaluation of an Online Community
Since it's inception in 2011, the network continues to reach well over the set target of 500 members for each project year through platform activities including knowledge sharing, knowledge creation, webinar presentations, online forums, professional networking, and more. In addition to interactive exchange capabilities between members, a large part of the platform's mission is to encourage and promote evaluation of promising approaches in the field of MHPSS and increase utilization and implementation of evidence-based approaches.
The evaluation of the MHPSS.net platform currently underway is an effort to assess the platform's performance, impact, and reach. Through interviews with a randomly selected sample of platform members and its' eight regional hosts who support the network, the evaluation aims to assess the effect the platform has had on its members, their affiliated organizations and overall MHPSS wellbeing.
Recording & Transcription
In addition to note taking, interviews are being recorded and transcribed. MAXQDA's transcription tool, along with Skype and other web-based tools, makes it possible for this team to collaborate on transcription from various time zones. Interviews are being conducted over Skype, by interviewers in three different countries, and participants all over the world. Teams are made up of one interviewer and one note taker. The interviewer records the audio with Quicktime (so as not to record the typing sounds of the note taker) and saves them as mp3 files.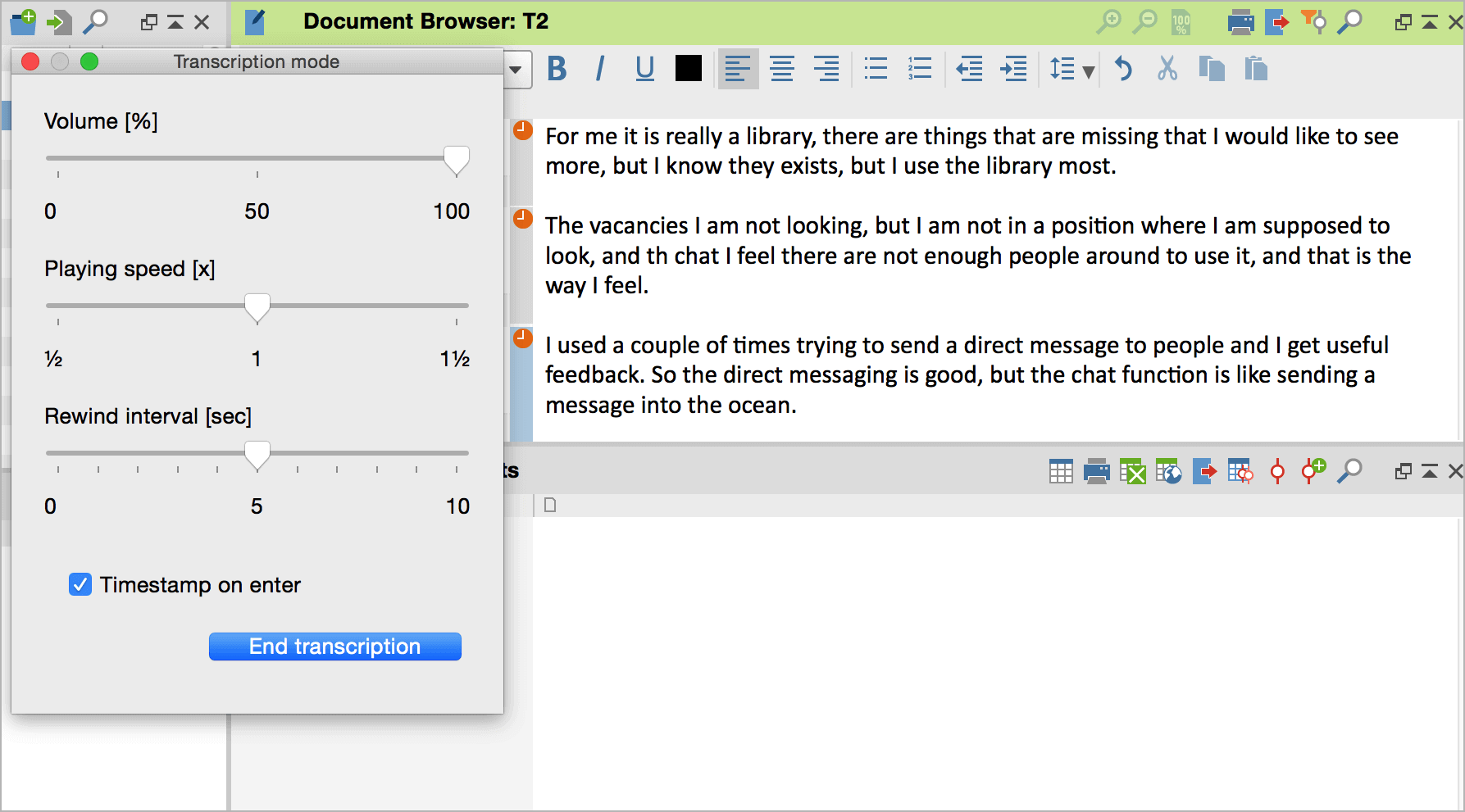 A snap-shot of MAXQDA Transcription Tool in Use by a MHPSS.net Evaluation Team member
All of the files are saved to a shared Dropbox, which enables other team members to assist with transcription. Both the document from the note taker and the mp3 from the interviewer are uploaded into the MAXQDA transcription tool. While the rewind interval is not used as much, the time stamp function has been very helpful. With the timestamp being inserted with each "enter", it is very simple to go back and listen again to each answer.
Trends have emerged from interviews conducted around perceptions of the platform from the members' and hosts' perspectives, the extent to which the platform has met their expectations, the outcomes associated with the platform, identifying key success factors for an effective community of practice, and perceived barriers that limited participation of its members.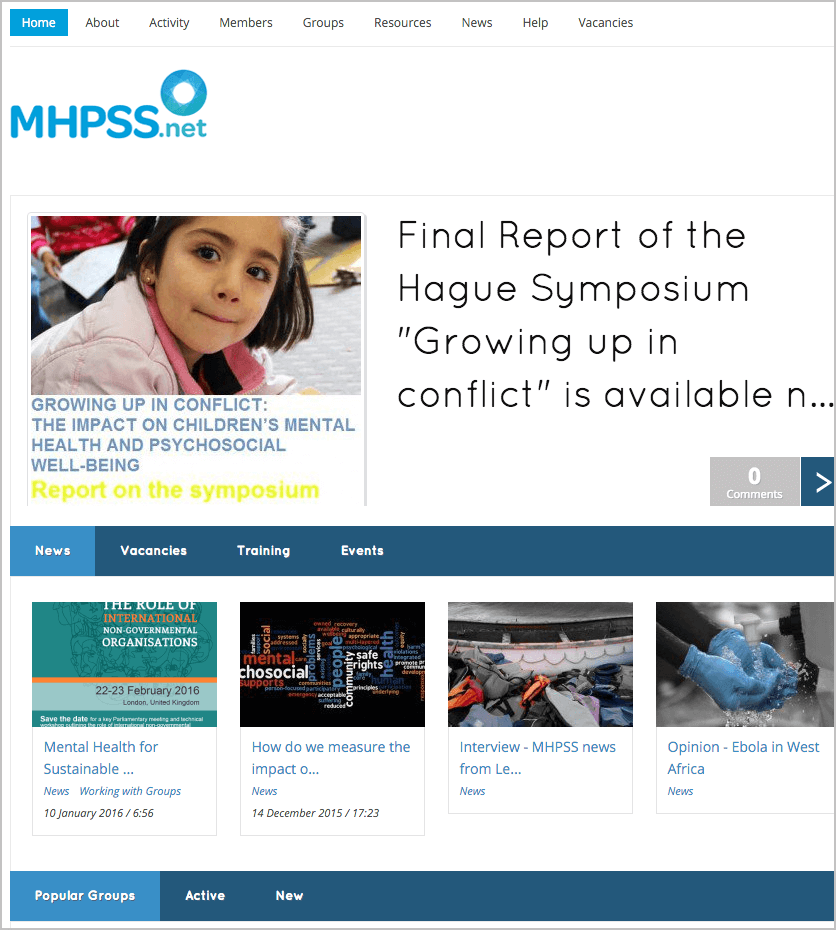 Next Steps
Once transcription of each interview is complete, coding of the interviews will begin. Two researchers will be responsible for the coding process itself, while a third researcher will supervise the process. They will collaborate to create a unified list of codes, code interviews accordingly, and then begin the analysis process.
Analysis will include categorization of codes in order to eventually yield themes. Various features of MAXQDA may be utilized to yield meaningful relationships between codes and/or themes. Further analysis of themes will yield meaningful interpretations of the interviews and allow an effective evaluation of the MHPSS network.
About the author
This blog post was a collective effort by the MHPSS.net Independent Evaluation Team, represented by Zeinab Hijazi.

Zeinab has over 9 years of experience supporting MHPSS programs in the Middle East and North Africa region, providing guidance and oversight in the development, monitoring, evaluation and running of culturally appropriate mental health and psychosocial activities, including provision of mental health care, psychosocial support, and protection activities targeting various vulnerable groups, including children, among internally displaced and vulnerable host populations.
MAXQDA has sponsored this project through the provision of additional software licenses to the geographically diverse evaluation team, making global collaboration throughout analysis possible.