Update: Since February 2014 "MAXQDA is available as a native Mac version".
If you want to use MAXQDA for Windows on your Mac computer you can easily do so by using a virtual machine.
Using a Mac computer does not mean you have to miss out on using a Windows program such as MAXQDA. Many of our customers and even parts of the MAXQDA-team itself use MAXQDA in virtual machines on a Mac on a daily basis.
MAXQDA is a Windows software and cannot be used directly in Mac OS X but it is possible to install Windows on your Mac inside a "virtual machine". For this you need to own a windows license and a virtual machine software. Once you have installed a virtual Windows on your Mac you can install MAXQDA inside this Windows environment.
Because MAXQDA is a very slim program, there are no differences in speed or reliability between using MAXQDA in a real or in a virtual Windows environment.
Three steps to use MAXQDA in a virtual machine on your Mac:
1. Install a virtual machine e.g. BootCamp, Virtual Box oder Parallels on your Mac.
2. Install Windows on your virtual machine.
3. Install MAXQDA on your virtual Windows.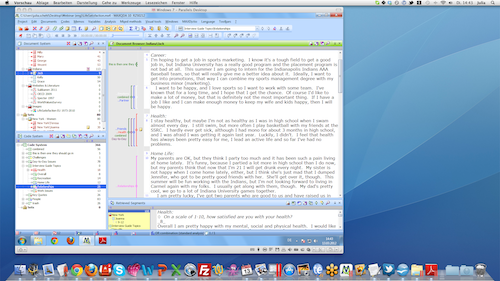 Can't do a right click!? When using MAXQDA in a virtual Windows on your Mac you might find that you are missing the possibility of right clicking with your mouse. Depending on the set up of your Mac or your virtual machine you can do a right click either by pressing the CRTL-button while you click or by clicking on your touchpad with two fingers.