The MAXQDA 2022.4 update is here! MAXQDA's engine room has once again been busy working on new features and improvements to make your research even easier. Below are a few highlights of the latest update, but you are welcome to have a look at the complete list of improvements here.
How to install the latest MAXQDA update

To install the latest MAXQDA update, follow these three easy steps:

Open MAXQDA with a stable internet connection.
Select the "?" query symbol in the top right-hand corner of the screen.
And select "Search for updates" from the menu.

MAXQDA will then install the latest update and you can access the new features and improvements. Updates are free of charge. If you are using one of your institution's computers and have limited admin rights, please contact your local administator.
How to upgrade to MAXQDA 2022

To upgrade a license from MAXQDA 2018 or 2020 to MAXQDA 2022, follow these three easy steps:

Visit our online shop
Navigate to the upgrade tab.
Enter your license number to learn more about upgrade options.

You can quickly find your license number by clicking on the info icon in the upper left part of your MAXQDA start screen.
New Visual Tool: Word Trends
You can already analyze the frequencies of words with MAXDictio's Word Frequencies tool or visualize them with the Word Cloud. Our brand new Word Trends feature adds yet another powerful visual tool to our word-based analysis solutions. Use it to visualize and explore how frequently different words occur in different sections of a text or PDF document.
All you have to do is hover over the nodes in the interactive graph to view the frequencies for each section, or click on a node to get a list of each word occurrence in its original context. You can either let MAXQDA automatically fill the graph with the most frequent words in the text, or search for the exact words you are interested in.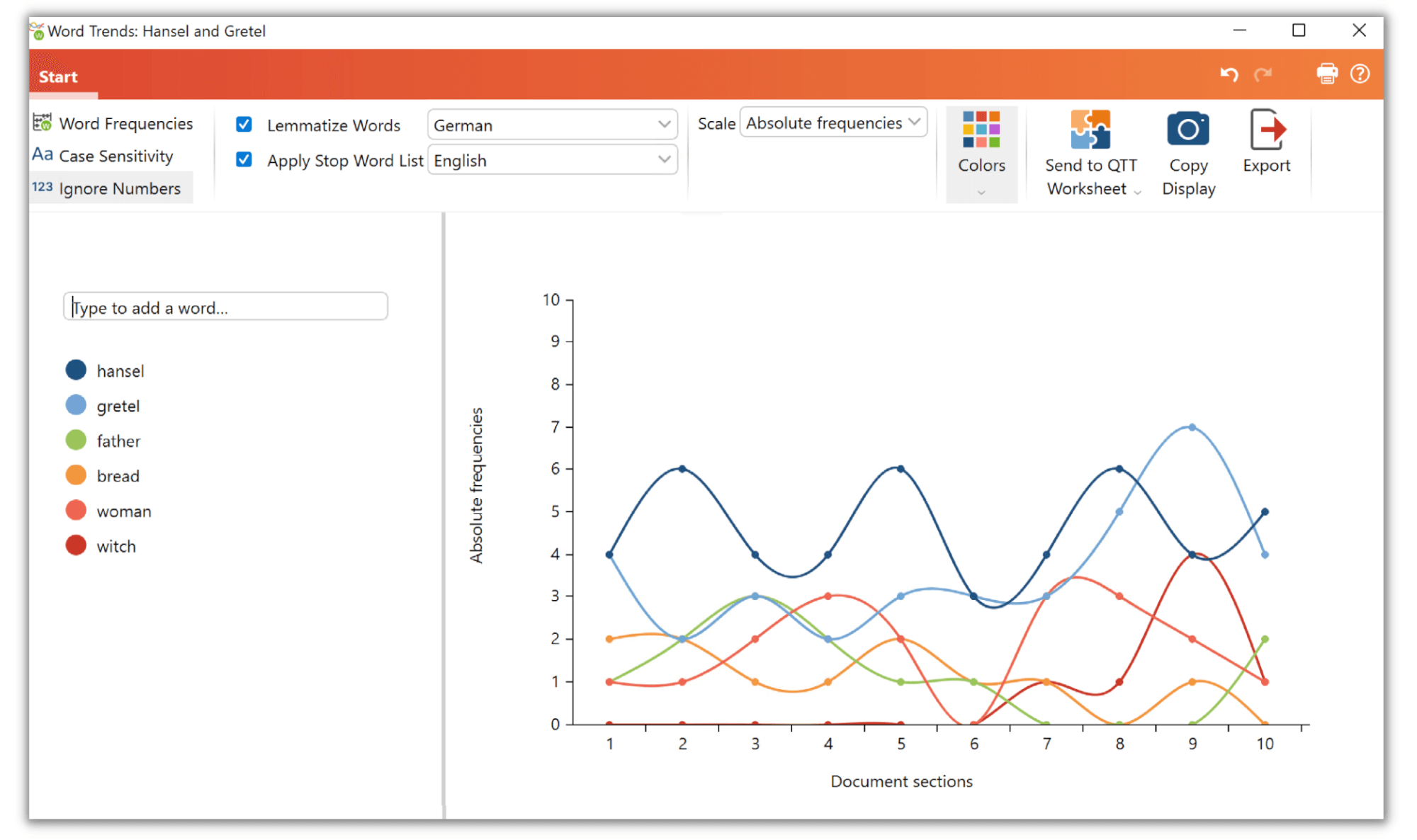 Word Trends within the Grimm's fairy tale 'Hansel and Gretel'. Here you can see well how the number and of course the importance of Gretel increases at the end. No wonder, after all, it is she who finishes off the wicked witch in the end!
Automatic Import from Watched Folders
With our new update, it is now easier to organize research data. With the new automatic import section in the preferences menu you can now connect a folder to a MAXQDA project. Any new files added to this folder are automatically imported into your project and ready for analysis.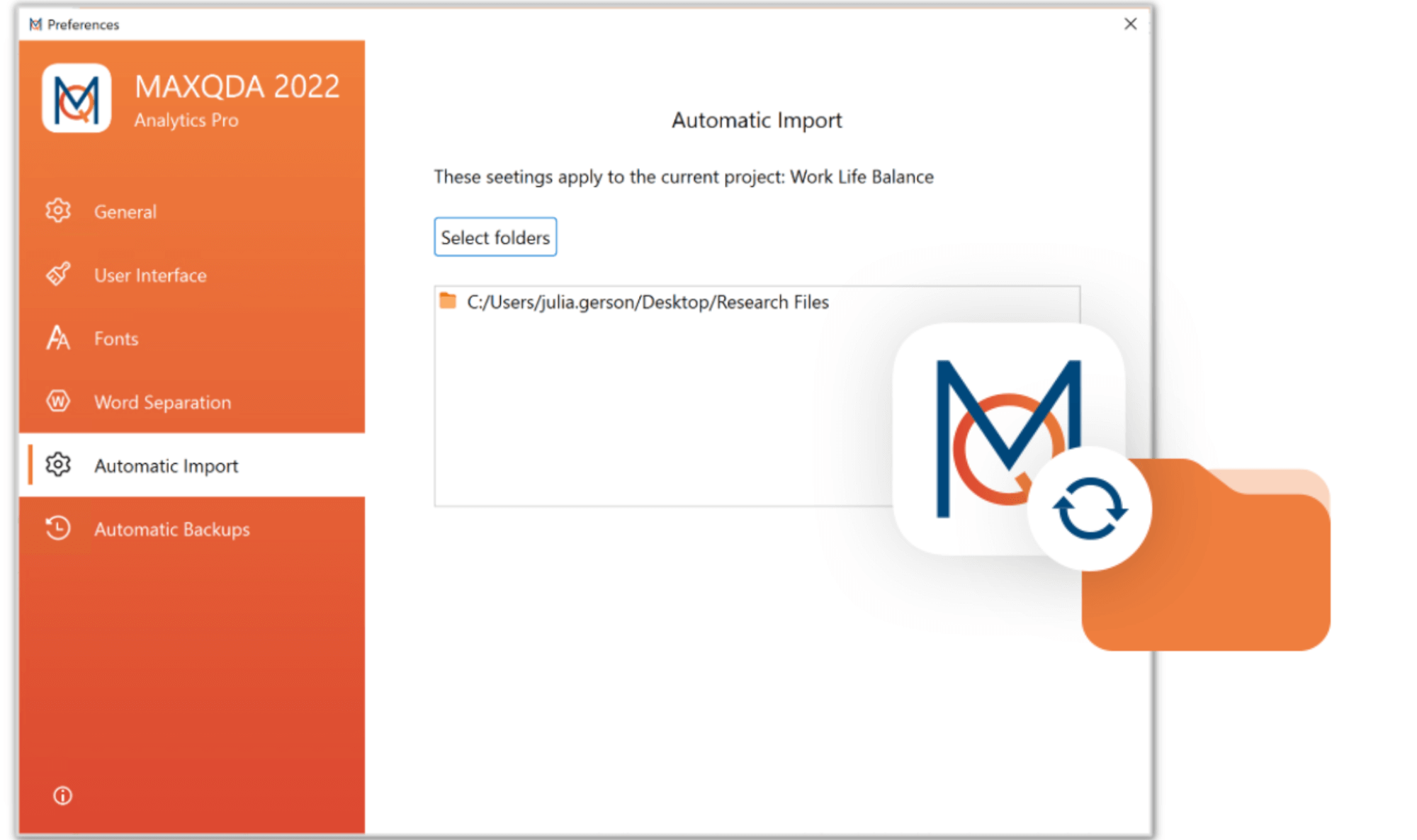 You can now connect a folder to a MAXQDA project.
Open as many documents as you want
Working with two monitors? It was already possible to view and code two documents side-by-side. From now the only limit to how many documents you open at once is the size of your screen. Right-click on a document to select the display option from the context menu.

Multiple Screens
But that was not all! In the following, we have summarized for you some more practical improvements in various areas of MAXQDA.
Take a look at what's new in…
…Document Browser
Jump to a page for PDF. We've updated the page navigation for PDF documents to make it possible to jump to a specific page by simply entering the page number.
Add tables & dates to your text: You can also now add tables and the current date to your text documents using the new icons available in the text formatting toolbar in the Document Browser.
…Analysis
Code System: You can now filter your Code System using the new "Only Activated Codes" icon to hide all codes that are not activated.
Code Statistics: Code Statistics can now be created for parent codes as well as for subcodes. Simply open them via the new "Code Statistics" icon in the "Codes" toolbar or via the context menu in the Code System.
Code System: Creating nonhierarchical groups of codes in a code set is now even easier. Just click on the new "add" icon that appears while hovering over a code set to create new code sets or add codes to an existing set.
Charts & Diagrams: MAXQDA now remembers your display settings for charts and diagrams so you can easily create multiple charts and diagrams with your chosen settings.
Summary Grid: When hovering over a memo in the Summary Grid, the content of the memo is now displayed in the tooltip. You can also now search for keywords in the coded segments you are currently summarizing.
Code & Document Summaries: It is now possible to limit the export of memos so that the export consists of only the Code and Document Summaries.
Complex Coding Query: For the functions "Followed by" and "Near" it is now possible to set a maximum distance up to 9,999 paragraphs, rows, and seconds.
Creative Coding: The menu options in the Creative Coding window were updated to highlight the most used actions in this window.
Multimedia: Video thumbnails are now loaded and displayed automatically in the Multimedia Browser and you can also display them in the Retrieved Segments window.
…MAXDictio
Stop word lists: There are now stop word lists in several languages available in your projects so you don't have to add them manually. (English, German, Spanish, Portuguese, Italian). You can now access your stop word lists directly in the stop word list selection menu.
Autocoding with Dictionary: Multiple "Autocode with Dictionary" processes are now combined under one parent code.
…general
Onboarding for new users: After installing MAXQDA, new users are now guided through the first steps. You can open this onboarding tour anytime by clicking '?' > First steps.
Shortcuts: We have implemented even more keyboard shortcuts to easily select text in the Document Browser and Memo Editor. You can now also use the shortcuts cmd/ctrl+enter to close the Memo Editor and simultaneously save the Memo.
Interface: We have updated the design of several dialogues, all checkboxes, and radio buttons.

A complete overview of all new features and improvements can be found in the release notes. We hope you enjoy trying out our new features!