In most research projects the code system changes a lot during each step of the analysis. New codes are created, codes are renamed, combined, differentiated or sometimes even deleted. How many times have you deleted a code and later wished you had kept it somewhere safe instead? In this tip of the month we want to introduce you to a little trick how to keep those "maybe delete" codes part of the MAXQDA project, but still invisible and out of the way in case you find that you do really do not need them anymore.
1. Create a "maybe delete" code
The first step is to create a new code that you might call "maybe delete". You probably want to position this code at the very end of your code system, so you do not stumble across it all the time.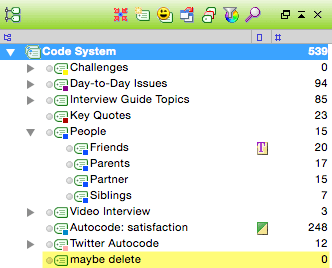 2. Drag unwanted codes to the "maybe delete" code
Now, every time you think that there is a chance that the code you are about to delete might be useful again in the future, just drag that code unter the "maybe delete" code and position it there as a subcode.

3. Change the code color
This step is necessary to make the codes invisible in your documents, so they do not disturb the ongoing analysis process. Right click on the "maybe delete" code and select the option "Color" to pick out a new color for this code. Make sure to select a color that has not been used for a different code before and that you are not going to use for any code in the future. White might be a good choice, since it is hard to see and therefore rarely used.
A pop up dialogue will ask you if the color should be changed for subcodes. Click "Yes" to change the color for any subcode of the "maybe delete" code, too.
4. Hide codes by that color from Document Browser
You can now hide every code by the color of the "maybe delete" codes from the Document Browser. Right click into the grey area, where the coding stripes are usually displayed to call up the context menu. It shows all of the code colors that have been used for codes in the current project. Uncheck the box next to the color white to hide all white codes in the coding stripe panel.
Now all your currently unneeded codes can stay right where they are without disturbing your work. Should you later decide that you want to bring those codes back to life you can just reposition them in the code system and change the code color to keep working with them.
Give rein to your creativity. And if you have too many ideas, don't throw them away. Store them well and give them the chance to be reborn. Maybe they will be of use later 😉