Guest post by Jessica Penney.
Welcome to my final #ResearchforChange fieldwork diary entry! In this post, I will be explaining some of my research results and how I got there with the help of MAXQDA 2018. Then, I will discuss how I used MAXQDA to support the communication of my results at conferences and in written form.
First, bit of background information on my project: my research is titled "The safety that was, is gone": Muskrat Falls and Labrador Land Protectors' Changing Health and Wellbeing and was my MSc Global Health dissertation. The project, which took place in summer 2018, explores health concerns held by a grassroots group of activists called the Labrador Land Protectors, who are resisting the Muskrat Falls hydroelectric project in Happy Valley-Goose Bay, Labrador, Canada (in the north-east of the country). The project is anticipated to increase methylmercury levels to a harmful level in the water and animals, which local communities rely on for food and cultural activities.

Labrador Land Protectors resisting the Muskrat Falls Project
(Photo courtesy of the Land Protectors' Facebook page)
Research Methods and Analysis Methodology
My work was guided by Indigenous Research Methods, which you can learn more about in my first fieldwork diary entry. The data collection process included semi-structured interviews, a focus group in the form of a sharing circle, and a short survey taken on a tablet. My analysis, covered in blog post two, was a combination of interim analysis and content analysis in a mixed grounded theory and framework analysis approach.
Interviews and the sharing circle were audio-recorded, transcribed in MAXQDA, then coded line by line. I also undertook a holistic analysis by summarizing interviews using the electronic memo feature of MAXQDA. Now that I've explained what the process, I will share some of my results and go on to explain how MAXQDA helped me communicate these conclusions.
Main Findings
My analysis, aided by MAXQDA, allowed me to identify three main findings in my research. The following is taken from a summary report:
Participants feared for their own health and wellbeing, and that of their community, in a way they never had before.

This is due to the anticipated methylmercury contamination, and also a belief that the hydroelectric project could fail and flood their community. Participants expressed how these issues affected their physical and mental health, as well as the wellbeing of their community as a whole.

Conceptions of health and cultural changes were understood in relation to a changing environment, closely connected to Indigenous conceptions of health and wellbeing.

Participants stressed that the environment is essential to cultural traditions for Land Protectors in Labrador, and destruction due to the Muskrat Falls project may negatively impact the health-protective aspect of cultural continuity.

Participants were frustrated with the democratic processes that allowed the project to go forward and felt as though they were experiencing ongoing colonialism.

Participants felt frustrated and ignored by the government and connected decisions surrounding the Muskrat Falls Project to longstanding paternalistic policies in Labrador.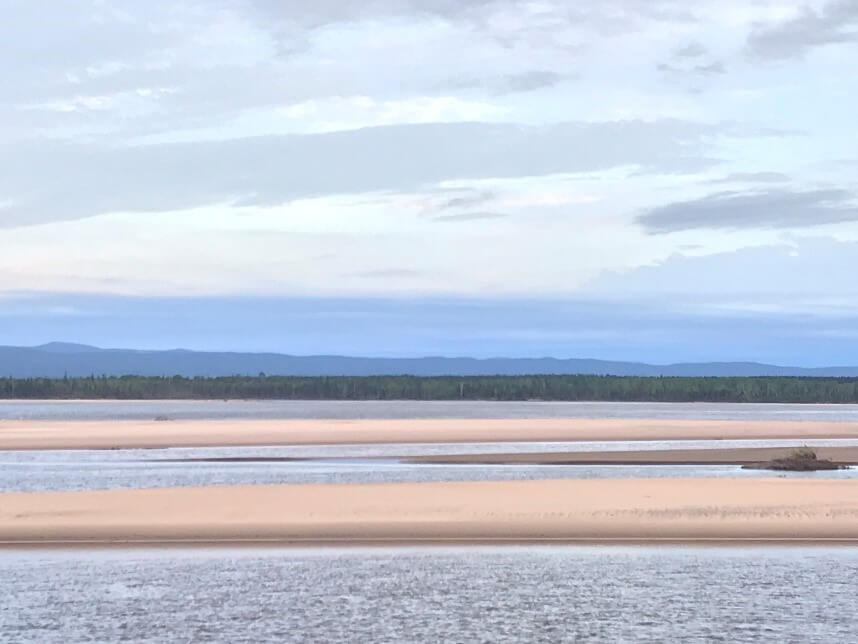 Grand River, Happy Valley-Goose Bay, Labrador.
The Importance of Communicating Research
Sharing recent research is important in the academic community, and it's also a key part of reciprocity and relationality with research participants. In this section, I will outline how I've shared my work with academic colleagues at conferences and workshops, as well as grassroots events. I'll also share upcoming plans for sharing more with the participants who made this work possible.
How to Present Fieldwork Data Analysis Results with MAXQDA
I submitted my MSc dissertation in September 2018 and went on to speak at three events that month. The first workshop, held at the University of Edinburgh, was titled 'Social Norms and Health' and I shared how participants spoke to me about how social and cultural norms around their health were changing with the looming threat of the Muskrat Falls Project contaminating their food sources. One participant, named Jim Learning (all participants gave written consent if they wanted their names used), shared:
"It's put what was a secure food supply, in question. And that's a psychological factor that now you have to overcome. You either ignore it, or try to tone down your expectations of the proteins you're getting from it… That becomes a question. So, yes. That's the impact of that in my world. Changes your perception of the safety that was, is gone."
The week after this event, I presented my research results at the British Sociological Association's Medical Sociology Conference. Here my focus was on how conceptions of health and wellbeing were affected by environmental change.
In my final presentation of the month, I spoke at the Muskrat Falls Symposium at Memorial University of Newfoundland in Canada. This event was interdisciplinary, with presentations from artists, community members, and academics like me.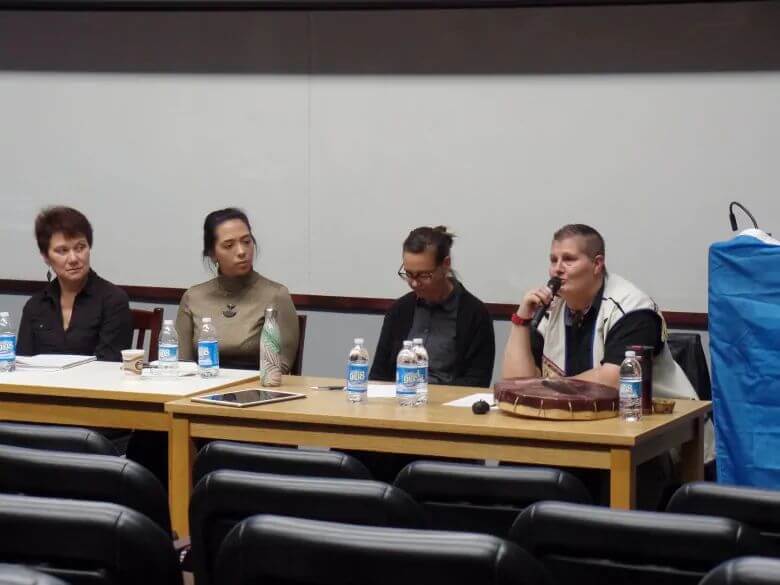 Presenting on a panel about how the Muskrat Falls Project may impact Indigenous ways of life with three other speakers. Left to right: Tracey Doherty, Jessica Penney, Shiri Pasternak, and Denise Cole. (Photo by Stephen Miller, CBC News, 2018)
Other than presentations, I have shared more about my work with the Labrador Land Protectors in an interview with CBC Radio, Canada's national broadcaster. As stated above, I have also released a summary report of my research that you can read for a fuller picture of my results.
Using MAXQDA to Present Research Results
Each event had a similar, but slightly different focus (social norms, health and wellbeing, and the general impact of the Muskrat Falls Project). I, therefore, used MAXQDA to quickly and easily identify coded segments that could demonstrate exactly what research results I was trying to communicate in each presentation.
One way I did this was through the code system I created:
Code System in MAXQDA with two main themes highlighted.
For example, if I was looking for an interview quote to demonstrate the relationship between the environment and health, I would simply activate those two codes with one click and view the automatically-retrieved quotes in either MAXQDA's "Retrieved Segments Window", or conduct in-depth analysis using MAXQDA's Interactive Quote Matrix function.
This second function allowed me to see which segments of text were coded with codes or subcodes related to 'Environment Themes' and 'General Health/Wellbeing Themes'. The Interactive Quote Matrix quickly allowed me to easily tailor my presentations to specific the topic at hand, making communicating research efficient and effective. I could then also export all of my search results to Excel, and view them in a table, such as this one: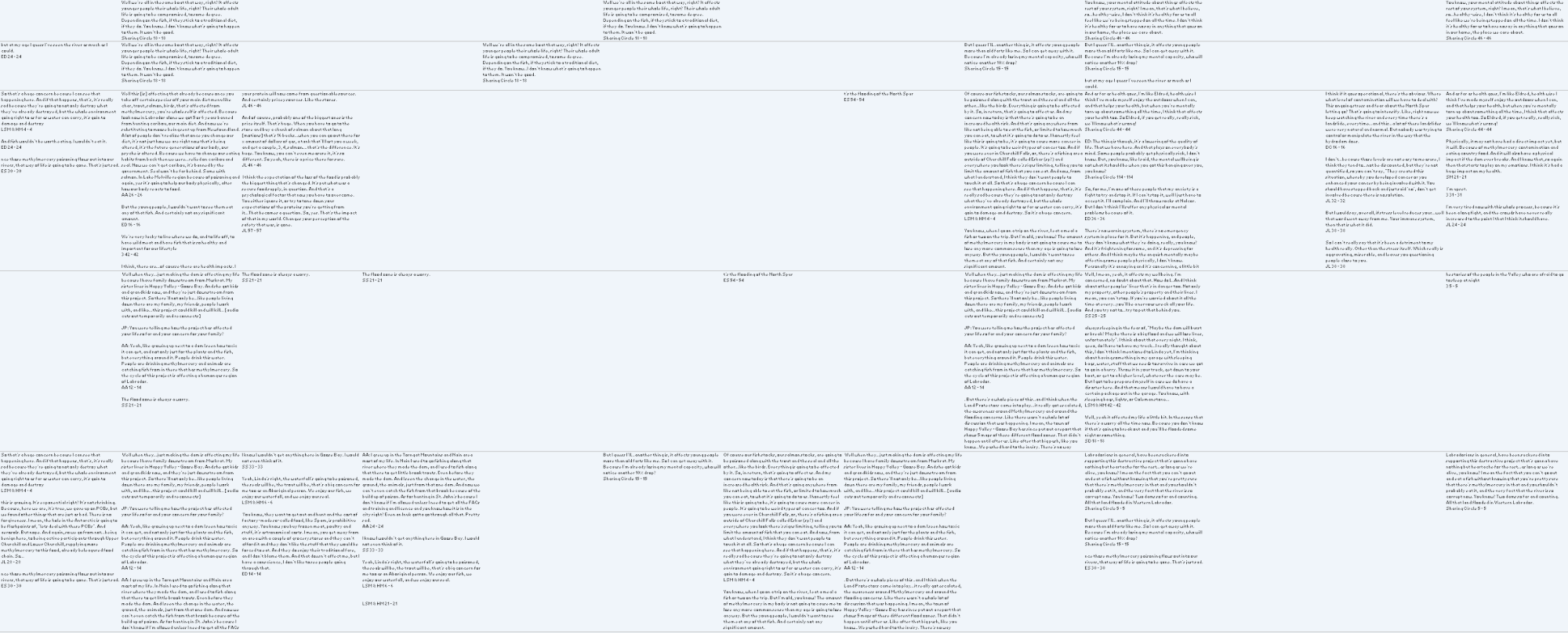 Snippet of the Quote Matrix Excel Export.
Future Work
I will be sharing more about my research at the British Sociological Association's Annual Conference in April. I will also be spending more time in Labrador this year, and will present at the Labrador Research Forum in May. While I am there I will also be participating in a sharing circle with the Labrador Land Protectors to share my results in person. This part of Community-Engaged Research is very important to me, as it is a way for me to get feedback from people who participated in the project.
Thank you for reading my guest blog posts! You can read more about my work and any future publications on my here:
Up-to-date information about the Land Protectors and their current efforts can be found at their Facebook page, and Twitter account.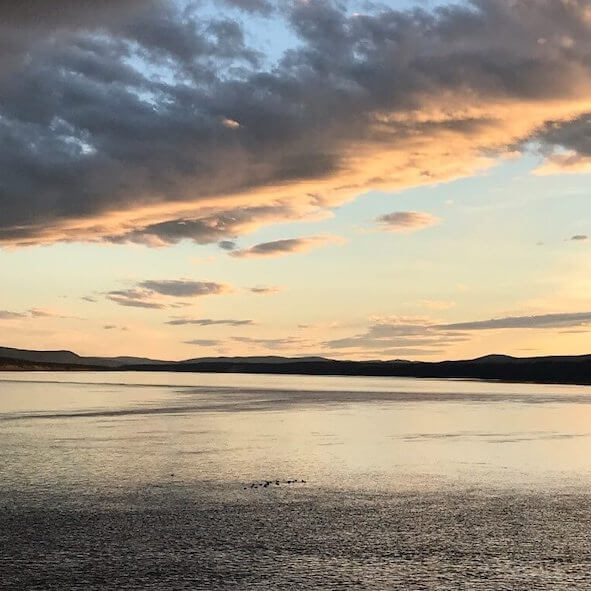 Group of birds near the Muskrat Falls Project site.
Editor's Note
Jessica Penney is a recipient of the 2018 #ResearchforChange Grant. Penney is the first non-PhD level student to receive a MAXQDA Research Grant and is an MSc Global Health student at the University of Glasgow, UK. She conducted fieldwork for her research project titled "Land Protectors' Understandings of Health in Relation to the Muskrat Falls Project and Protests" throughout the summer of 2018 in Happy Valley-Goose Bay, Canada. This is her final fieldwork diary. We wish Jessica Penney all the very best on her ongoing research journey!