Guest Post by Melinda González.
In my first Fieldwork Diary Entry, I began by summarizing my project, which is situated across three field sites – Puerto Rico, New York, and digital media (Twitter, Facebook, and Instagram) in the aftermath of Hurricane Maria striking Puerto Rico on September 2017. My second entry for the MAXQDA Research Blog focused on what I have done with all of the fieldwork data that I collected after The 7th Annual Black Comic Book Festival at the Schomburg Museum in Harlem, New York City.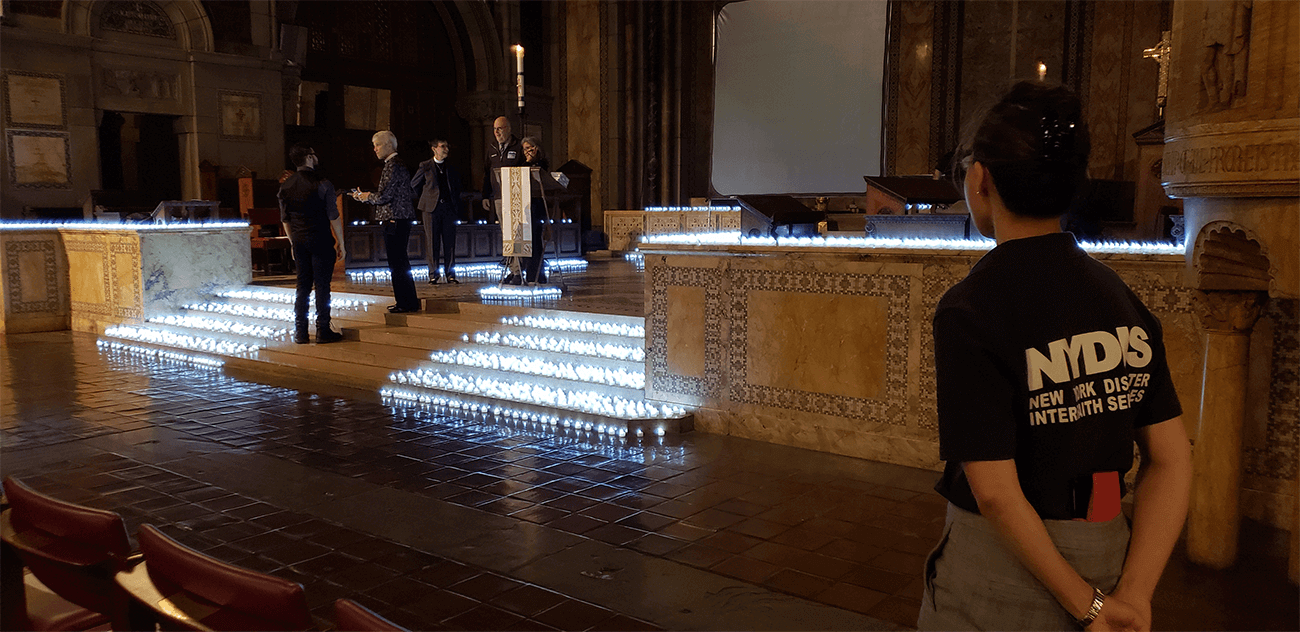 NYDIS staff preparing for a vigil and event in commemoration of the 1 year anniversary of Hurricane Maria, its evacuees and those who died as a result of the hurricane, New York, September 2018.
Photo taken by Melinda González.
From Fieldwork with MAXApp to Presenting at Conferences with MAXQDA 2018
In this final entry, I will focus on how I used my data and MAXQDA Analytics Pro to prepare a presentation at the 2019 Annual Meeting of the Society for the Anthropology of North America in Puerto Rico. This paper was based on fieldwork at the New York Disaster Interfaith Service (NYDIS) and interviews with four Hurricane Maria evacuees from Puerto Rico. My data collection and analysis is being conducted using MAXQDA 2018.2.
Fieldnotes on the Go with MAXApp
As an anthropologist, my fieldwork is always conducted on the go. One of the biggest challenges for me, personally, is finding time to sit down and write down my field notes – so the free MAXQDA mobile application, MAXApp is a great tool.
I open up the mobile app and click on the + sign to create a new project. I usually create a project for the date of fieldwork. I then click on Add New Memo. While I am traveling back home on the train from my field site, I usually type in my field notes into MAXApp and save the file.
As a general rule, I always back up these notes in my notepad and email. It's a good habit to get into while doing fieldwork. You can't ever back up your data too often! You can also add your photos, videos, and audio recordings from the day into your MAXApp for easier transferal at home. When I get home, I can easily transfer the data from MAXApp to MAXQDA on my computer.
Interview Analysis with MAXQDA
For this conference presentation, I really wanted to highlight the work that NYDIS does and the stories of evacuees. Hence this presentation was focused primarily on interviews and my fieldnotes.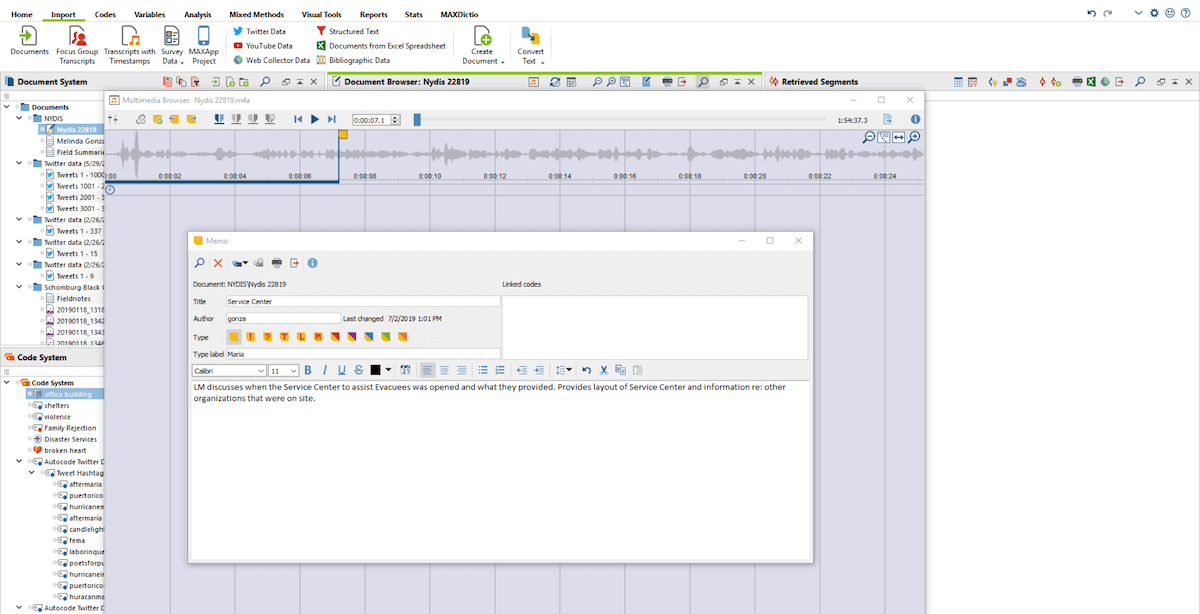 Screen capture of using MAXQDA's Memo function
MAXQDA's audio features were very helpful in getting me to think through some of the major themes that showed up in my interviews. I started by listening to the interviews and writing memos while people described their experiences at the New York Disaster Service Center, located at the Julio de Burgos Center.
I also used memos to jot down notes about evacuees' experiences of the service center, their current housing situation, and challenges that they had faced. Being able to parse through my data this way facilitated the writing process of my paper because I could then create codes that represented communities throughout my interviews.
Using notes from my interviews and paperwork provided by NYDIS, I wrote the following summary into the paper:
"NYDIS currently provides disaster case management to 129 Hurricane Maria evacuee families, and another 29 families that moved to Puerto Rico plan to return to New York. New York State was forced to provide disaster case management for evacuees after Puerto Rico Governor Rossello refused to expand FEMA disaster case management to evacuees.
In June 2018, NYC Governor Andrew Cuomo enacted two grants one for $11 million dollars for job readiness programs, which are all in English, and another totaling $2.9 million to hire disaster case managers to provide referral services to evacuees. In other words, these grants help evacuees navigate already existing government assistance programs in New York. Monetary and household items provided to evacuees are provided through NYDIS' Unmeet Needs Roundtable/UNR.
NYDIS staff report that they are short-staffed and lack sufficient funding to provide enough support to evacuees. Due to the year-long lapse between evacuee arrival and the DCM program, they lost contact with hundreds of evacuees. Staff are concerned about the well-being of Hurricane Maria evacuees after their contract ends in Summer 2020 and worry about what will happen to families that continue to migrate as conditions worsen due to austerity and the upcoming 2019 Hurricane season."
It was important for me to do two things during this conference presentation:
Highlight the incredible work that the New York Disaster Interfaith Service is still doing to assist evacuees after Hurricane Maria, and
Raise awareness of the current struggles that evacuees continue to face.
After uploading my interviews, I use Emoticodes in my first read through to decipher when evacuees are talking about their positive experiences after evacuating due to Hurricane Maria and their challenges in the evacuation process.

Screen Capture of Emoticodes and how they transfer to other codes in my research.
Following this initial Emoticoding process, I create codes to observe common trends amongst the interviewees' experiences. One of the trends that I observed was difficulty in accessing disaster recovery services; adequate food and housing in particular. I created a code for "Food Challenge" and another one for "Housing Challenge."
I used MAXQDA's in-vivo coding function for these particular interviews. When I code my data, I do my best not to approach the data through preconceived ideas about what the data itself will reveal. It is important for me to allow the data to reveal commonalities and differences on its own. I do, however, have guiding questions about the research. For example, in this particular paper, I wanted to understand the challenges evacuees were facing, so I highlighted these through Emoticodes. Once the challenges were revealed, I then used word-based codes to sort through and organize the data.
Presenting at Conferences with MAXQDA
Then, through my interview transcriptions, I selected quotes to represent the challenges faced by evacuees. These quotes would then go into my presentations at conferences. Below is a sample of one of my conference presentation slides of a quote from an evacuee. All names are pseudonyms. The slide reads: "No hay nada seguro en cuestión de techo. I'm worried that I am going to wind up back in the shelters." -Caridad.
When I went through my interviews in MAXQDA, "Housing Challenge" was a code that continuously showed up. I wanted to use a quote that really captured the uncertainty that evacuees feel around their housing situation, especially given the current housing crisis in New York City. Caridad's interview had many codes about housing and various housing struggles, so I felt her experience really captured what many evacuees had been feeling.
At the final conference presentation, I was able to use MAXQDA to highlight the experiences of four evacuees, whose stories showcased many of the challenges evacuees continue to face in the present. In New York, Puerto Ricans who evacuated after Hurricane Maria experience hyper-marginalization (Harvey 2013) as they are subject to state services that lack Spanish-speakers, doubt their citizenship status, and are confronted with a city-wide housing crisis.
While FEMA provided roughly six months of transitional shelter in various hotels, most evacuees had to go to homeless shelters or double up with friends when transitional housing ended in early Spring 2018. Research suggests that at least half of the 15,000 evacuees that live in New York are in homeless shelters or in unstable housing. Many are at risk of losing their apartments.
To assist evacuees, you can donate to NYDIS by clicking HERE. If you know someone that evacuated after Hurricane Maria from Puerto Rico or the U.S. Virgin Islands and is still in need of services, they can contact NYDIS at +1-646-694-9935.
What's Next?
While this is my final fieldwork diary entry for the MAXQDA Research Blog, my research will continue to focus on cross-diasporic community organizing in my three sites – Puerto Rico, New York, and digital space – as well as on the experiences of Puerto Rican evacuees. I am currently gearing up to return to Puerto Rico for fieldwork this summer and will continue my research with NYDIS and the Capicu Cultural Showcase when I return to New York.
Having access to MAXQDA's software has been a vitally important part of my project development. Often times, fieldwork and data collection can be quite overwhelming, so having these Field Diary Entries to guide me and remind me to write about my research has been very helpful in the analytical process.
Using MAXQDA has been a challenging and rewarding experience. The software is intuitive, but since I have an extensive dissertation project, I spend a lot of time just uploading data, without fully analyzing it. There are still so many aspects of the program I have not ventured into yet, as I am still doing fieldwork and have not tapped into its full analytic capabilities. Moving forward, I will be using MAXQDA to analyze my data, continue presenting at conferences, and prepare my final dissertation.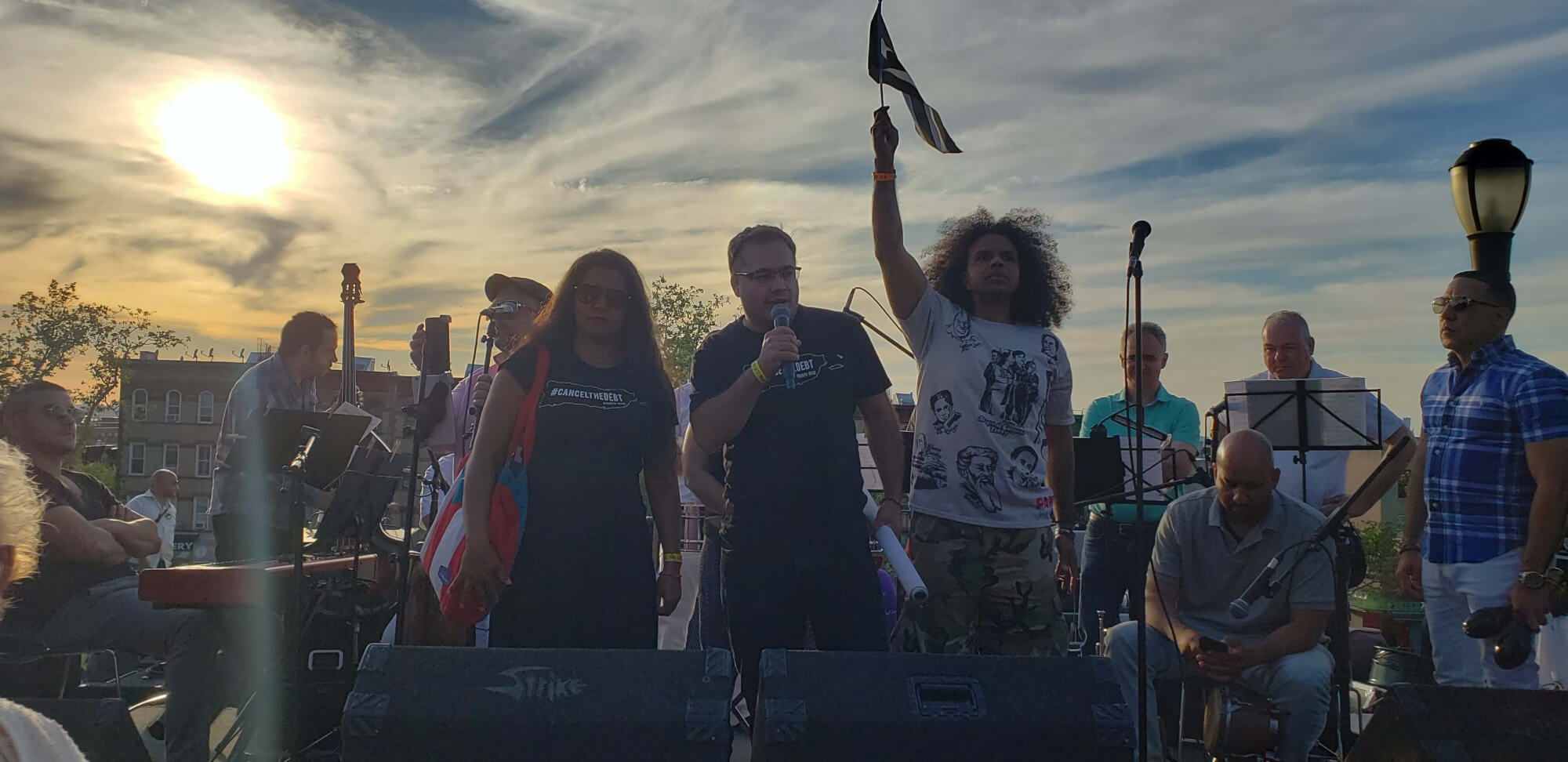 El Grito de Sunset Park Parade & Festival, Brooklyn, New York, June 2019.
Photo taken by Melinda González.
Editor's Note
Melinda González is a recipient of MAXQDA's 2018 #ResearchforChange Grant. Melinda González is a PhD Candidate in Geography and Anthropology on a Cultural Anthropology Track at Louisiana State University, USA. Her research project titled "Rhyming Thru Disaster: Community Organizing in Puerto Rican Poetic Spaces after Hurricane Maria" began in the Summer of 2017 in Puerto Rico and New York. This is her 3rd and final fieldwork diary entry, you can find her previous entries below. We wish her good luck on her continued research journey!