Mobile Visual Coding & Transfer Method (MVCT): The MAXQDA team is continuously working on new impulses for the field of computer assisted qualitative data analysis. This year VERBI Software was among the three finalists – out of more then 20 submissions – for the innovation price of the German Market Research Organization BVM (BVM Berufsverband Deutscher Markt und Sozialforscher e.V.), which reassures us that we are on the right path.
This is Mobile Visual Coding & Transfer Method (MVCT)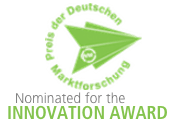 The Mobile Visual Coding & Transfer Method is a new way to connect mobile data collection with the worlds first QDA app (MAXApp for iOS) with a completely new coding strategy (MAXQDA emoticode®) and a direct transfer possibility to a true QDA software (MAXQDA). This method is extremely easy to carry out and offers researchers in the field a direct connection to their research partners in the research center.
Mobile and simple data collection of different data types (texts, images, videos, audio recordings) while automatically recording geo references and the ability to attach memos.
Visual coding with emoticode®s and symbols – optimized for the use with smartphones.
Efficient data transfer to MAXQDA via Dropbox – by single or multiple devices or researchers. Seamless integration of this pre-structured data into a deeper analysis.
Winner of the Market Research Innovation Award 2013 are Rogator AG und SevenOne Media GmbH for their excellent contribution about "New Hybrid Technologie – Online Surveys via HbbTV". Congratulation!
MAXApp for iOS