Ethnographic Methods have grown to be an integral part of qualitative research in various academic disciplines. This is not only true for Social Sciences, Social/Cultural Anthropology, and Cultural Studies. Also Sociology, Political Sciences, Educational Science, and Media Studies have adopted ethnographic methods and integrated them into their research routines. Keywords such as fieldwork, participant observation, and thick description represent only a fraction of a complex and multilayered ensemble of methods.
MAXQDA contributes to these methods by complementing them with possibilities for computer based analysis of ethnographic data, starting with the digitization of your fieldnotes. Wether you want to type your fieldnotes into the computer, scan them and import them as PDF files, or transcribe recorded audio notes, the choice is yours. Further MAXQDA not only offers functions to easily import your fieldnotes but is also a professional tool for interview transcription, making it unnecessary for you to use additional transcription software.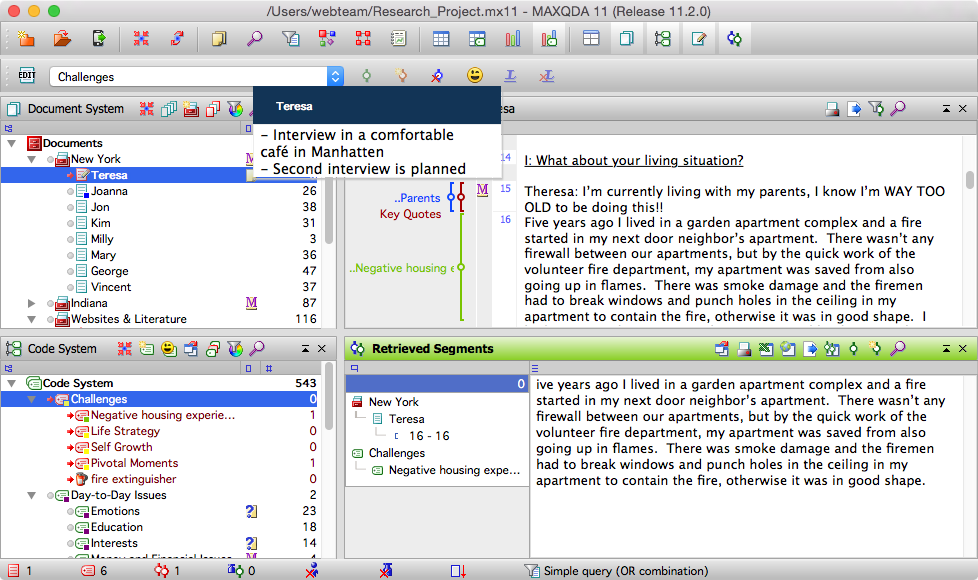 MAXApp for fieldwork
You may also use the MAXApp for Smartphones/iPhones/Tablets in order to record snapshots, videos and audio interviews during your fieldwork and import them directly into your MAXQDA project. At the same time MAXApp offers new possibilities to easily let the actors in your field create their own media or foto diaries with their mobile devices and transfer them to your computer.

Analyse and structure your data with MAXQDA

Once your data is imported into your MAXQDA project you can code, sort and arrange it in a flexible and creative manner. Wether you are using text, PDF, audio, pictures, or video files: MAXQDA does not force you to apply preconceived categorial structures. On the contrary it enhances and empowers the analytical options, allowing researchers to maintain the dynamic and flexibility of their analysis while handling their ethnographic data. You always keep control of how the software structures your research.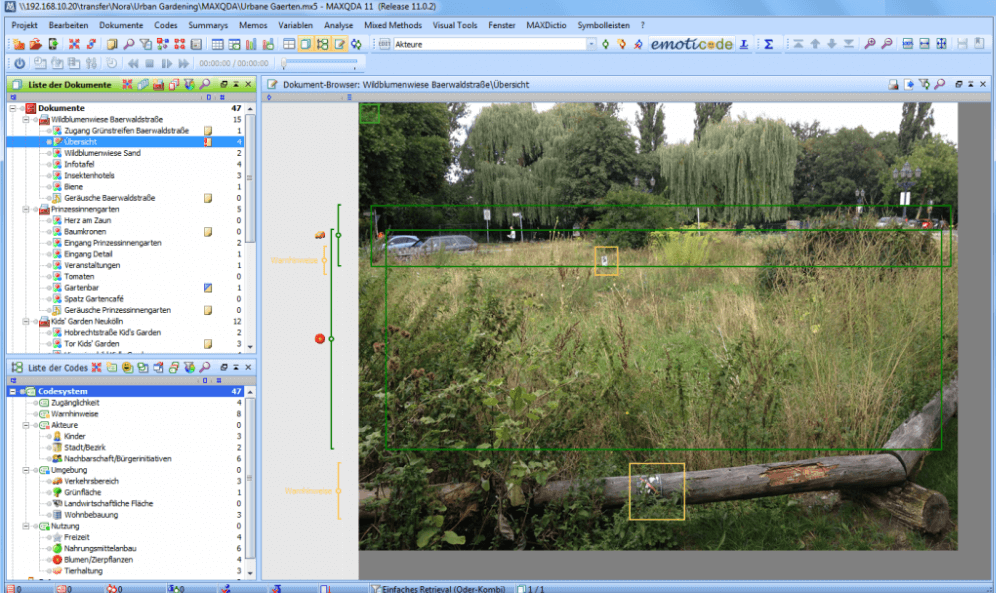 Students, for example, might want to use MAXQDA to help them find an ethnographic research question for their theses through inductive processes. Experienced colleagues on the other hand will find in MAXQDA a powerful tool to help them handle large amounts of data while maintaining the flexibility of their research inspite of tight time schedules. Functions for collaborative analysis, like features for the comparison of various interview codings created by various researches, also open up new possibilities for research groups and collaborative student projects.
Workshops and Cooperation: Ethnography @ MAXQDA
To enhance our support of ethnographic research we have started to work closely with ethnographers and started a new workshop series focusing on ethnographic approaches. First workshops will be held at the annual conference of the commission >Digitalisierung im Alltag (Digitization of everyday life) in the German Society for Cultural Anthropology (dgv) in Frankfurt a.M. (19.-21.2.2015) and at the MAXQDA User Conference – CAQD in Berlin (25.2.-28.2.2015).
Follow our blog to stay up to date on new developments. If you have any questions regarding ethnographic research with MAXQDA, would like to support our project (e.g. by hosting workshops or lectures at your institution) or simply share your opinion, we would be happy to hear from you!
Contact: ethnography@maxqda.com