The MAXQDA 2022.3 update with a series of improvements, fixes and new features is here! This time we are proud to introduce you to a brand new feature and significant improvements to make your research with MAXQDA even more enjoyable. Below are a few highlights of the latest update, but you are welcome to have a look at the complete list of improvements here.
How to install the latest MAXQDA update

To install the latest MAXQDA update, follow these three easy steps:

Open MAXQDA with a stable internet connection.
Select the "?" query symbol in the top right-hand corner of the screen.
And select "Search for updates" from the menu.

MAXQDA will then install the latest update and you can access the new features and improvements. Updates are free of charge. If you are using one of your institution's computers and have limited admin rights, please contact your local administator.
How to upgrade to MAXQDA 2022

To upgrade a license from MAXQDA 2018 or 2020 to MAXQDA 2022, follow these three easy steps:

Visit our online shop
Navigate to the upgrade tab.
Enter your license number to learn more about upgrade options.

You can quickly find your license number by clicking on the info icon in the upper left part of your MAXQDA start screen.
The new Code Explorer
The Code Explorer is a brand-new feature in MAXQDA. It focusses on the code. An interactive dashboard helps you understand how you have used the code in your data and which elements of writing you have created about this code in memos, comments or summaries.
Find out which other codes often co-occur with your code and which words appear most frequently in your coded text. All the information you see on the dashboard is interactive so you can jump into your data for further information with a single click.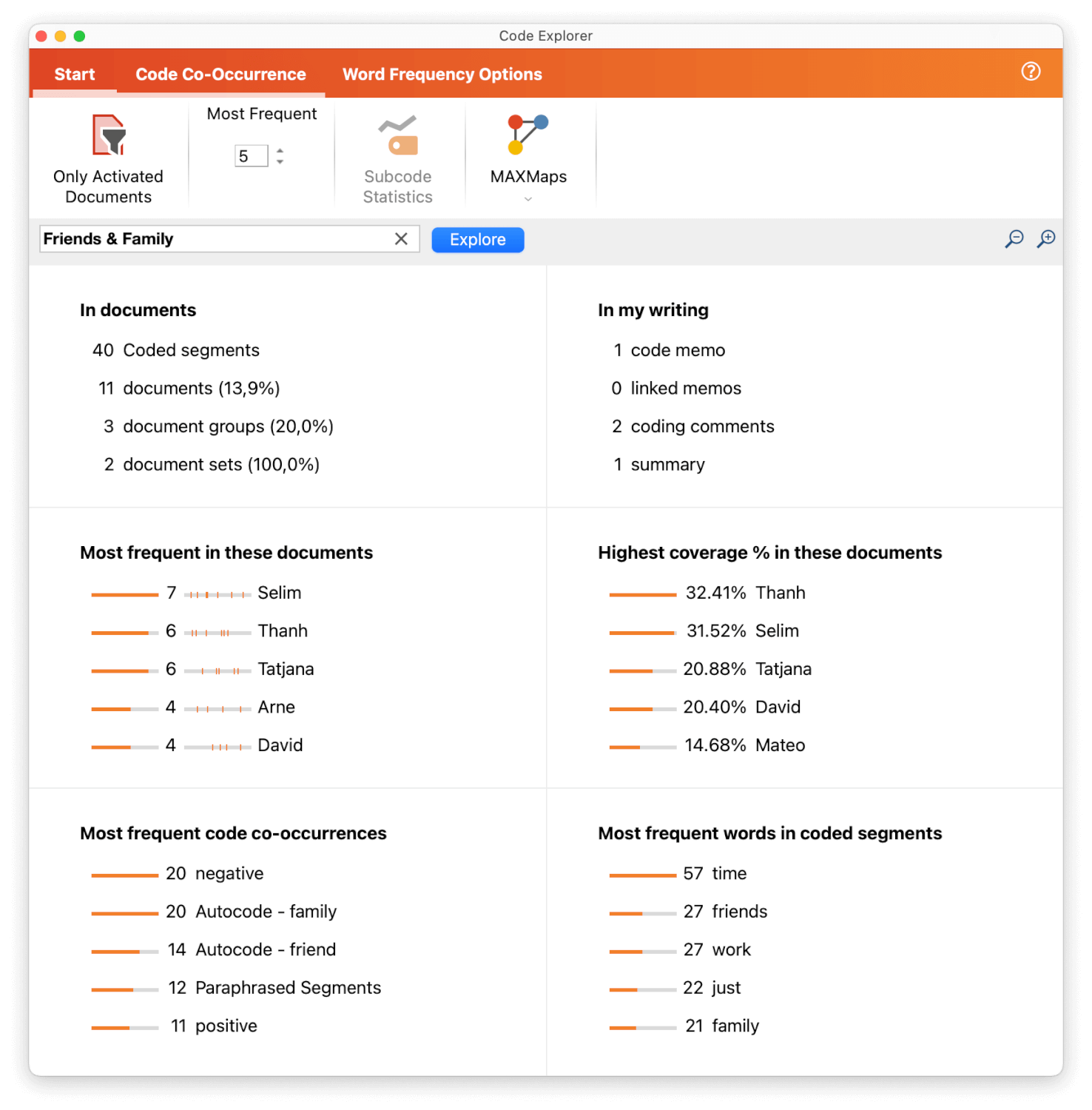 Exploring the Code 'Friends & Family'
Better Summaries
Summary Grid and Summary Table appear in an optimized design. A clearer top menu makes it easier to see all available editing options, and the handling more intuitive.
The improved layout displays the summary at the bottom of the Summary Grid, so you have more space to view the original data. Avoid spelling mistakes in your summaries by activating the spellcheck function in the Summary window.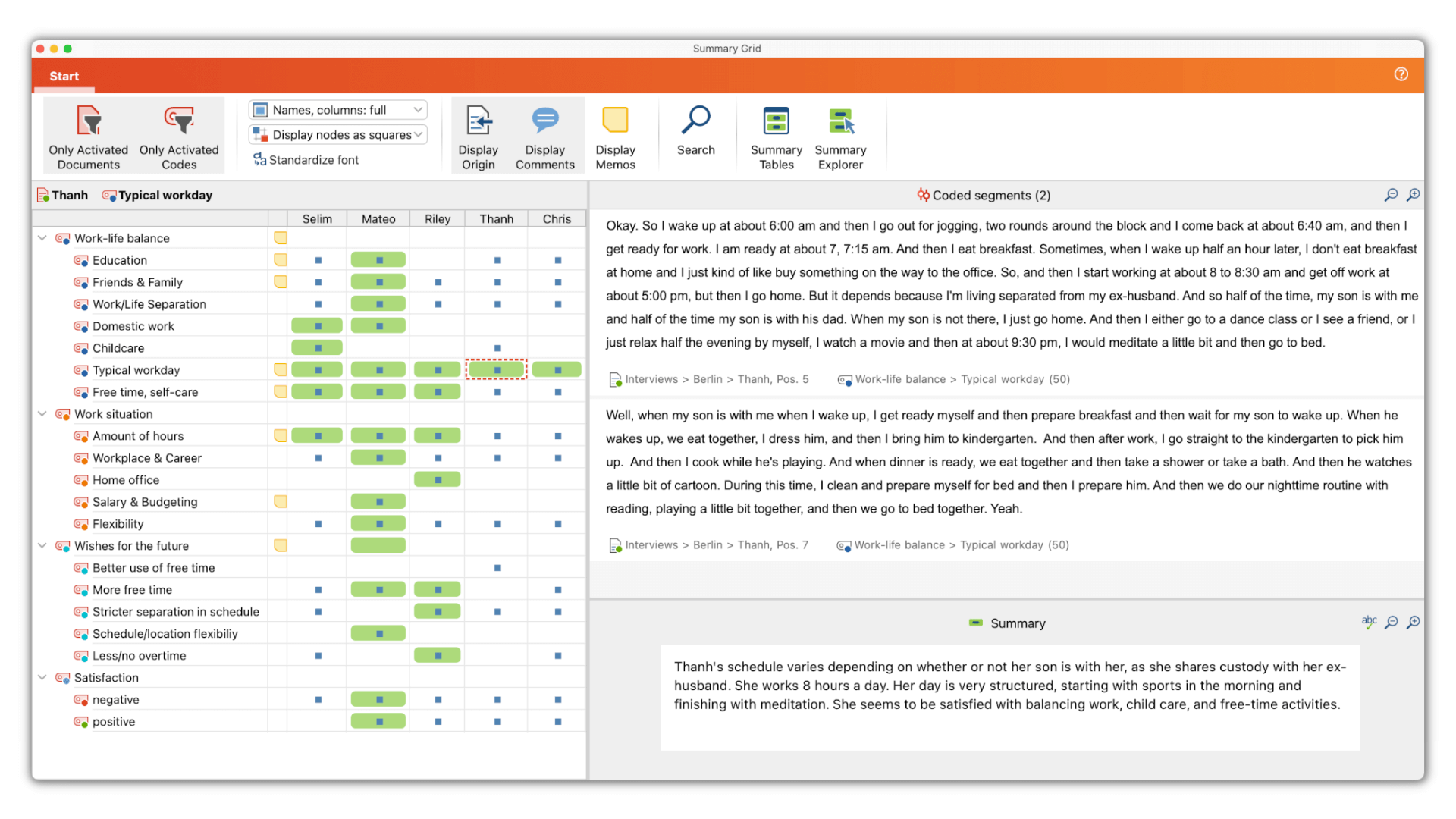 Improved Summary Grid
The optimized screen use in the Summary Table allows it to be used on the full width of the window. You can now intuitively remove columns or rows at any time by right-clicking on the element. Create case typologies by displaying each case in the color of their document. Edit or assign new colors to visualizes different groups.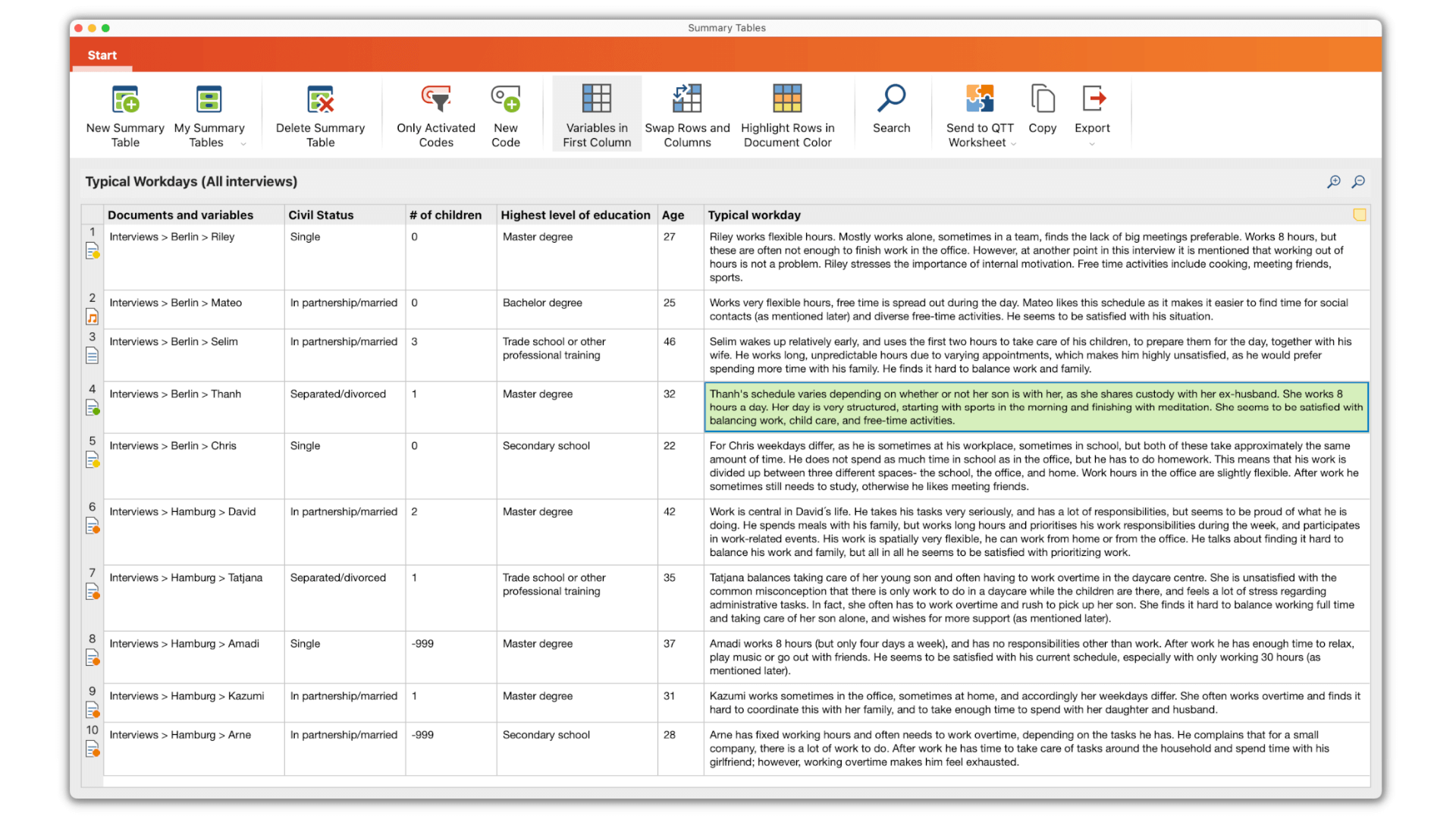 Improved Summary Table
Easier media analysis
New icons make it easier to active functionalities. You can now start transcribing your media files in the Multimedia Browser window or open audio or video files in the Document System – all by just one click on an icon.
Video and transcript are moving closer together. While working with transcripts of video files, you can now see thumbnails of the video next to each time stamp to get a better insight into your data.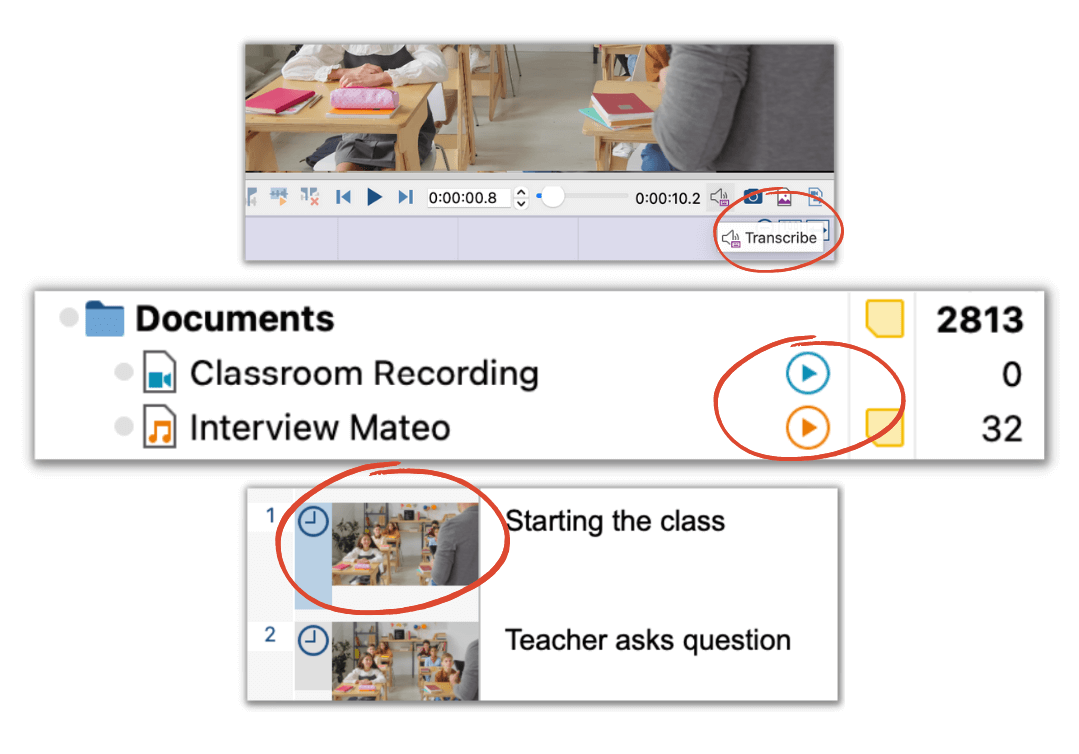 But that was not all! In the following, we have summarized for you some more practical improvements in various areas of MAXQDA.
Take a look at what's new in…
…Visual Tools
Document Portrait. The Document Portrait visualizes code distribution in a document using the code colors. You can now add a legend to the Document Portrait that lists all codes by their colors.
Code Matrix Browser & Crosstab. Until now you were able to either view your code system in hierarchy or filter the visualization to activated codes. Now you can use both options simultaneously.
MAXMaps. Export the result of a Code Configuration analysis to MAXMaps to view co-occurring codes in a visual network.
MAXMaps. You can now new keyboard shortcuts to format text in MAXMaps as bold (ctrl/cmd + b), italic (ctrl/cmd + i), or underlined (ctrl/cmd + u).
MAXMaps. The option to change the color of an element in MAXMaps was moved to a more prominent location in the ribbon menu.
…MAXDictio
Autocode. The dialogue for autocoding documents with MAXDictio dictionaries was optimized for clarity and ease of use.
QTT. You can now send the result tables of multiple MAXDictio tools to a QTT worksheet. This option is available for Word Frequencies, Word Combinations, Keyword-in-context, Interactive Word Tree, and Dictionary-based Content Analysis.
Search Results. In the Word Frequencies and Word Combinations result tables, you can now right-click on a word or a word combination and interact with the documents containing the word (combination). You can either activate the documents or save them in a new document set.
…Focus Group Analysis
Focus Group Import: While importing a transcript with different speakers, MAXQDA now automatically recognizes URL links in focus group transcripts and removes "http" and "https" from the speaker import options.
Split Results by Speaker.While analyzing Word frequencies and Word combinations in your focus group transcripts you can now differentiate the results by speaker to see how often each single speaker used word or a word combination.
MAXMaps Models.The MAXMaps dialogue to select focus group speakers for a focus group map was simplified to make it easier to find all speakers in your project.
Source Information. If you copy and paste a text segment from a focus group transcript to another location, MAXQDA now automatically adds the name of the speaker to the source information.
…Mixed Methods
Interactive Quote Matrix. The number of available coded segments is now visible for each code in the code system of the Interactive Quote Matrix. You can now easily identify codes with many coded segments and quickly skip codes with no coded segments.
Diagrams. Optionally switch off decimals for percentages in diagrams by toggling the new "decimals" icon on and off.
Favorite Variables. Selecting favorite variables which are optionally displayed in several analytical features or included in certain exports are now easier selected or deselected with a new dialogue.
Stats. When exporting codes from MAXQDA Stats to SPSS, the parent codes are now also added to the variable label.
…Import / Export
QTT. Send sections from Code and Word Explorer to a QTT worksheet.
Print. While printing your code system you can now exclude the code memos from the printed document by using a new setting in the print dialogue.
RIS data. If your RIS data includes multiple literature references that have an identical author and publication year, MAXQDA now includes a lowercase letter after the year as suggested in the APA Style guidelines.
Import Transcripts from GoSpeech. Import transcripts that were created with the automatic transcription tool "GoSpeech" (www.gospeech.com).
From Clipboard. Quickly import files or folders from Clipboard by using "Import > Create Document > From Clipboard" or the keyboard combination ctrl/cmd + v.
…TeamCloud
Export Backup. Team members who have missed the upload deadline for a project cycle can now export a backup of their project that their team lead can manually import into a newer cycle.
Import Backup. If a team member was unable to upload their work within the correct project cycle, it is now possible for the team lead to import their work into a newer cycle.
…general
Paraphrases. You can now paraphrase without having to switch into "Paraphrase mode" first. Simply right-click on a selection and choose the new "Paraphrase Selection" option from the context menu.
Paraphrases/Comments. Until now you had to switch between displaying paraphrases or comments in the Document Browser sidebar. Now both elements can be displayed at the same time.
Fonts. Select your favorite fonts for new documents, memos, QTT insights, or MAXMaps labels in the MAXQDA settings.
Search. You can now use the keyboard shortcut ctrl+F/cmd+F to open the local search bar in the Smart Coding Tool, Analyze Survey Data and Categorize Paraphrases windows.
Search. The local search options in all four main windows are now easier to reach. We have moved the search functionality to the same position in all four window toolbars.
Document System: Double-click on a Document Group or Set in the document system to expand or collapse the documents in the folder.
ARM Macs with Apple Silicon. We have updated the technical framework of MAXQDA to support new Macs with Apple Silicon. Older release versions of MAXQDA 2022 relied on the Rosetta Translation Environment.
View Project File in Folder. You can now easily find the containing folder for a project listed in the Recently Opened Projects listed in the welcome dialogue. Just right-click on the project to select the option from the context menu.
Word Separation Settings. You can now decide which characters to cut off from words and select if the text content is Japanese in the new "Word Separation" section of the MAXQDA preferences.
A complete overview of all new features and improvements can be found in the release notes. We hope you enjoy trying out our new features!