Online Shop
You can order MAXQDA in our online shop, run by our e-Sales partner Cleverbridge. Your order information is handled with the highest level of security (SSL encryption) and care.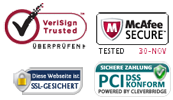 Forms of payment
The following forms of payment are accepted:
Credit card (Visa, MasterCard, American Express, JCB)
Wire transfer
PayPal
Additional payment options (e.g. check) may be offered depending on your location
Order Delivery
Your order delivery includes:
Software (download )
License information (via e-mail)
Installation and Activation Guide (in PDF format)
Processing & Delivery Time
The product is delivered immediately after payment has been received. If you are ordering a student license your student status needs to be verified. Depending on the verification method offered by your institution the process time may be up to 2 business days.
Shipping
The standard delivery of your MAXQDA license is electronic (download link and serial number via e-mail). Therefore no shipping costs apply.
MAXQDA Resellers
Search our reseller database to find a shop selling MAXQDA in your country. Or join our partner program to become a MAXQDA reseller.