The MAXQDA International Conference (MQIC), the MAXQDA event highlight of the year, will take place in Berlin from February 26th – 28th, 2020. Whether you have attended previous conferences in the past, or you're new to the MQIC, take a moment to check out this information about this year's registration process and about the exciting new events and formats taking place at the 2020 conference!
Registration
We have an exciting new format at this upcoming conference, and the registration process is a bit different from past MQICs – but still allows you to tailor your own conference schedule to suit your interests.
This year, every registration starts with the MQIC Conference Package. With this package you get all essential elements you may need to have a great MQIC:
Attendance at the Keynote Address by John W. Creswell, Ph.D.,
the Poster Session and Awards,
access to all of the Spotlight Sessions,
participation in the MAXQDA Best Practice Roundtables,
the delicious Wine & Cheese Networking Event,
and the Farewell Café.
Hot lunch and coffee buffets are also included on all three days of the conference!
But wait, there's more good news: This year, participation in one workshop of your choice is also included in the Conference Package fee! You can, of course, also book additional workshops from our amazing selection of over 18 methodologically-focused workshops for a total of up to 3 different workshops throughout the conference.
Last but not least, don't forget to take in some of the exciting Berlin culture and book a ticket to the MQIC 2020 Special Event. We're excited to announce that this year, we will be hosting a guided tour through Berlin's newest and most exciting exhibitions at the Futurium, including a hot dinner for further networking opportunities.
The registration deadline is February 16th, 2020.
Workshops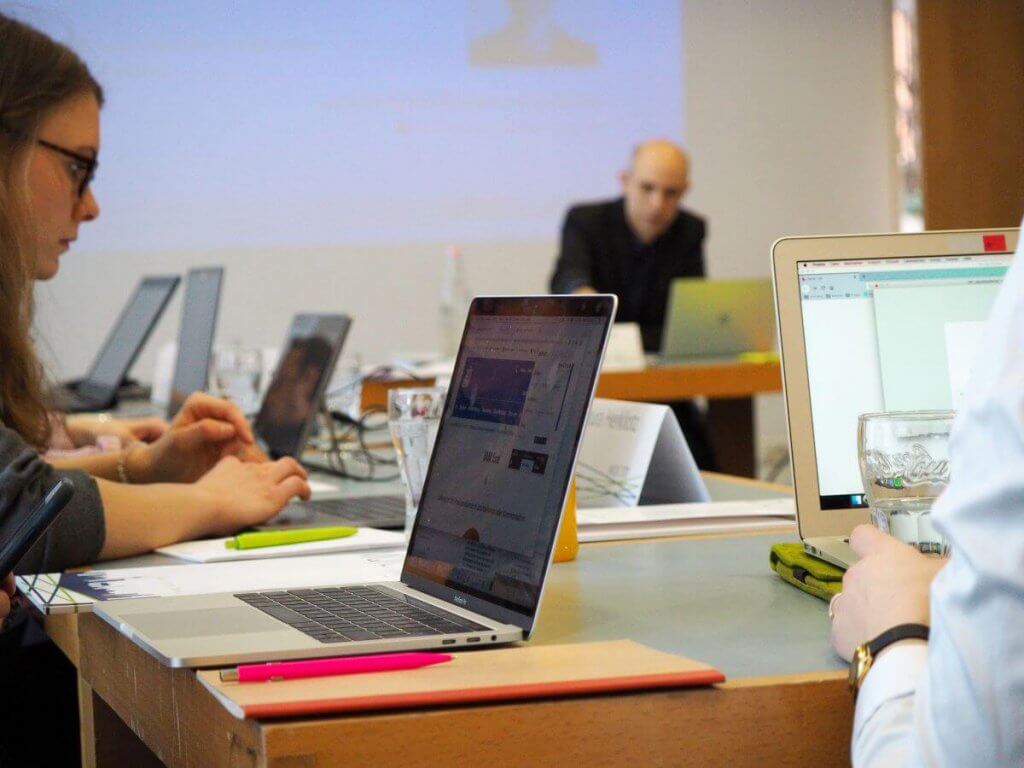 The MQIC 2020 offers you a choice between 12 Pre-Conference Workshops and 6 Post-Conference Workshops in either English or German. There are workshops for beginners that don't require any previous experience with the MAXQDA as well as advanced workshops for those already familiar with the MAXQDA basics.
English Starter German Starter
This year's workshop topics range from function-focused sessions like those on MAXQDA's world-famous visual tools to methodologically-focused workshops, such as the session Mixed Methods Study with MAXQDA, conducted by this year's keynote speaker, John W. Creswell, Ph.D.. Mix and match your workshop schedule to fit your personal research needs!
Please note: Workshop participation slots are assigned on a first-come-first-serve basis and once a workshop is fully booked, a waiting list will be opened. We recommend registering today to secure your spot.
Keynote Address by John W. Creswell, PhD
We are very excited about this year's keynote, which will be held by the internationally-renowned mixed methods expert, John W. Creswell, Ph.D., Professor of family medicine and co-director of the Michigan Mixed Methods Program at the University of Michigan!
John W. Creswell is one of the most distinguished names in mixed methods research, who operationalized this methodological approach for research in praxis and is responsible for its international recognition and use. Make sure to attend his keynote on "New Directions in Advancing the Methodology of Mixed Methods Research" on February 26th, 2020 at the MQIC, which is included in the Conference Package fee.
Learn more about the Keynote Address 2020
Spotlight Sessions and Best Practice Roundtables
Spotlight Sessions are a unique feature of the MQIC. In just 30 minutes, you will get a concise but in-depth overview of various functions or research-related topics. There will be 5 blocks 6 Spotlight Sessions spread over the Thursday and Friday, with several sessions repeating so you can mix and match sessions to fit your personalized schedule. Make sure to vote on the preliminary list of the MQIC 2020 Spotlight Sessions when you register so that the sessions you want to attend will be featured in the final program!
This year you can attend tables on the following 4 topics: Teaching and Learning MAXQDA; Exporting and Publishing with MAXQDA – Visualizations and Reports; Mixed Methods Research with MAXQDA; and MAXQDA Technical Questions. You can stay at each table as long as you like. A gong will ring every 15 minutes to give you a chance to switch between tables without disrupting the conversation and the Get-Together Lounge is conveniently located next to Best Practice Roundtables hall so you can easily continue your conversations one-on-one if you wish!
Poster Session and Awards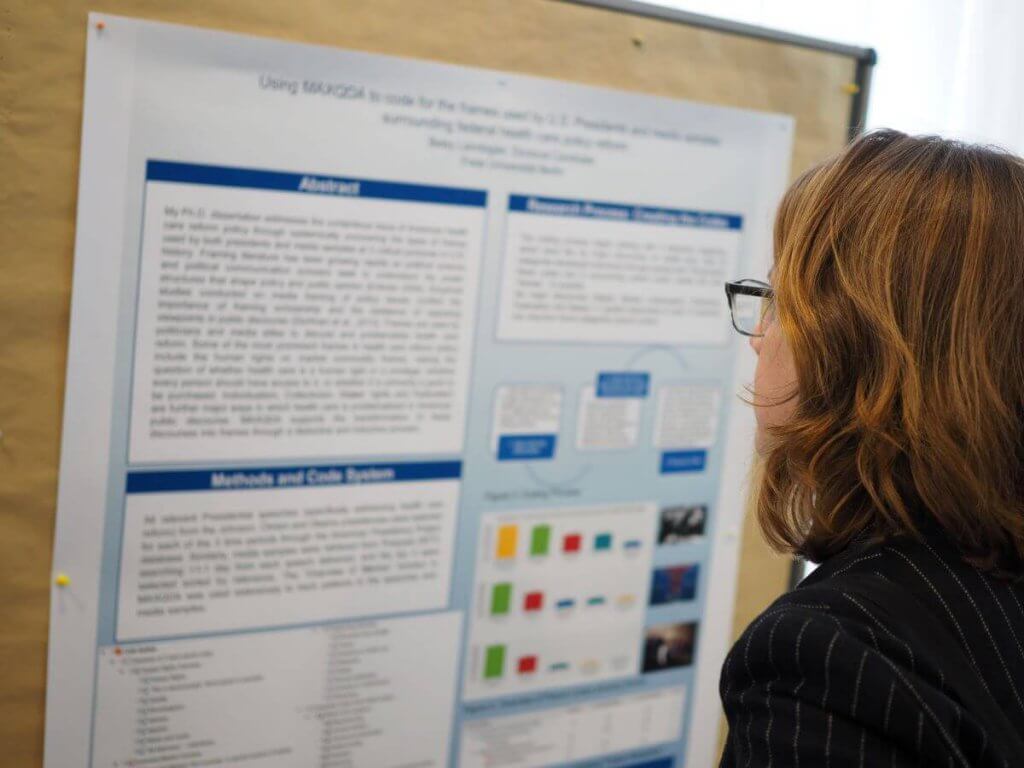 Here at VERBI Software, the Poster Session is a favorite MQIC event for us. Seeing your research with MAXQDA is both inspiring and exciting and gives us new insights into the potential of MAXQDA in praxis. You too have the opportunity to not only learn more about how others are using MAXQDA but present your own research as well. Submit your poster abstract by January 31st, 2020 to enter the Poster Session!
The accepted posters are displayed throughout the MQIC. On Wednesday, the 26th of February, you will also have the opportunity to discuss your work and answer the questions from the other participants. The Poster Session will be followed by the awards ceremony, and the author of the best poster will receive a cash prize of €200 EUR! We look forward to seeing your posters on how you use MAXQDA in your analysis or how you teach with MAXQDA.
Call for Posters Poster Awards Winners 2019
Networking
The opportunity to meet other people and exchange the research experience with them has always been an essential part of the MQIC. There are two events included in the Conference Package: a Wine & Cheese Networking Event and a Farewell Café. Make sure you don't miss them, because they both offer a chance to meet people who use and/or develop MAXQDA as well as to enjoy some high-quality catered snacks.
Tip: Join the MAXQDA Research Network to start connecting with other researchers today!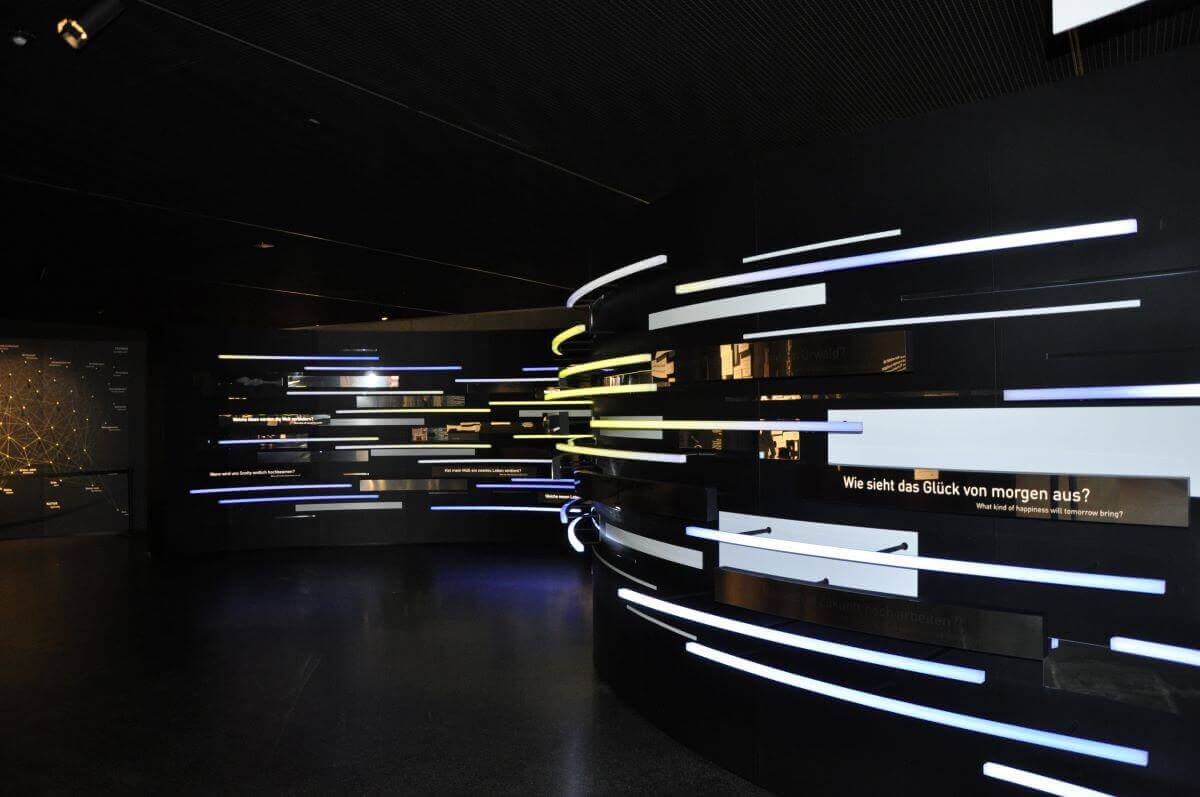 Don't forget, this year's special event is a guided tour of Berlin's new Futurium. The Futurium – a House of Futures – is the new exhibition space in Berlin, where foreseeable, imaginable and desirable drafts of possible futures are presented and discussed. After a one-hour tour, the discussion and networking can continue during the subsequent joint dinner in the Futurium Restaurant, serving specialties from regional and sustainable sources.
Important Deadlines
Deadline
Poster Submissions:
31 January 2020 
Deadline
Funding Applications:
31 January 2020
Deadline
Conference Registration:
16 February 2020
To secure your spot at the MQIC, simply fill out the online registration form and complete the payment with a credit card or PayPal. Please note: We cannot guarantee that everyone on the waiting lists will be able to attend, but you will not be charged for any event unless you get a slot. Please also read the conference's Terms and Conditions for further information on our cancellation and refund policies.
Apply for funding
While we do our best to keep the MQIC conference and workshop fees as low as possible, we have also created the MQIC Funding Program for Young Researchers to ensure that participation is made available to the next generation of researchers with limited financial resources. Highly motivated Ph.D. students or candidates are eligible to receive a grant of up to €500 EUR to cover travel and participation costs.
Funding applications are due by January 31st, 2020. Please click here to see a complete list of the documents you need to submit. Early applicants may receive early notice of their (non-)acceptance into the funding program.
Questions?
Check out our FAQs or feel free to contact us with any questions or concerns you may have:

Tel: +49 (0) 30 – 206 22 59 22
Fax: +49 (0) 30 – 206 22 59 29
E-Mail: mqic@maxqda.com
We look forward to seeing you in Berlin soon!