Meet MAXQDA @ the Berliner Methodentreffen 2013: MAXQDA is one of the sponsors of the 9th Berliner Methodentreffen (BMT), taking place on July 12th and 13th 2013, at the Freie Universität Berlin.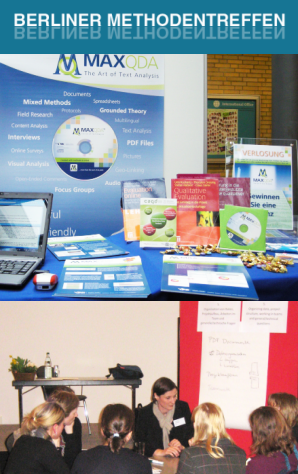 The BMT is the largest annual conference for qualitative research in the German-speaking world, and MAXQDA will be present at the trade show and through professional workshops for beginners and advanced.
MAXQDA Info Stand
MAXQDA will have a booth in the foyer where you can get to know professional QDA software and win a free MAXQDA license in our raffle. We'll be available to answer your questions and to hear your suggestions!
MAXQDA Workshops
The Starter Workshop will introduce you to MAXQDA 11 and give an overview of the program, its layout, and the essential qualitative data analysis functions. In the Advanced workshop you'll get to know the new functions of MAXQDA 11, which was published in December 2012. MAXQDA 11 offers more than 50 innovative features and effective improvements e.g. the Summary Grid, the Smart Publisher, emoticode® and data collection with MAXApp.
Both workshops will take place on Saturday from 13:00 to 17:00.
We are looking forward to meet you at the 9th Berliner Methodentreffen!