Created for research, built for change is the vision of the International Center for Advanced Research and Training (ICART) in Bukavu in the Democratic Republic of Congo (DRC). Founded in 2013 ICART aims to develop local research capacity to solve local problems in the field of gender-based violence and clinical healthcare.
How it all started
The roots of the international research center ICART lie in the distant dream of Dr. Denis Mukwege, the world-renowned gynecological surgeon who is the founder and medical director of Panzi Hospital in Bukavu (DRC). As the premier medical institution in eastern DRC, Panzi had become internationally known for care of survivors of sexual violence and women with severe gynecological problems. It is also the go-to organization for information about healthcare in the region.
In September 2013 ICART was officially established and Dr. Mukwege's vision of a research and training center that would identify problems, conduct rigorous scientific research to find solutions, and develop leaders on an international stage to bring about development in one of the poorest regions on earth came to life.
Image source: http://icart-bukavu.org/
Using MAXQDA for research
As part of a joint research project between ICART and the Peace Research Institute Oslo (PRIO), the local research team has conducted over 50 semi-structured interviews and five focus group discussions on women's empowerment and gender-based violence.
Thanks to MAXQDA, the team has been able to code and analyze the data systematically and study changes over time after women have participated in a six-month training on empowerment. Local researchers have provided training on MAXQDA to interns and younger research assistants, helping to increasingly build local capacity for research.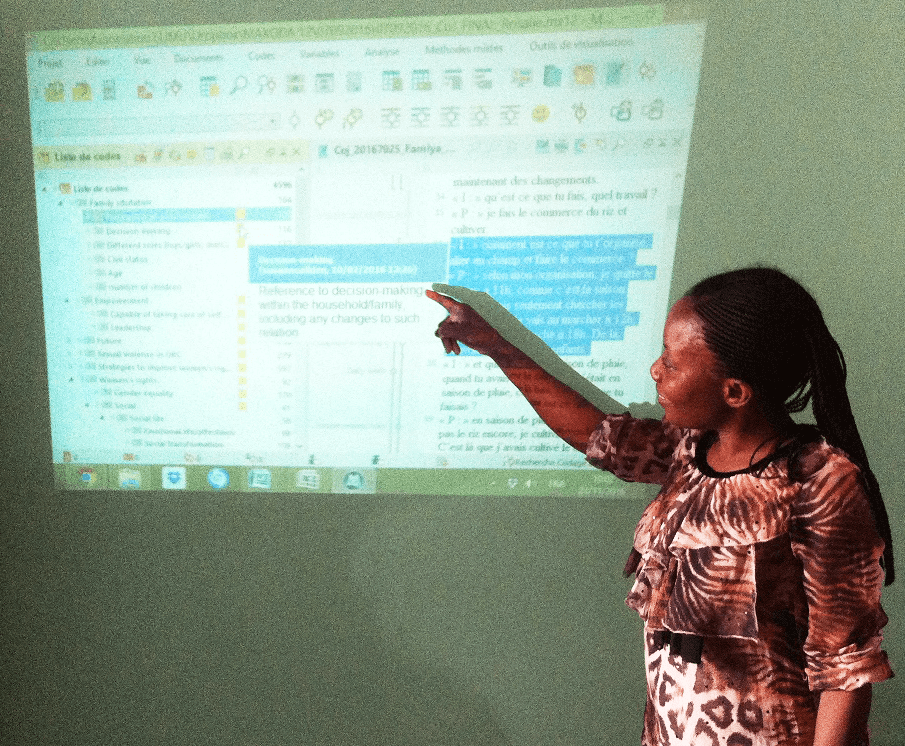 ICART's impact is growing
For decades, DRC has been one of the top recipients of international aid and yet it remains one of the least developed nations in the world. ICART believes that research and the research process are the keys to its success. It sees research as a tool for development and believes that by putting Congolese at the center of the solutions rather than relying on the international community true change is possible.
Today, the impact of ICART can be seen both internally and externally. Internally, junior staff that started as interns, with limited knowledge about research, are now supervising research projects. Externally, ICART researchers are confidently attending international academic conferences to present results and findings from the field, collected and analyzed by Congolese researchers themselves, to guide and inform international research agendas.
We are thankful that VERBI Software is supporting ICART's work.
Lisa Peters has a Master in Public Health and has worked in global health for over 10 years. Her experience includes working as a Peace Corps volunteer in Tanzania and an epidemiologist for both the Centers for Disease Control and Prevention in Cairo, Egypt and the World Health Organization in the Philippines. She helped found ICART and has worked to train staff, write grants, conduct research, and develop international partnerships.
Mujumbe Salama Prince holds a degree in Computer for Management. He has an experience working in multi-cultural environments. He hugely contributed in the establishment of ICART where he is the Financial Administrator and manages ICART website and social media. His work involves managing budgets, planning and follow up of research activities, Human resource management.