Order Information – How to order MAXQDA
Included in Your Order
Software (as download or on a CD)
License information (via e-mail)
Installation and Activation Guide (in PDF format)
Manual (in PDF format)
Installation CD
The standard delivery of your MAXQDA license is electronic (download link and serial number via e-mail). You do have the option, however, of ordering an installation CD. This CD is not necessary, but it allows you to install the software without downloading anything from the internet. And if you need to install the software again later, you have the program handy.
Online Shop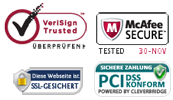 You can easily order MAXQDA in our online shop, run by our E-sales partner Cleverbridge. Your order information is handled with the highest level of security (SSL encryption) and care.
Shipping Costs
Since the standard delivery is done by e-mail, there are no shipping costs unless you decide to order the installation CD, which has the shipping costs included in its price.
Forms of payment
The product is delivered after payment has been received. The following forms of payment are accepted:
Credit card (Visa, MasterCard, American Express, JCB)
Transfer
PayPal
Check
Processing & Delivery Time
The product is delivered immediately after payment has been received.