Please note: The newest version MAXQDA 12 is now available. More outstanding functionality, reliability, usability and aesthetics.
Get to know all about the new features of MAXQDA 12.
MAXQDA 11 – Here are the Highlights
Summary Grid – Thematic Code Summaries
A new level of analysis
For the systematic analysis of texts, or other kinds of data, it is often necessary to structure and summarize data focused on specific themes (categories).
MAXQDA 11 offers a new level for your analysis where you can create and manage summaries for multiple categories. For example, you can summarize all those text passages in your interviews that were assigned a specific code. Especially those researchers who are doing qualitative content analysis will find this tool extremely useful. Summaries can be modified, and the original text source of the data will always be linked. Go even further with the Grid Tables, and create tables of your summaries in which you can easily compare your results. This is a great way to browse your summaries in a neatly organized way. Of course you can also export your grid tables to excel and they are great for use in presentations and publications.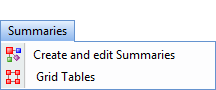 Back to Overview
emoticode® – Code with Emoticons and Symbols
emoticode® – Transverbal Coding with Icons
Transcend the limits of verbal tagging through MAXQDA's new, streamlined emoticode® system. Fully integrated with the new MAXApp, emoticoding fluidly optimizes data organization for teamwork, on-the-go functionality, and visualization. MAXQDA offers more than 300 emoticons and symbols, which are organized into different thematic groups.
Furthermore, every emoticon is automatically matched with a tagged description, which is imported into MAXQDA as the code name and visible when you hover over the symbol.
Full Functionality
The traditional verbal coding you're already familiar with works alongside this new option: All the functions of conventional coding are supported, meaning emoticons and icons will be displayed in the overview tables of coded segments and in visualizations such as the Document Portrait.
Back to Overview
Literature Connection – analyze your literature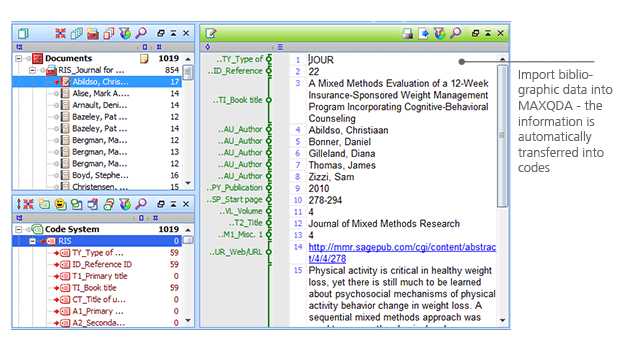 Import and process your RIS data
MAXQDA offers the possibility to import bibliographic data from reference management tools like Endnote, Citavi, and Zotero in RIS Format. Each reference entry will be imported as an independent document and can be coded, linked, searched, and given memos. As you build your bibliography in your reference management tool, data will automatically be collected about the author, publication year, subject, and so forth. When you import this information into MAXQDA, these "tags" are automatically transferred into codes and variables.
Of course, you can also export data from MAXQDA as RIS-Format, which can then be imported back into your reference management software.
Example
Easily analyze how a topic is researched by importing RIS data of all the articles ever published in a specific journal into MAXQDA. Contrast titles from different time spans to find out if the way specific topics were approached has changed over time.
Back to Overview