MAXQDA …
State-of-the-art Mixed Methods Software. Easily analyse interviews, transcripts, focus groups, text/video/audio files, literature reviews, images, and more

Wide range of visualization tools: word clouds, charts, tables, concept maps, and more

Offers advanced mixed methods, statistical, and quantitative content analysis tools

Easy to use and learn thanks to its user-friendly interface. We also offer a wide range of free video tutorials and other learning materials ideal for new users

100% identical on Windows and Mac
Free MAXQDA Trial for Windows and Mac
Download our free and fully functional trial version and try MAXQDA with your own research data – or use the included example projects. Once you've filled out the form below you'll receive an e-mail with the download link and free learning resources like our video tutorials and manuals.
Core features of MAXQDA for a Mixed Methods Data Analysis
All-in-one Mixed Methods Software
Use MAXQDA to manage your entire research project. Easily import data from texts, interviews, focus groups, PDFs, web pages, spreadsheets, articles, e-books, and even tweets and YouTube comments.
Make use of MAXQDA's wide range of coding possibilities for all kind of data and for coding inductively as well as deductively.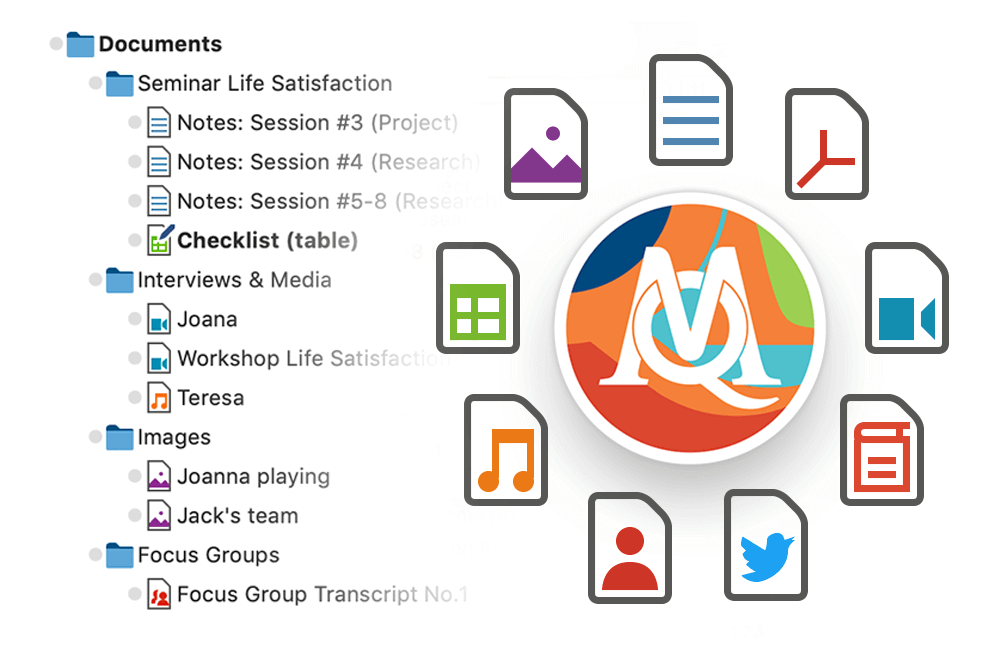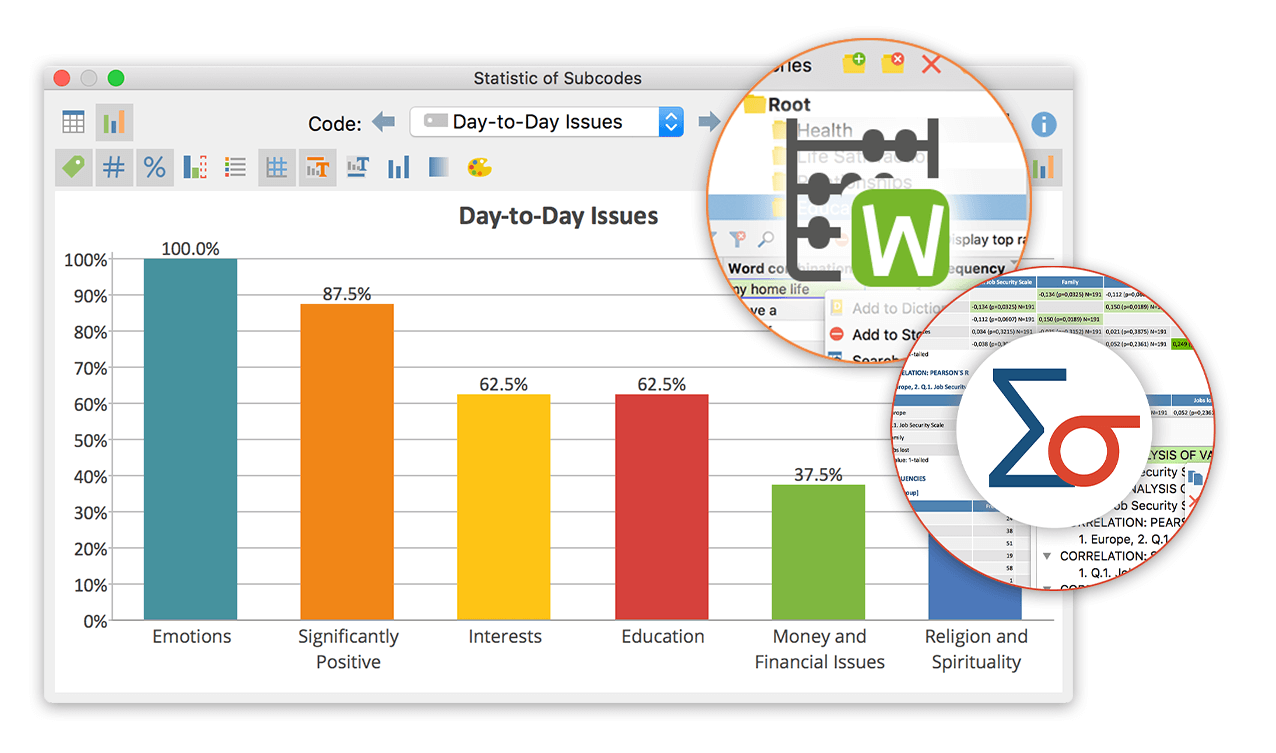 Include quantitative data to enhance your research
MAXQDA is the mixed methods expert! With MAXQDA you can easily combine qualitative and quantitative methods to get an even deeper insight into your data. MAXQDA offers mixed methods tools, quantitative text analysis tools in MAXDictio, the add-on module of MAXQDA Plus, and statistical analysis in the Stats module of MAXQDA Analytics Pro.
Quantitizing of qualitative coding information
You can import and export quantitative data matrices to and from statistics software packages like SPSS. You can turn your codes into variables for a statistical analysis, automatically or manually assign variables to your data, and export any part of your project to a spreadsheet.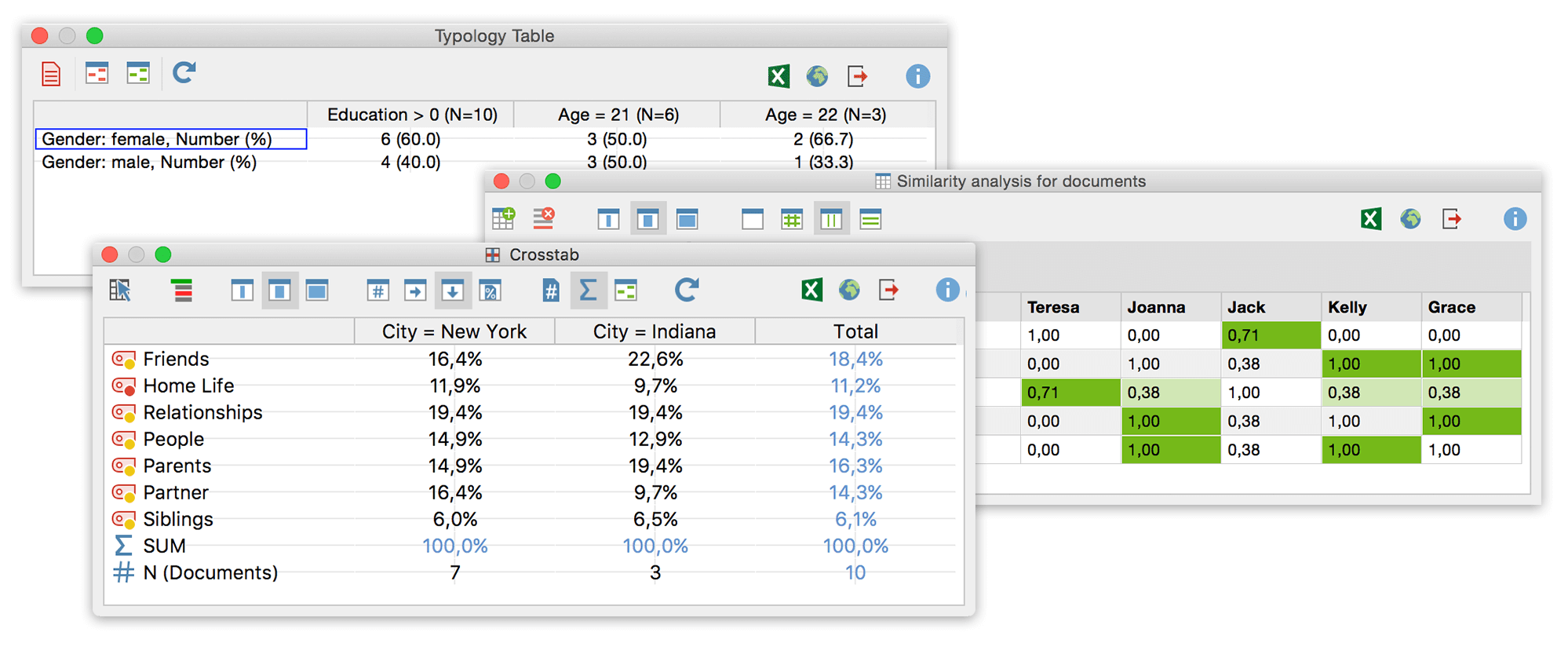 Create and compare groups
With MAXQDA's tools you can easiliy create and compare the code frequencies of various groups with each other, or identify and quantify similarity or dissimilarity in code frequency across your data. Calculate various variables and their percentages for qualitative typologies. Especially useful for mixed methods research are MAXQDA's joint displays that visualize integrated data and/or results.
Visualize your results
With the help of the Statistics and Graphics module, MAXQDA can create stunning frequency tables and charts which indicate the frequency of subcodes. The colors and captions of your charts are editable, and the result can easily be exported and fits perfectly into your report or presentation.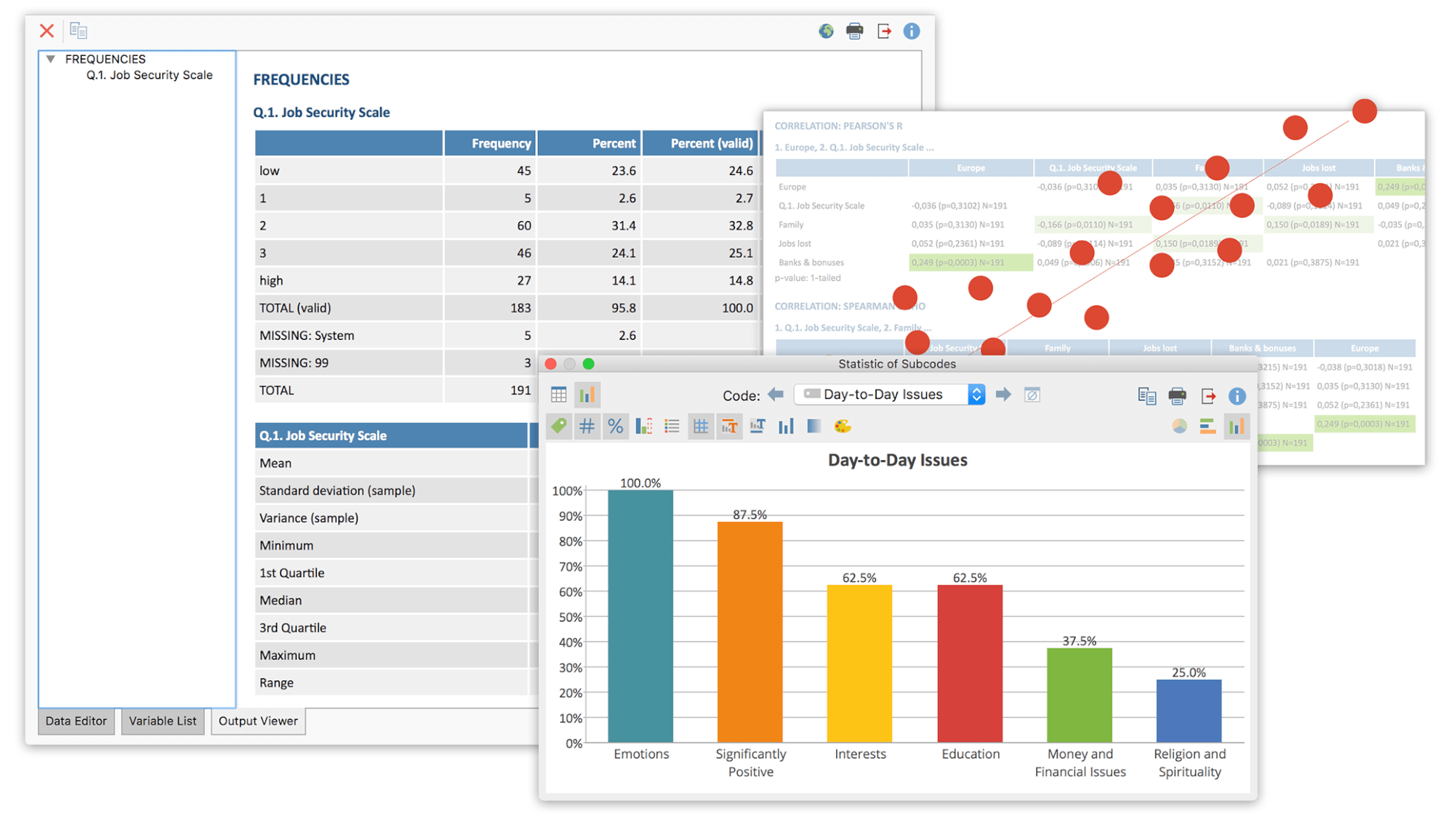 Want to test MAXQDA 2020 for yourself? Download the no-obligation 14-day free trial!
Download Free Trial
Ready to purchase MAXQDA 2020? Assemble your license in the online shop!
Visit MAXQDA Shop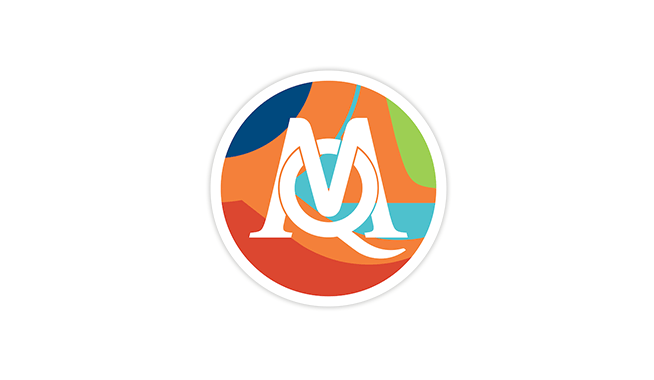 Compare the features of MAXQDA Standard, Plus and Analytics Pro.
Feature Comparison