Take your focus group analysis to the next level with MAXQDA
MAXQDA is the best choice for your focus group analysis. It works with a wide range of data types and offers powerful tools for focus group data analysis, such as coding, visualization, mixed methods, statistical, and quantitative content analysis tools.
Your data
Your codes
Document viewer
Your analysis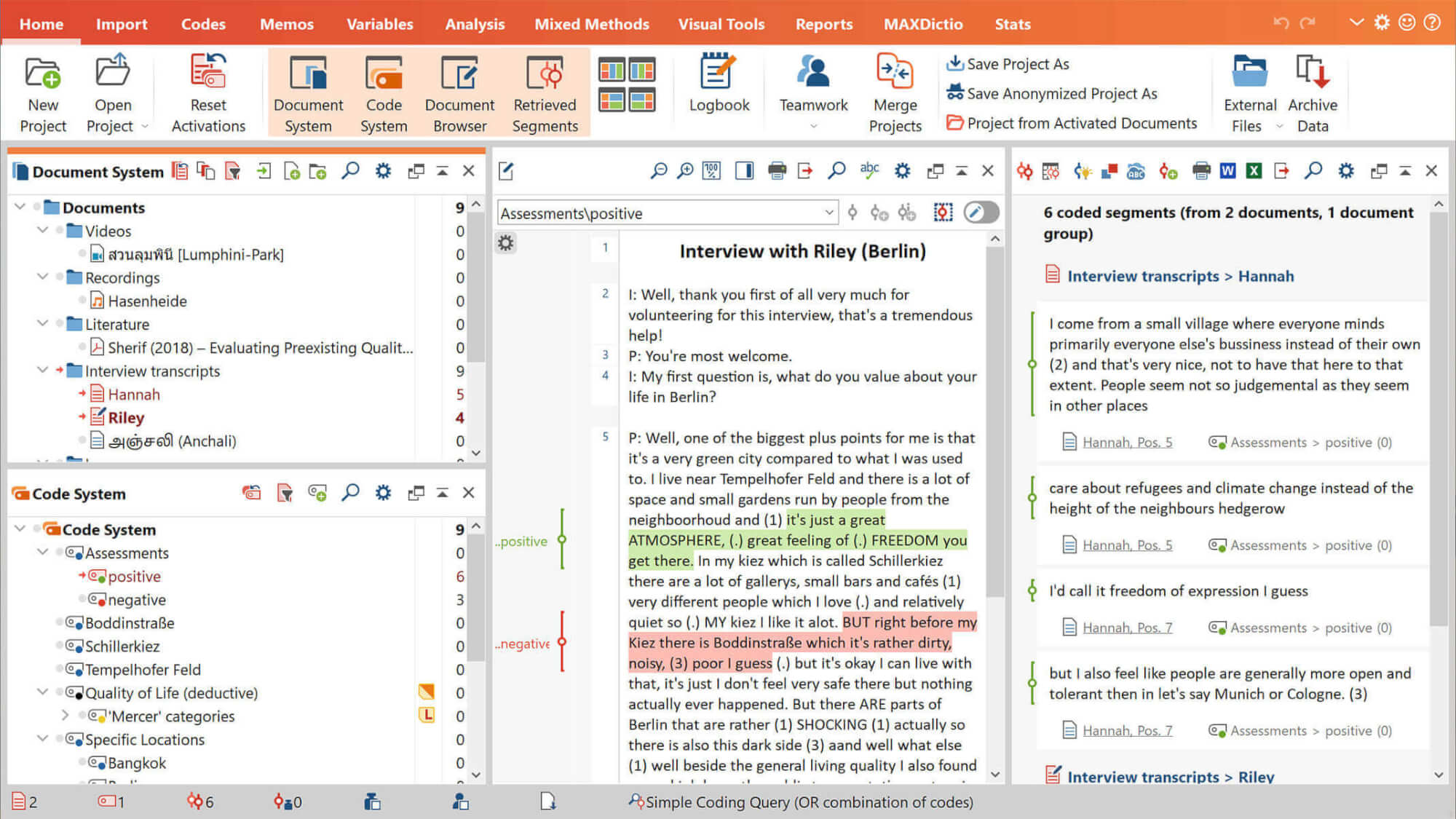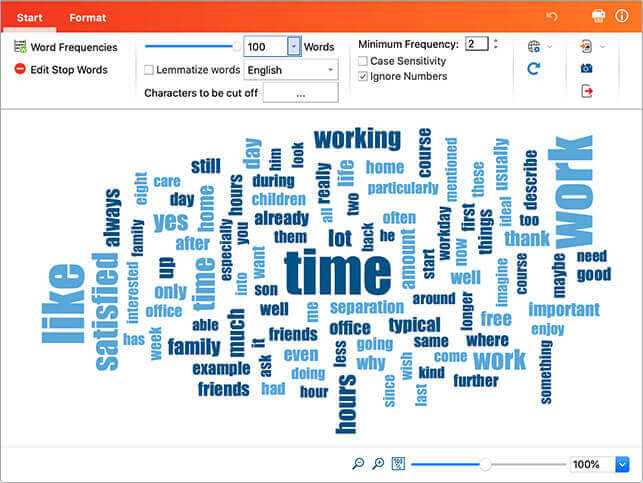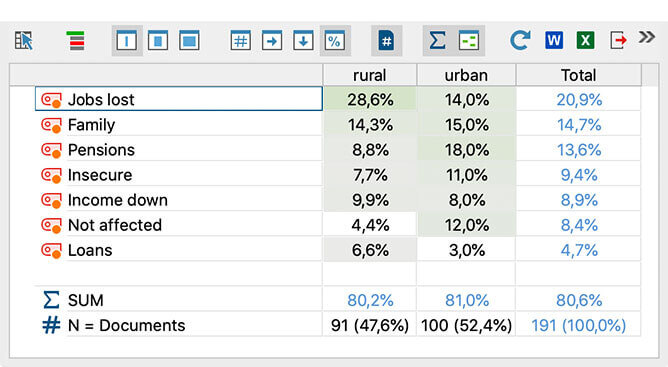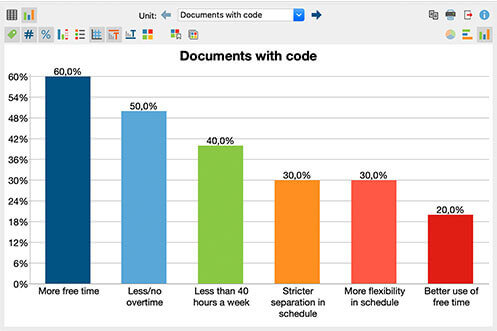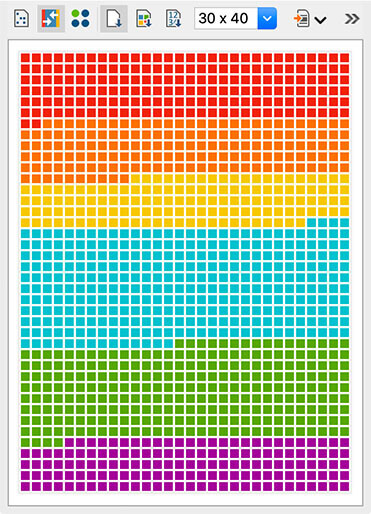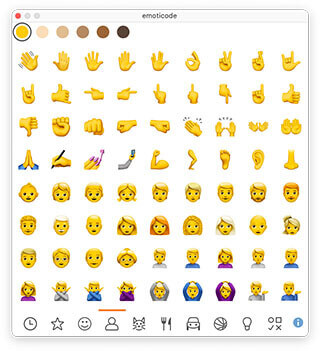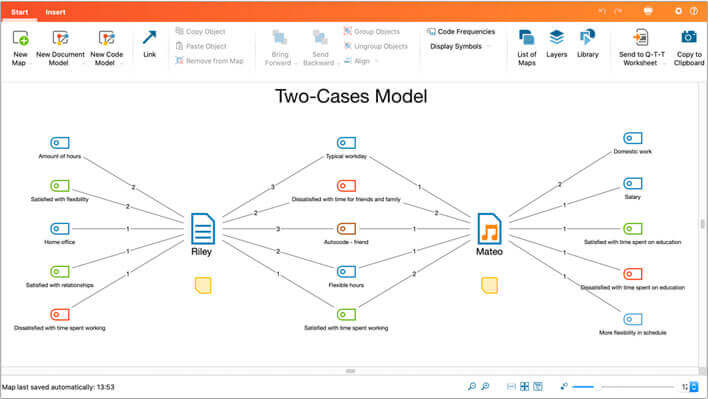 Focus group analysis software for Windows and Mac.
MAXQDA is the best choice for your focus group analysis. It works with a wide range of data types and offers powerful tools to analyze textual data, such as coding, visualization, mixed methods, statistical, and quantitative content analysis tools.
Developed by and for researchers – since 1989






Having used several qualitative data analysis software programs, there is no doubt in my mind that MAXQDA has advantages over all the others. In addition to its remarkable analytical features for harnessing data, MAXQDA's stellar customer service, online tutorials, and global learning community make it a user friendly and top-notch product.
Sally S. Cohen – NYU Rory Meyers College of Nursing
Analyze Faster and Smarter with MAXQDA
Analyze all kinds of data – from texts to images and audio/video files, websites, tweets, focus group discussions, survey responses, and much more. MAXQDA is at once powerful and easy-to-use, innovative and user-friendly, as well as the only leading QDA software that is 100% identical on Windows and Mac.
All-in-one Focus Group Analysis Software
As your all-in-one Focus Group Analysis Software, MAXQDA can be used to manage your entire research project. Easily import your focus group transcript from any common text format (DOC, DOCX, ODT, RTF, TXT). Alternatively, you can import your focus group interview as an audio or video file and analyze it with or without transcribing it first. You can add demographic data to create variables and compare interest groups. Organize your data in groups, link relevant quotes to each other, and share and compare work with your team members. Your project file stays flexible and you can expand and refine your category system as you go to suit your research.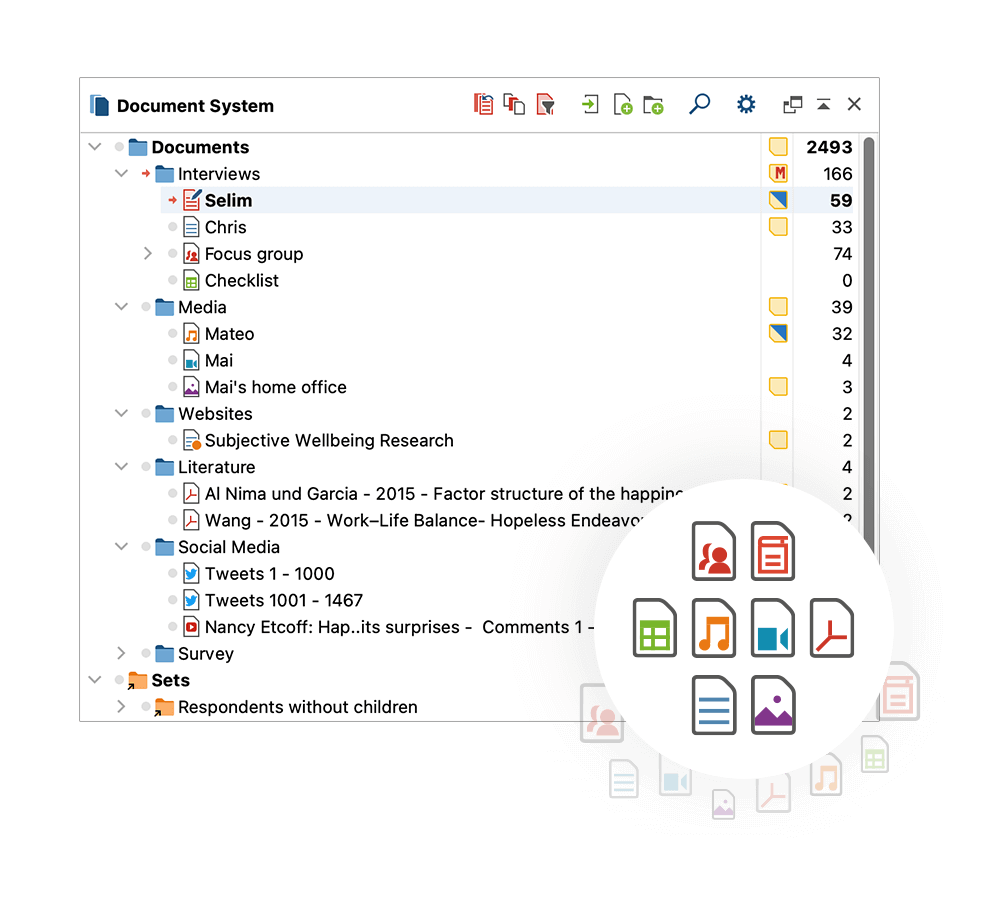 Code and retrieve
MAXQDA is a Focus Group Analysis Software that is easy-to-use and can be used to mark important information in your data with different codes, colors, symbols, and emoticons. Because time is precious, you can create codes with just one click and apply them to your data quickly via drag & drop. MAXQDA as the #1 Focus Group Analysis Software offers Text Search tools that allow you to explore your material without coding or reading them first. Search for keywords and automatically code them with just a few clicks. Organize your thoughts and theories in memos that can be linked to any element of your project. Retrieve your coded segments with one click or use MAXQDA's powerful summary tools to test and develop new theories.
Unique Focus group Tools
MAXQDA offers unique and powerful analysis tools – designed for the analysis of focus group discussions. In addition, many other tools are optimized for focus group data analysis. Import your focus group transcripts and let MAXQDA automatically identify and code the speakers' contributions or transcribe your interviews within MAXQDA and make use of the onboard transcription tools for focus group discussions that accelerate and ease the transcription process. Differentiate your analysis results by speakers or analyze only the contributions of specific speakers, and much more.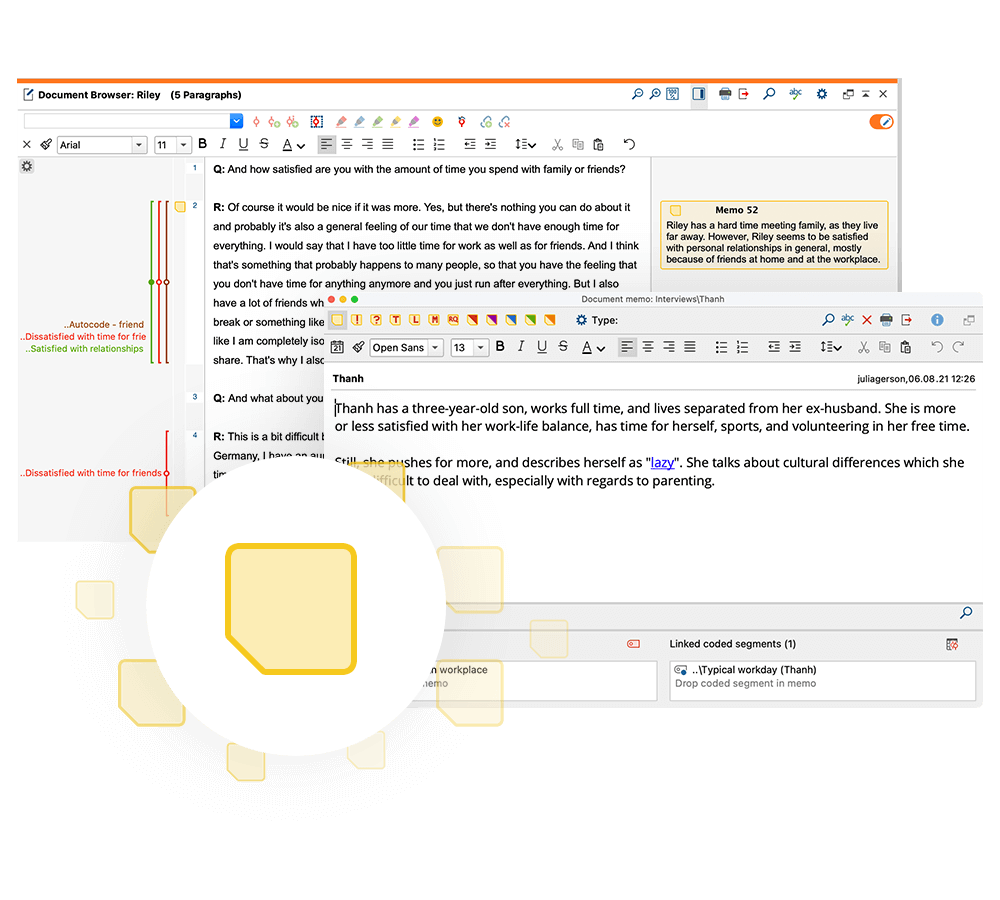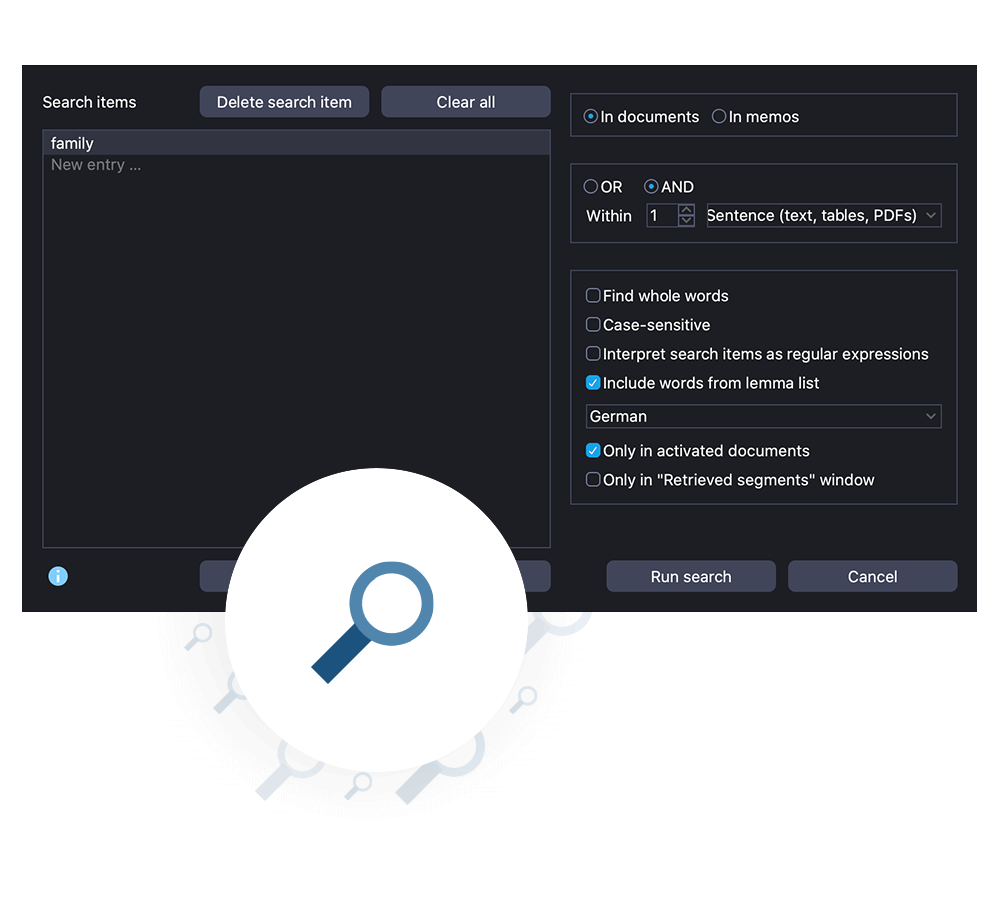 Find what you're looking for
A focus group analysis can be a time-consuming affair. Luckily a Focus Group Analysis Software like MAXQDA offers tools that are designed to show you the data you need, such as the Quote Matrix which creates a joint display of themes and quantitative variables. With MAXQDA's Lexical Search, you can search and automatically code interesting keywords, such as important concepts for your focus group data analysis. Use the codes and documents created with the automatic speaker detection tool to analyze the data either on a group level or on the level of individuals.
Aggregate your data
When conducting a focus group analysis, you can easily get lost. But with MAXQDA as your focus group analysis software, you will never lose track of the bigger picture. Among other tools, MAXQDA's overview and summary tables are especially useful for aggregating your focus group analysis results. MAXQDA offers overview tables for almost everything, codes, memos, coded segments, links, and so on. With MAXQDA focus group analysis tools you can create compressed summaries of sources that can be effectively compared and represented, and with just one click you can easily export your overview and summary tables and integrate them into your focus group analysis report.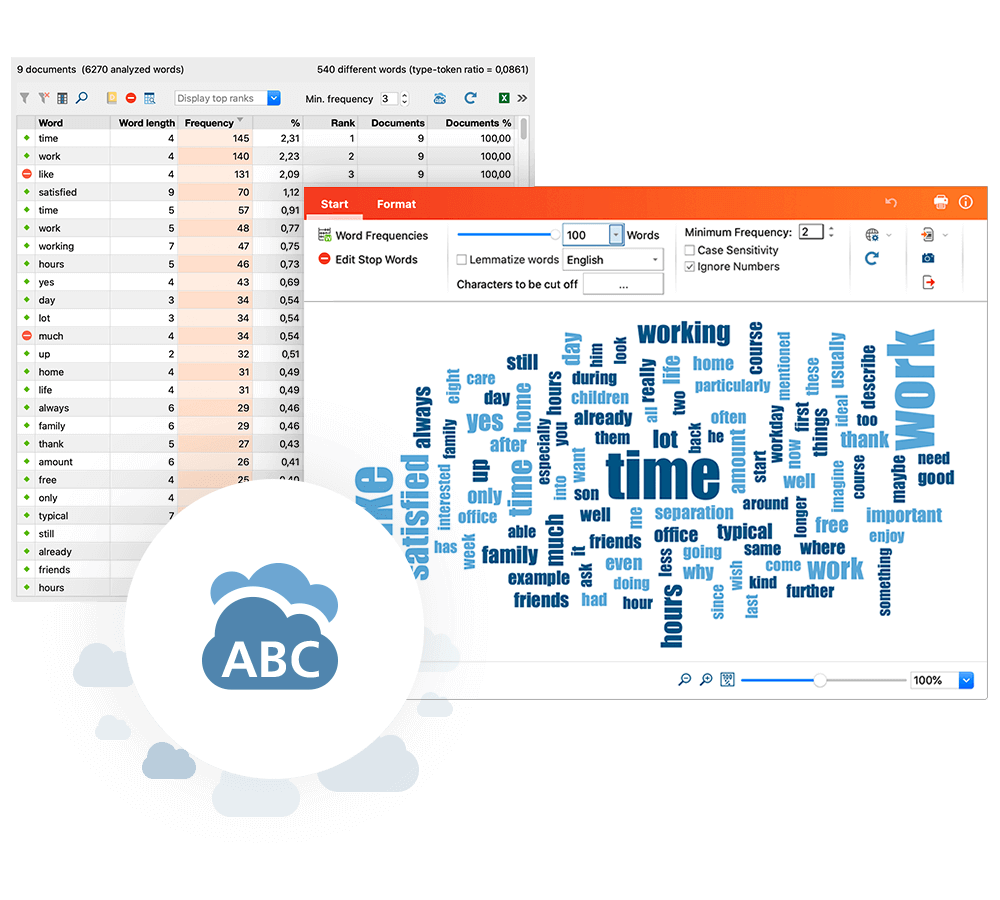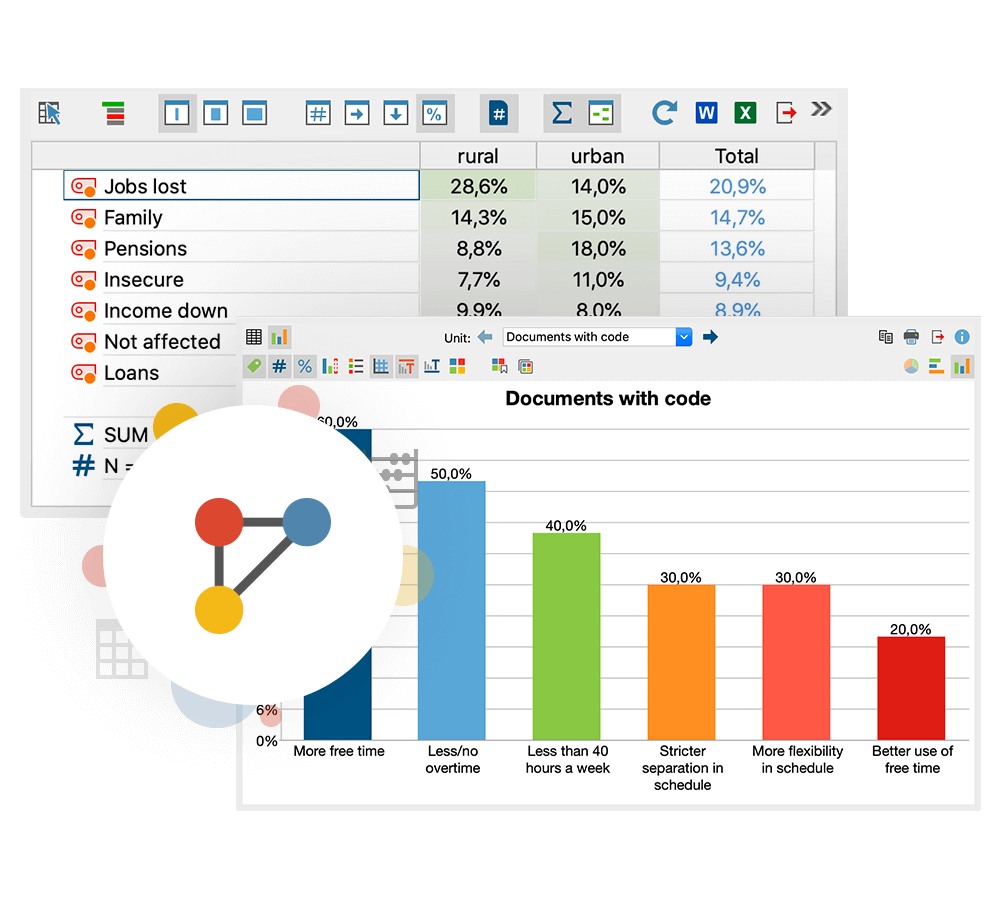 Quantitative evaluation of themes
Quantitative aspects can also be relevant when conducting a focus group analysis. Using MAXQDA as your Focus Group Analysis software enables you to employ a vast range of procedures for the quantitative evaluation of your material. You can sort sources according to document variables, compare amounts with frequency tables and charts, and much more. Make sure that you don't miss the word frequency tools of MAXQDA's add-on module for quantitative text analysis which allows you to compare word frequencies between speakers. Additionally, MAXQDA offers mixed methods tools that allow you to easily combine qualitative and quantitative methods to get an even deeper insight into your data.
Visualize your focus group data
As an all-in-one Focus Group Analysis Software, MAXQDA offers a variety of visual tools that are tailor-made for analyzing open-ended as well as standardized surveys. Create stunning visualizations to analyze your material. Of course, you can export your visualizations in various formats to enrich your final report. Visualize the progression of an interview with the Codeline, use the Code Cloud to illustrate and explore your categories, or make use of the graphical representation possibilities of MAXMaps, which in particular permit the creation of concept maps. Thanks to the interactive connection between your visualizations with your MAXQDA data, you'll never lose sight of the big picture.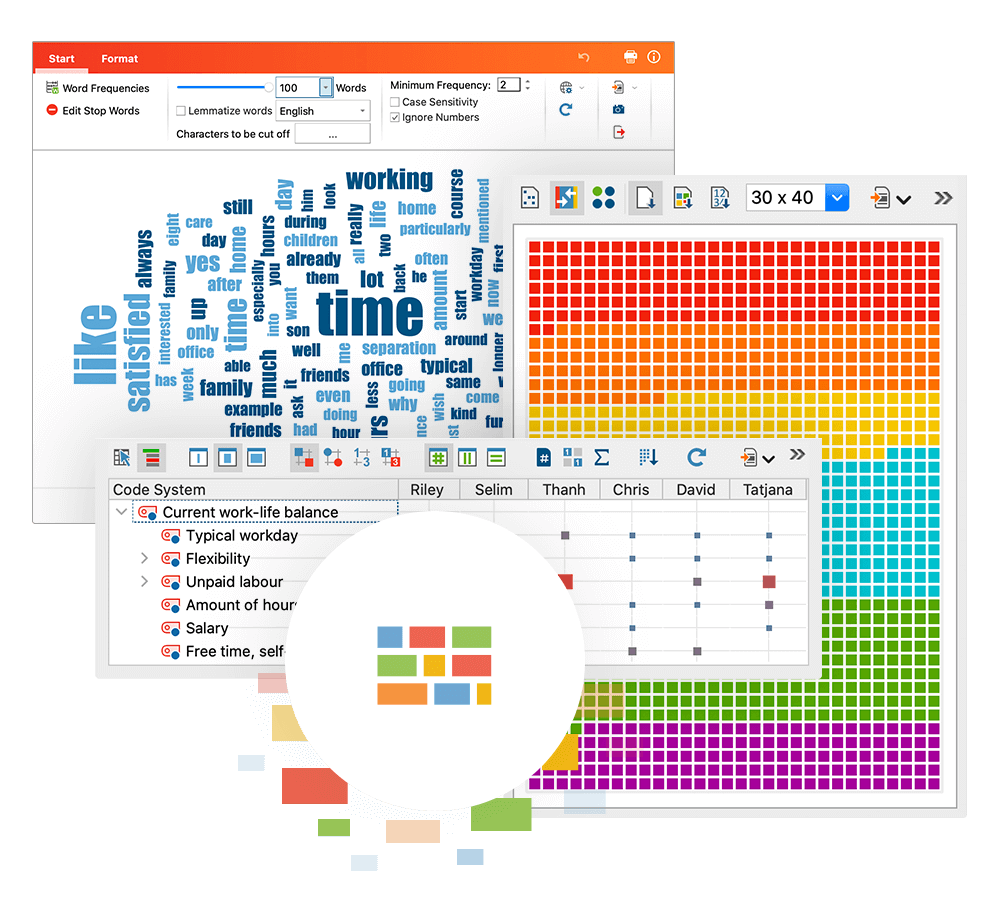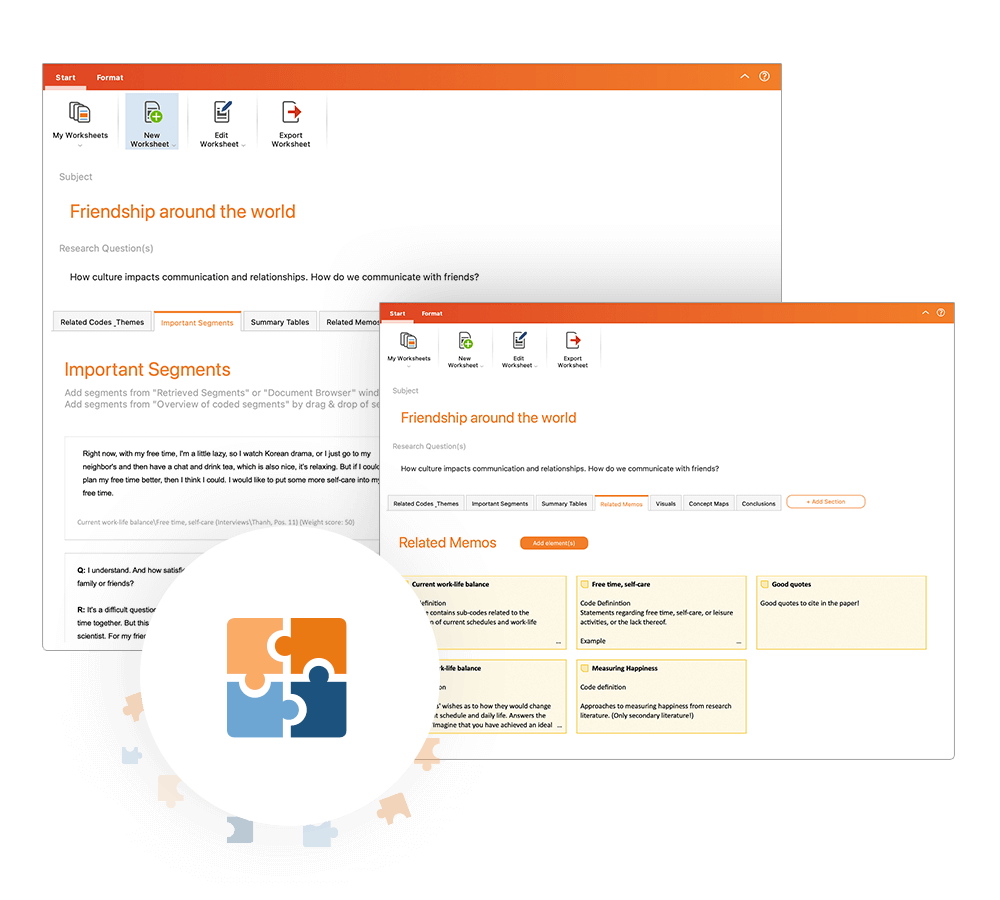 Collect relevant insights and develop new theories
MAXQDA 2022 introduces a brand new and innovative workspace to gather important visualization, notes, segments, and other analytics results! The perfect tool to organize your thoughts and data. Create a separate worksheet for your topics and research questions, fill it with associated analysis elements from MAXQDA, and add your conclusions, theories, and insights as you go. The new Questions-Themes-Theories tool will support you during the analysis phase after coding and is perfectly suited to help you finalize your focus group analysis reports. That's why MAXQDA is the kind of Focus Group Analysis Software that enables you to focus on your research, not on the software.