MAXQDA
State-of-the-art content analysis software. Easily analyze all your research data: text documents, interviews, transcripts, surveys, images, social networks, and more

Wide range of visualization tools: word clouds, document comparison charts, concept maps, and more

Offers quantitative content analysis and mixed methods analysis tools

Easy to use and learn thanks to its user-friendly interface. We also offer a wide range of free video tutorials and other learning materials ideal for new users

100% identical on Windows and Mac
Free MAXQDA Trial for Windows and Mac
Download our free and fully functional trial version and try MAXQDA with your own research data – or use the included example projects. Once you've filled out the form below you'll receive an e-mail with the download link and free learning resources like our video tutorials and manuals.
The #1 Content Analysis Software
for Windows and Mac.
MAXQDA is the best choice for your content analysis. It works with a wide range of data types and offers powerful tools for content analysis, such as coding, visualization, mixed methods, statistical, and quantitative content analysis tools.
All-in-one Content Analysis Software
Use MAXQDA to manage your entire research project. Easily import data from texts, interviews, focus groups, PDFs, web pages, spreadsheets, articles, e-books, and even tweets. Organize your data in groups, link relevant quotes to each other, and share and compare work with your team members. Your project file stays flexible and you can expand and refine your category system as you go to suit your research.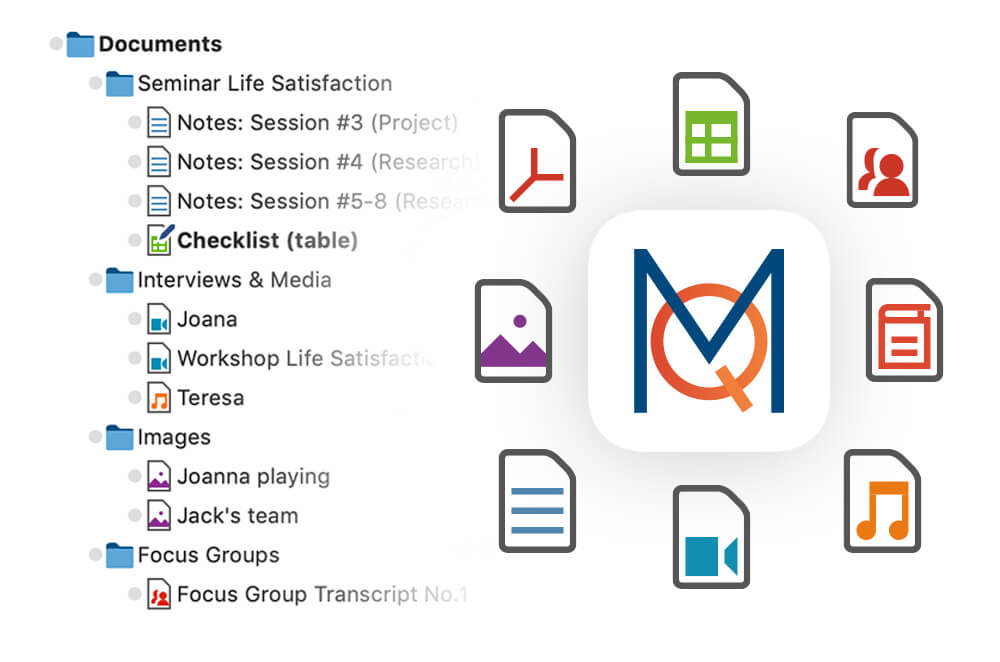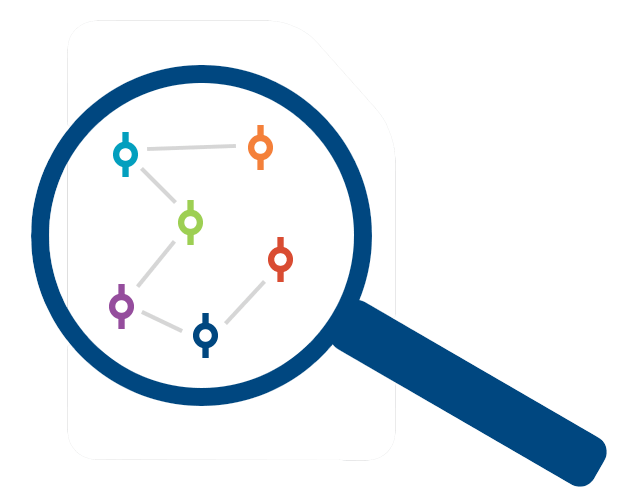 Code and retrieve
Mark important information in your data with different codes by using codes, colors, symbols, or emoticons. Code quickly via drag & drop or with automatic coding, search for words and organize your thoughts and theories in memos that can be linked to any element of your project. Retrieve your coded segments with one click or use MAXQDA's powerful search tools to test and develop new theories.
Find connections in your data
The activation system for retrieving data segments is surprisingly simple and easy to use. But there's more that meets the eye: our advanced retrieval gives you a total of 9 further options for finding connections in your data.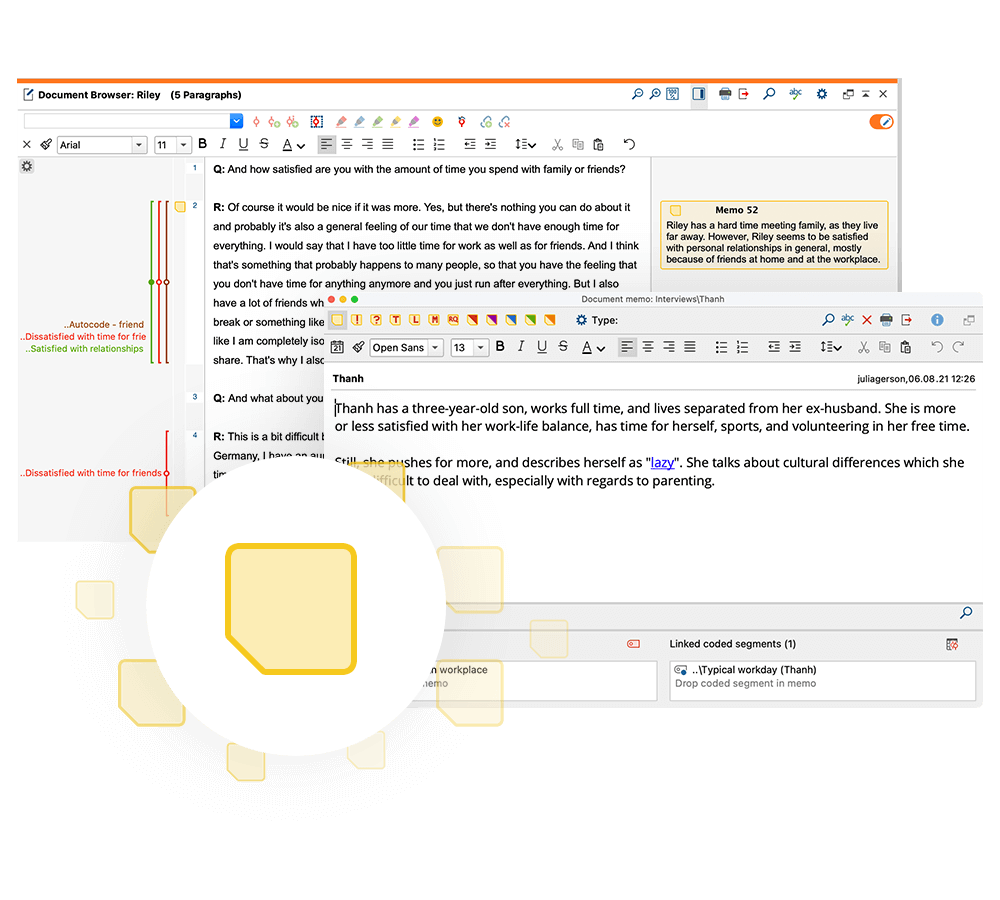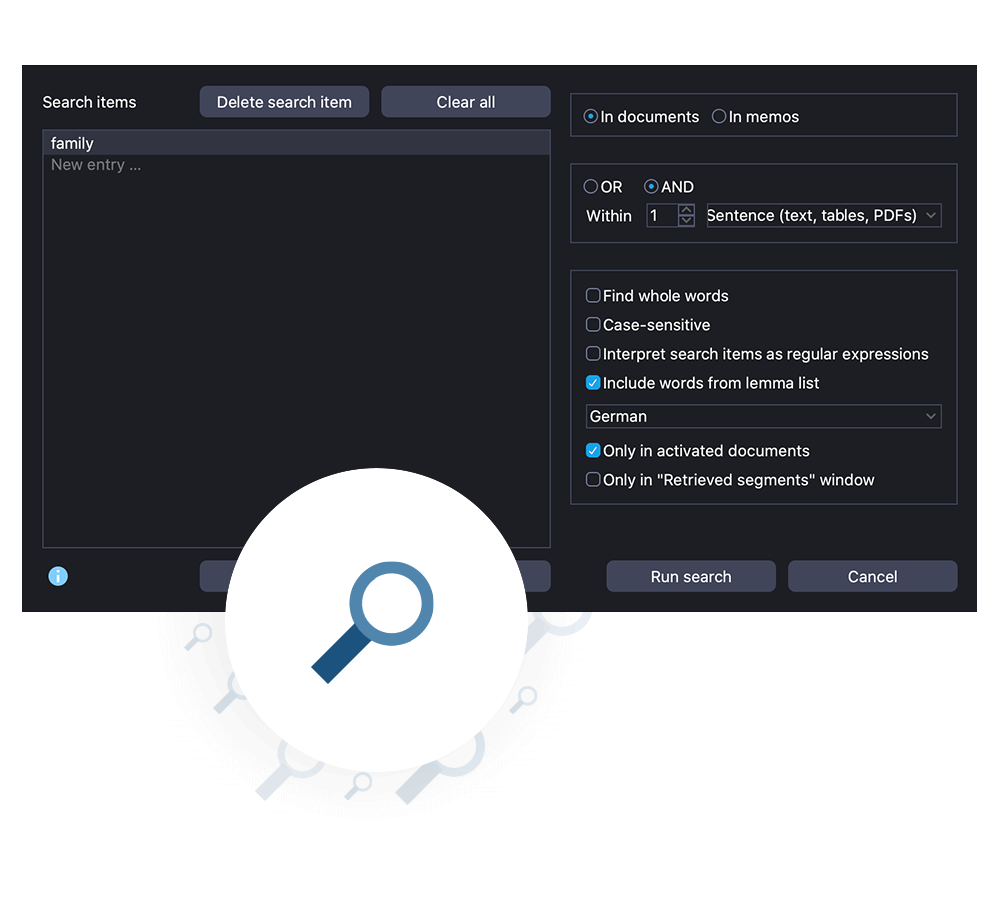 Advanced search functions
Search for keywords in your data, memos and coded segments and use MAXQDA to automatically code them. Make use of the advanced search functions that offer you everything you might expect from professional content analysis software – and with the integration of retrieval and lemma functions, Boolean operators and wildcards, probably a little more.
Summarize your content analysis
With our summary grids and summary tables, you can keep summaries of which codes and variables appear in each respective project or document: another level of analysis which means you'll never lose track of the bigger picture.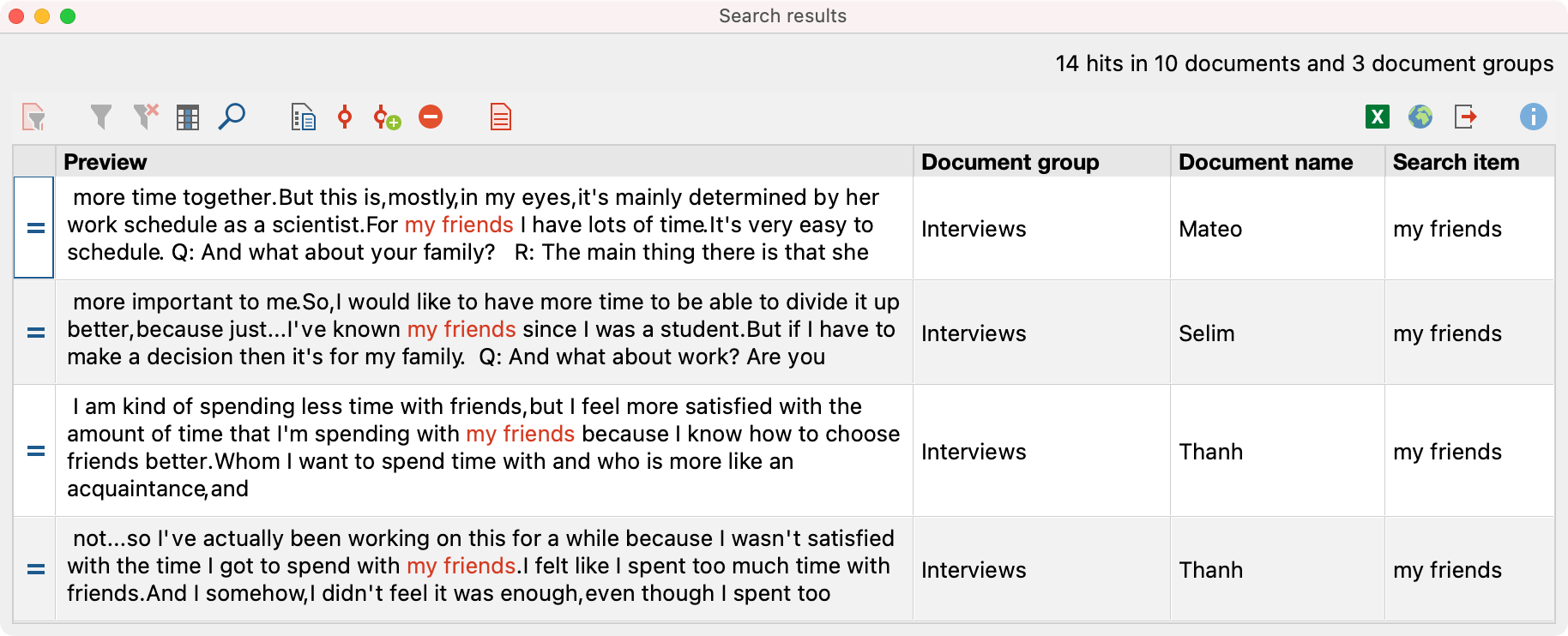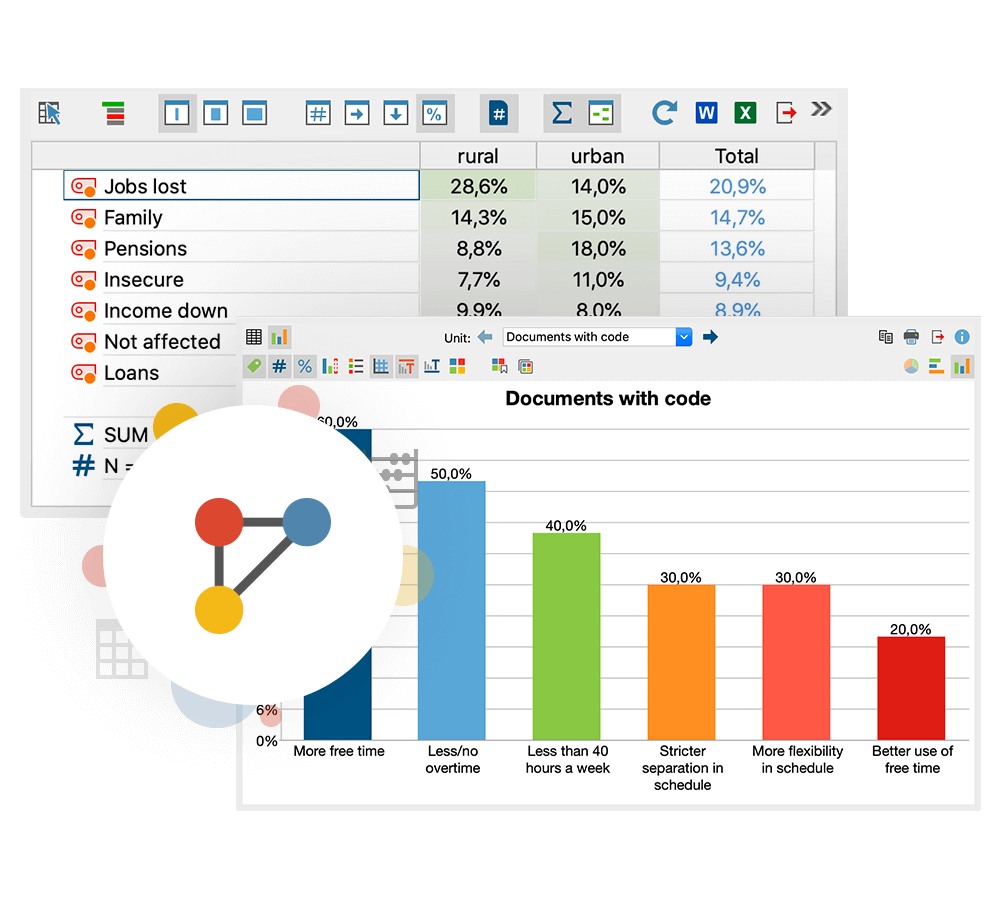 Quantitative Content Analysis
Use the tools offered by MAXDictio, our module for quantitative content analysis, for an even deeper analysis. You can display frequencies of individual words or word combinations in tables or visualize them in the Interactive Wordtree. Use the Keyword-in-Context function to transfer the textual contexts of selected words into a clear table.
Visualize your qualitative data
Whether for your analysis or publication, MAXQDA's visual tools are tailor-made for qualitative research. Visualize the progression of an interview with the Codeline or use the Code Cloud to illustrate and explore your categories. Of course, MAXQDA offers many more visualization tools for every purpose.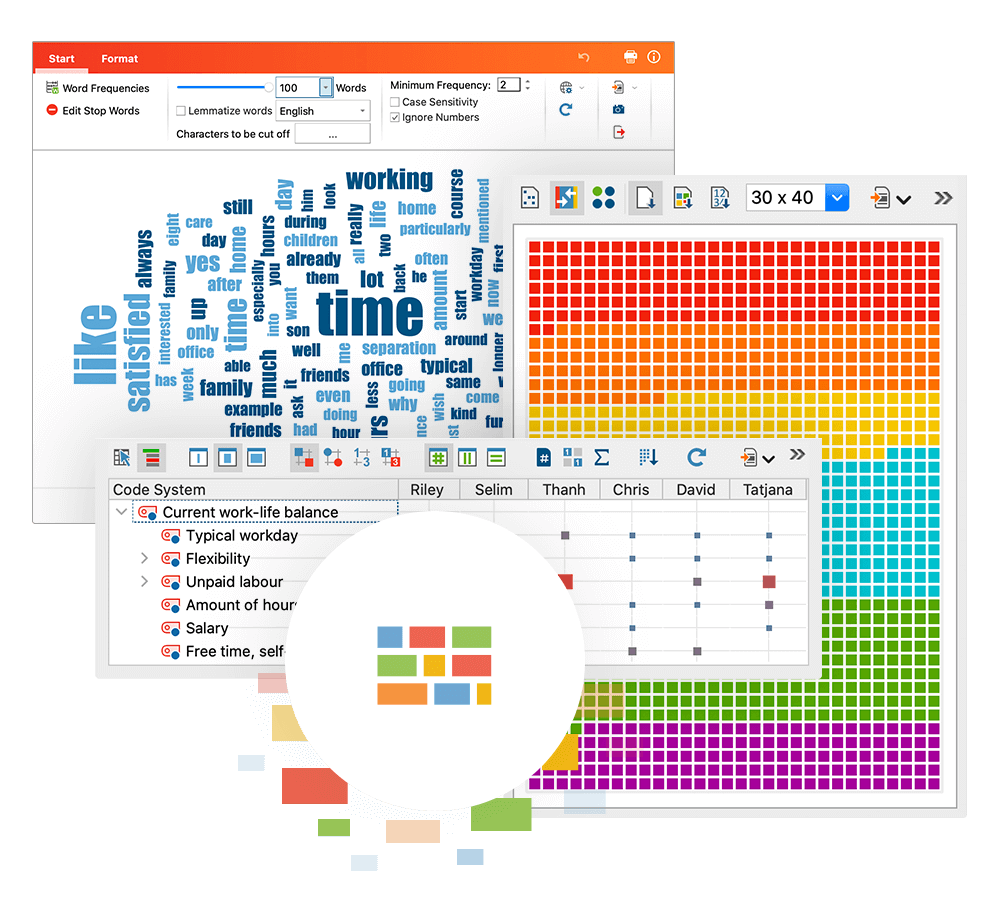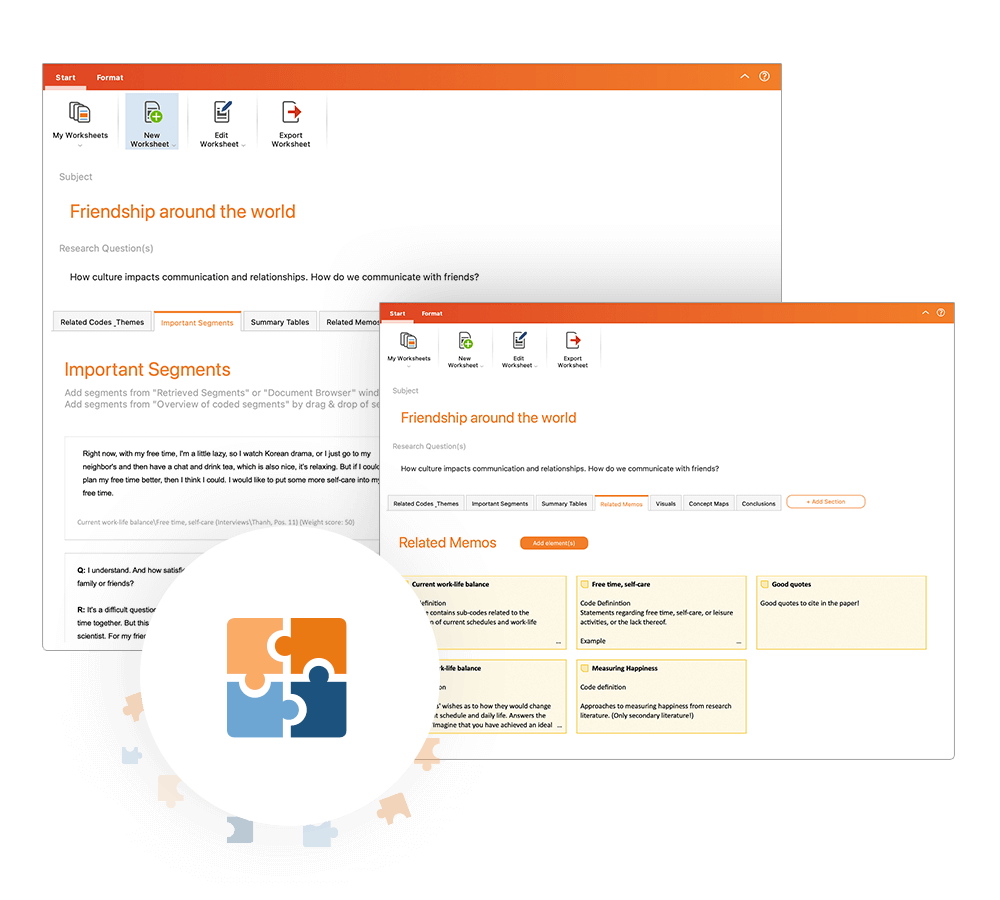 QTT: Collect relevant insights and develop new theories
MAXQDA 2022 introduces a brand new and innovative workspace to gather important visualization, notes, segments, and other analytics results! The new QTT will support you during the analysis phase after coding and is the perfect space to collect relevant insights and develop new theories.