Use MAXQDA…
for coding qualitative data like interviews, surveys, transcripts, focus groups, text/videos/audio files, images, tweets, and more

for analysis and visualization of research data: wordclouds, charts, tables, mind maps, and much more

for a wide range of coding tools: in-vivo coding, creative coding, open coding, memos, paraphrases, and more

easy-to-use thanks to its user friendly interface. We also offer a wide range of free video tutorials and other learning materials ideal for new users

100 % identical on Windows and Mac
Free MAXQDA Trial for Windows and Mac
Download the fully-functional trial version and test MAXQDA with your own data – or use the included example projects to get familiar with our software. After filling out the form below you will receive an e-mail with the download link and free learning resources like video tutorials and manuals.
Core features of MAXQDA for Coding Qualitative Data
All-in-one Software for Coding Qualitative Data
Use MAXQDA to manage your entire research project. Easily import data from texts, interviews, focus groups, PDFs, web pages, spreadsheets, articles, e-books, and even tweets.
Make use of MAXQDA's wide range of coding possibilities for all kind of data and for coding inductively as well as deductively.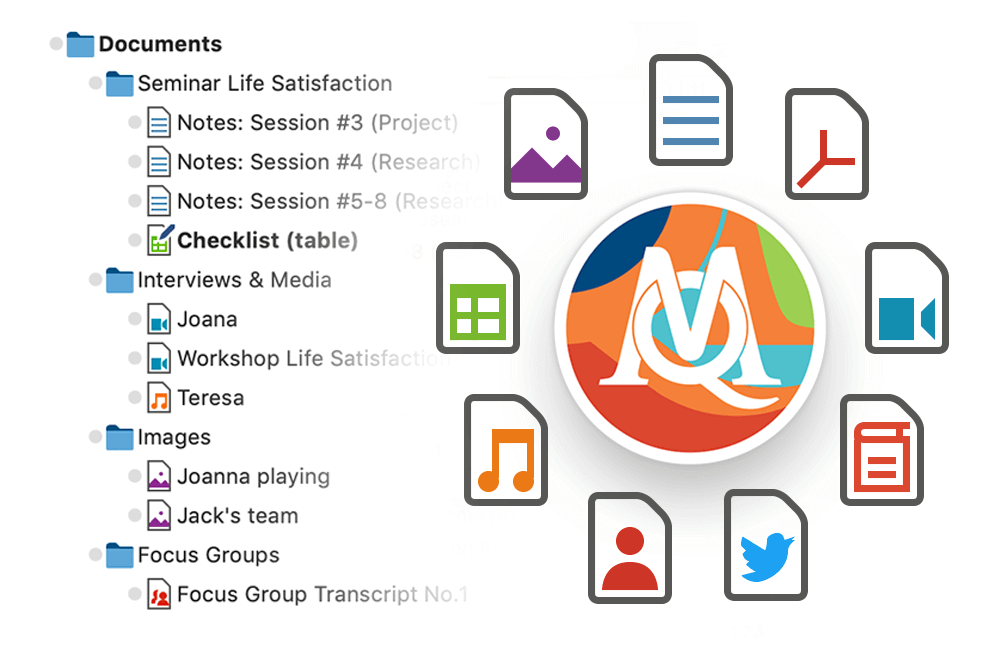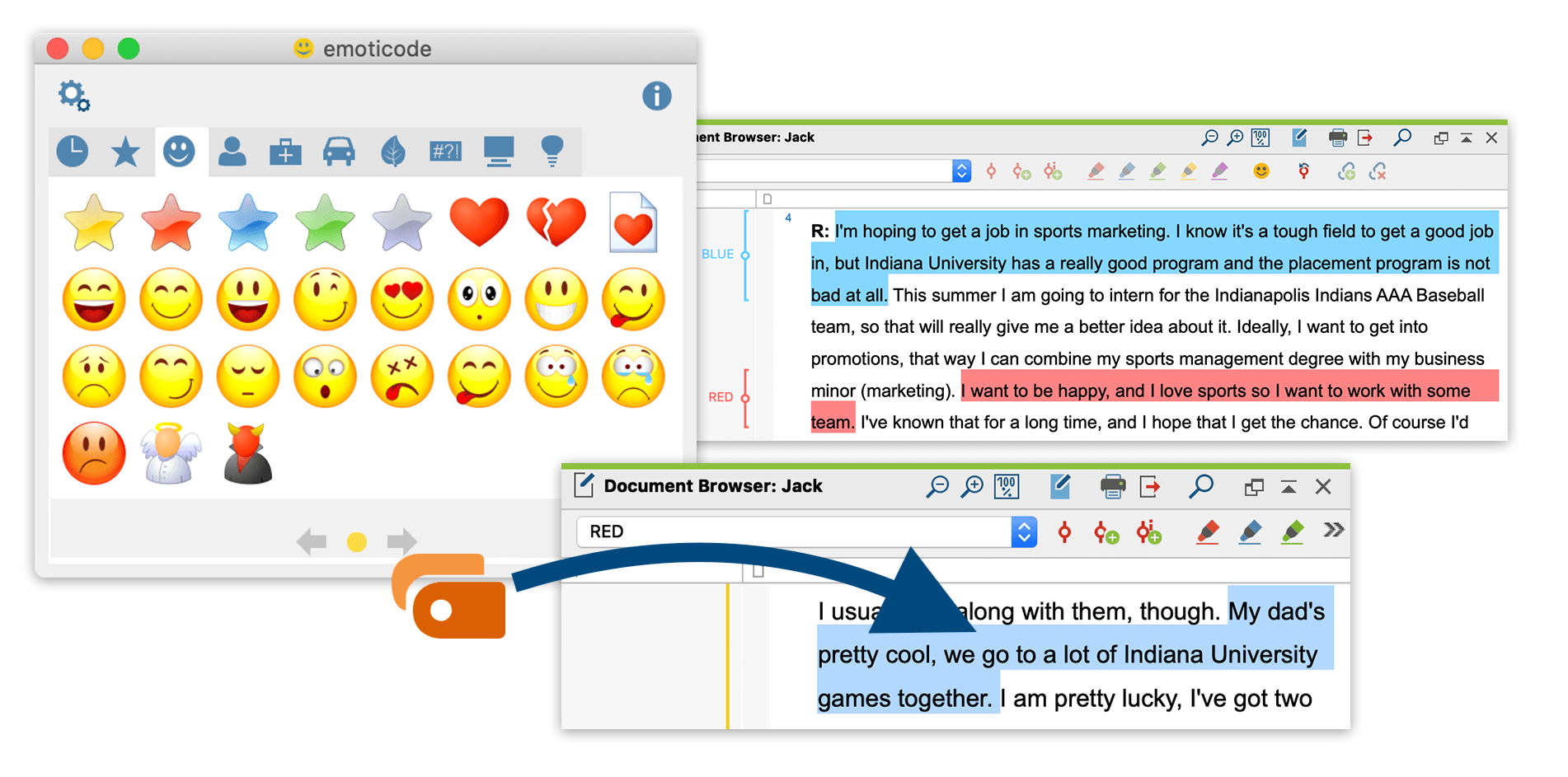 Various ways of coding
MAXQDA offers many possibilities for coding your data. Simply drag and drop codes from the code system to the highlighted text segment or use highlighters to mark important passages, if you don't have a name for your category yet. In addition, you can assign symbols and emojis to text and image segments, audio and video clips.
Tools tailor made for coding inductively
Use the in-vivo coding tool to highlight meaningful terms in the texts and automatically add them as codes to your code system or use MAXQDA's handy paraphrase mode to summarize material in your own words and inductively form new categories. As in Grounded Theory, a segment can also be assigned a new (free) code.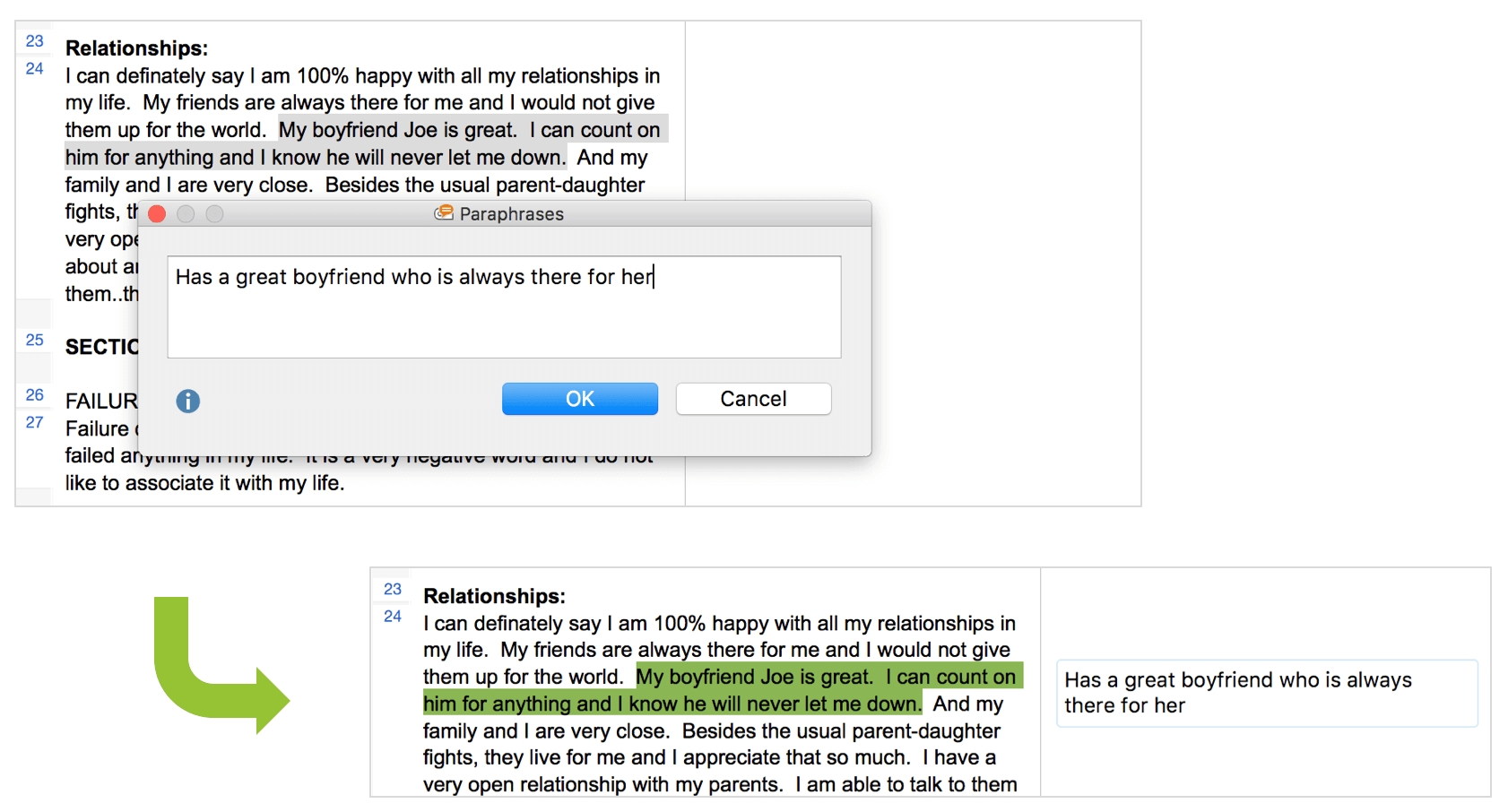 Organize your code system
Organize your code system to up to 10 levels and use colors to directly distinguish categories. If you want to code your data in more than one perspective, document sets are the way to go. Of course, you can always reorganize your code system.
Further ways of coding
MAXQDA offers many more functionalities to facilitate the coding of your data. Search for keywords in your text and let MAXQDA automatically code them or recode coded segments directly from the retrieved segments window. With the unique Smart Coding tool reviewing and customizing your categorization system never has been this easy.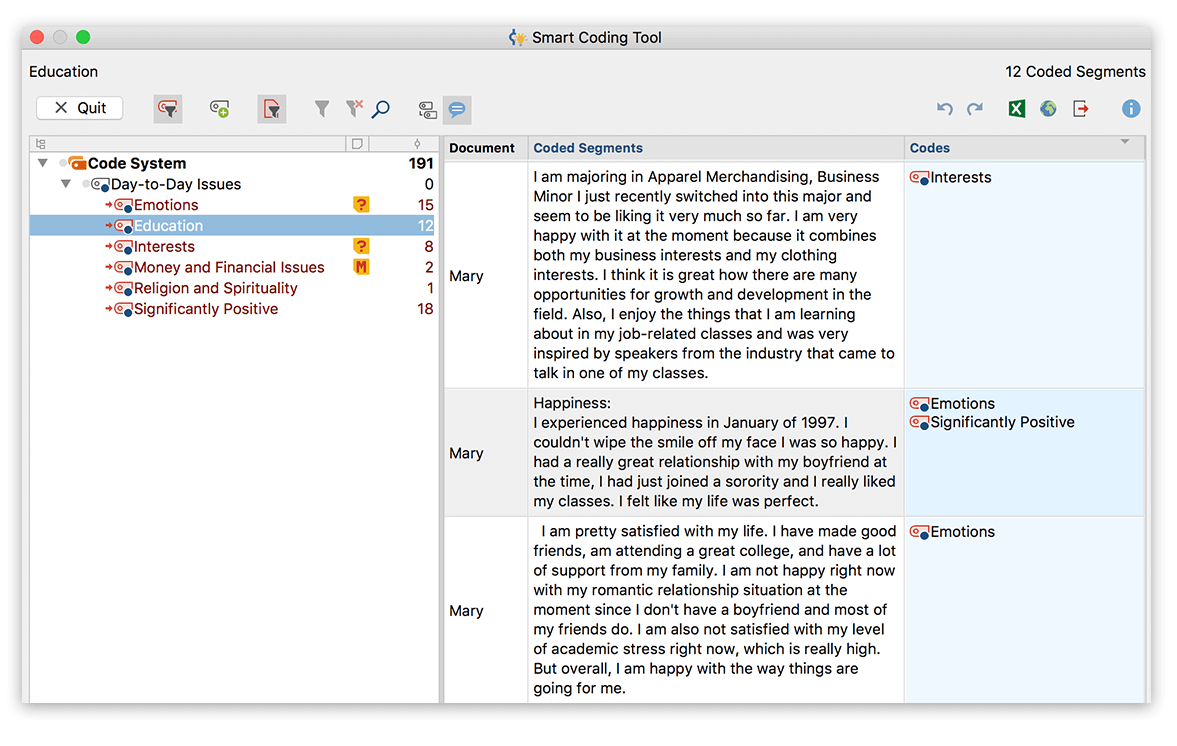 Creative coding
Creative coding effectively supports the creative process of generating, sorting and organizing your codes to create a logical structure for your code system. The graphic surface of MAXMaps is the ideal place to move codes, form meaningful groups and insert parent codes. Of course, MAXQDA automatically transfers changes made in Creative Coding Mode to your Code System.
Analyze coded segments
MAXQDA has numerous tools for analyzing your coded segments. Use summary tables, integrate quantitative methods or data deeply into your analysis, compare groups based on quantitative as well as qualitative findings, or automatically or manually generate stunning visualizations to analyze your data and present your findings.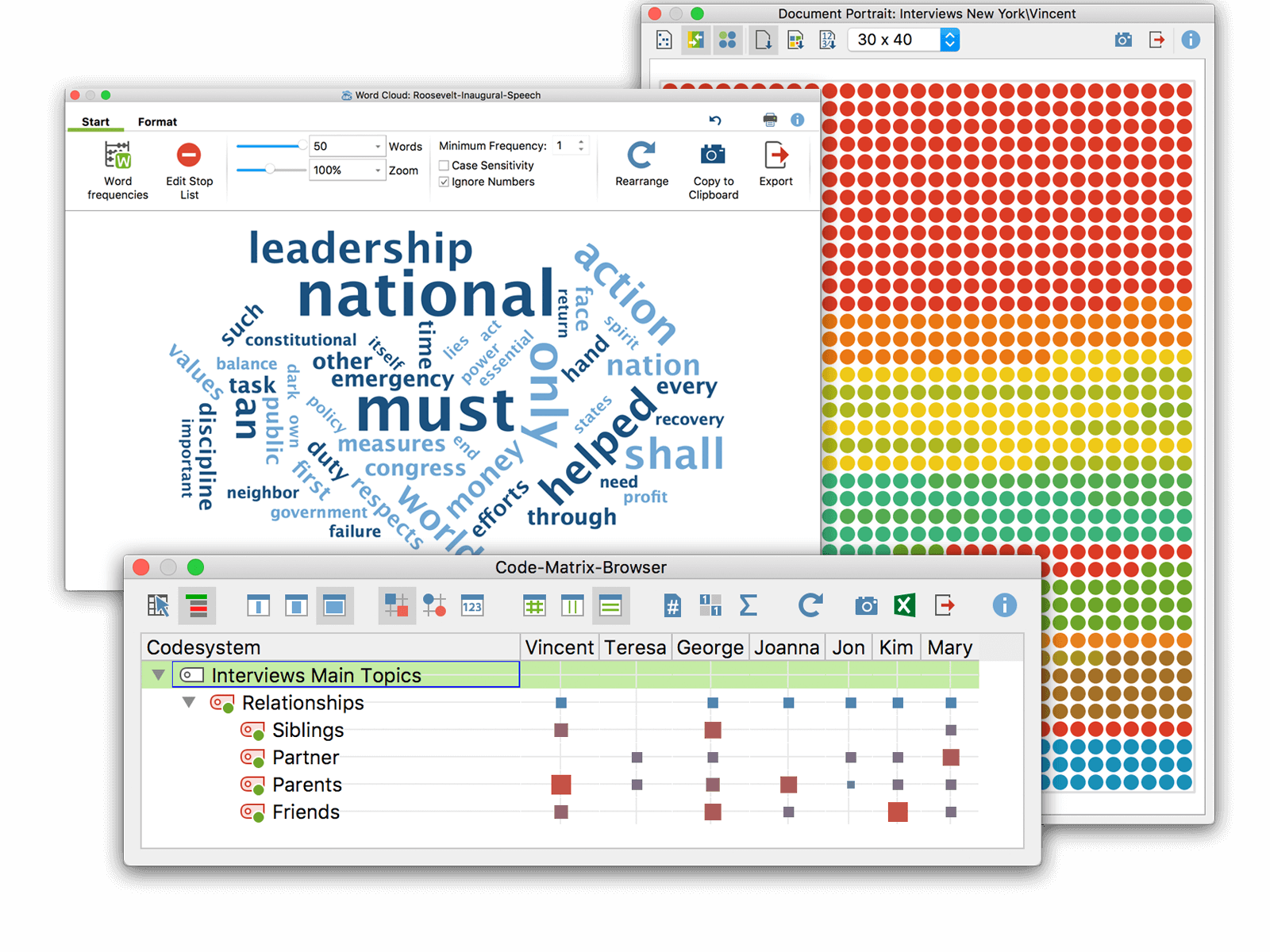 Want to test MAXQDA 2020 for yourself? Download the no-obligation 14-day free trial!
Download Free Trial
Ready to purchase MAXQDA 2020? Assemble your license in the online shop!
Visit MAXQDA Shop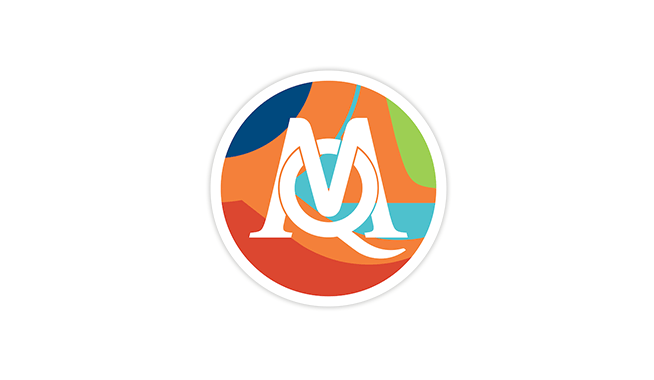 Compare the features of MAXQDA Standard, Plus and Analytics Pro.
Feature Comparison