We are proud to announce the release of a new version of MAXApp for iOS! The new MAXApp has been completely rebuild and redesigned to work with iOS 9 and comes with new functionality. Basically, the only thing about MAXApp for iOS that hasn't changed is the price tag: MAXApp is still free!
What is MAXApp? MAXApp is a powerful mobile field research app. With MAXApp you can collect different types of data, start to code and organize your material on your device. And finally you can transfer all of your work seamlessly to MAXQDA bis Dropbox or a USB cable connection.
New: Export Projects to iTunes
You can still export your projects to your Dropbox account to conveniently and quickly upload all of the collected data, memos and codes to the cloud from wherever you are. Those without access to a network connection or those working with sensitive data can now alternatively choose to export projects via iTunes instead. Just connect your device to your computer with a USB cable and open iTunes. MAXApp will be listed in the Apps section of iTunes among all apps that can transfer documents from your iPhone or iPad to your computer.
New: Organize Code System with "Favorites"
MAXApp comes with an easy-to-use feature to mark your favorite or most-used emoticodes® and textcodes as favorites, making coding while on the go even more comfortable.
MAXApp already has a tab in the emoticode® and textcode browser for your recently used icons or codes. But sometimes you might want to mark specific icons or codes as your favorites, so that you never have to search for them – or to limit yourself to the use of codes that were selected for a specific project and purpose.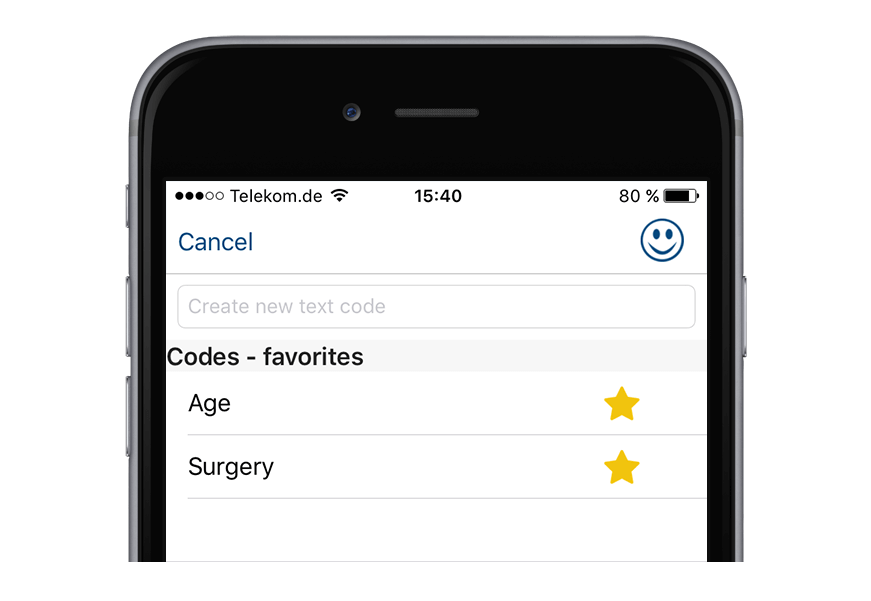 New: Redesign for iOS 9
We rebuilt every part of MAXApp and optimized the app for the use on Apple devices running iOS 9. The overall design is much calmer with more white space between elements and flat surfaces, so you can focus on what is important: your data.
Important information for users of the previous version
This MAXApp update does not work as an automatic update, but as a completely independent version, which you can install in addition. In case you want to deinstall the old MAXApp version, please remember to upload your projects to your Dropbox first.