Great reasons to use MAXQDA
MAXQDA is a professional software for qualitative and mixed methods data analysis for Windows and Mac, which is used by thousands of people world wide. Released in 1989 it has a long history of providing researchers with powerful, innovative and easy to use analytical tools that help make a research project successful.
Here's a quick overview of the most important features and aspects of our QDA software. We encourage you to compare MAXQDA with other available qualitative data analysis programs and we are convinced you will come to the conclusion that there is no better QDA software than MAXQDA.
If you would like to test MAXQDA, you are welcome to download our free 14-day trial version.
No other QDA Software is better.
There is no "best" QDA software, because your individual preferences, practices and habits are the key to state-of-the-art results. However, there is no better software than MAXQDA – it maximizes your level of personal customization, so you can optimize your work.
Methods continue to develop, and so do we. From mixed methods to geo-referencing and visual tools, MAXQDA has continued to be on the forefront of methodological developments. This means our users always have the tools necessary to keep up with the changes.
Code The Way You Want To
Code the way you think with MAXQDA: Use verbal and visual connections to draw conclusions and go further.
Code with words to maximize lexical efficiency, or code with over 300 emoticode®s to transcend the boundaries of language. Don't get stuck! Leave your code structure for a while with Creative Coding: Rearrange your codes on a map, create new ones and find unexpected relations you may transfer back to the Code System.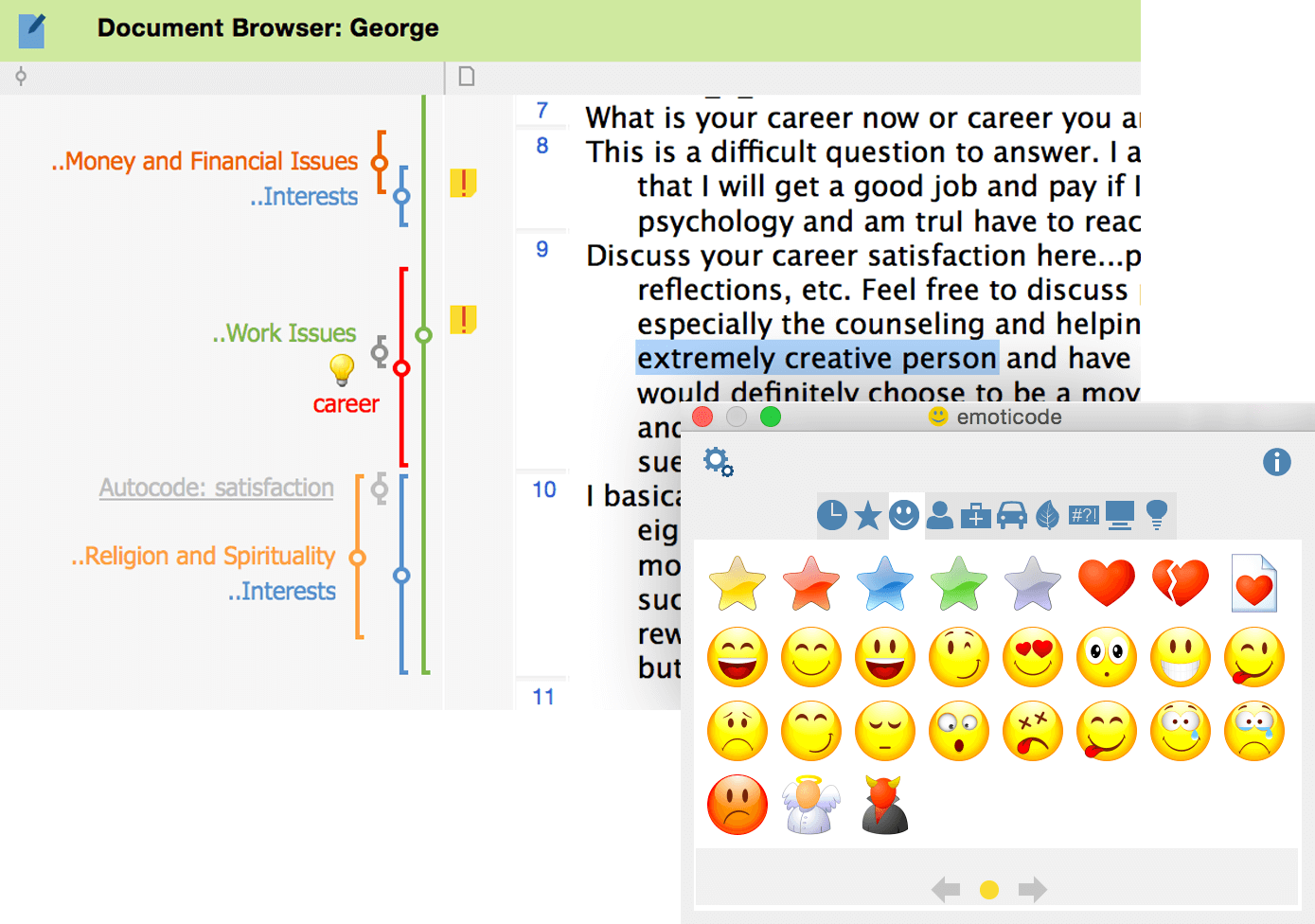 Expert at Mixed Methods
MAXQDA is the Mixed Methods expert. You can import and export quantitative data matrices to and from statistics software packages like SPSS. You can turn your codes into variables, use crosstabs, automatically or manually assign variables to your data, and export any part of your project to a spreadsheet.
You can also explore and visualize code frequencies: Generate Configuration Tables to explore how often combinations of codes appear in specified documents, and produce bar graphs and pie charts of variables and codes.
User- and Team-Friendly
Your analysis is our highest priority and since 1989 we have been developing a QDA software that allows you to conduct your research as easily and efficiently as possible. MAXQDA is often praised for being intuitive with a short learning curve. You can get started in a matter of minutes! Take advantage of the clear layout structure and intuitive access to your data with four separate work spaces and many shortcuts and quick buttons.
Teamwork functions
MAXQDA is great for the lone researcher, but that doesn't mean it can't be a team player. MAXQDA offers unsurpassed teamwork functionality, keeping you and your team moving ahead as one unit. Work together on the same project or simply exchange documents, including their codes. Furthermore, you can establish up to four levels of administrative rights to make teamwork even more secure and productive.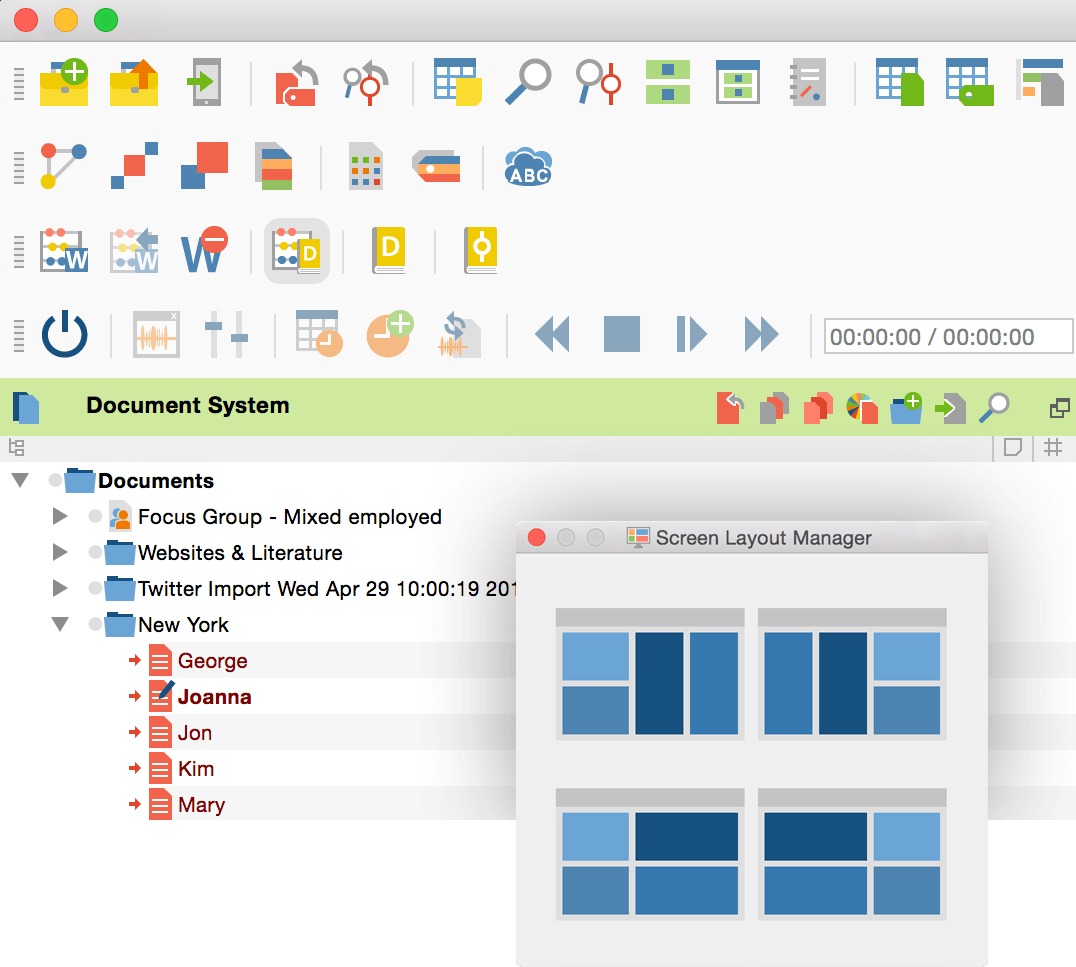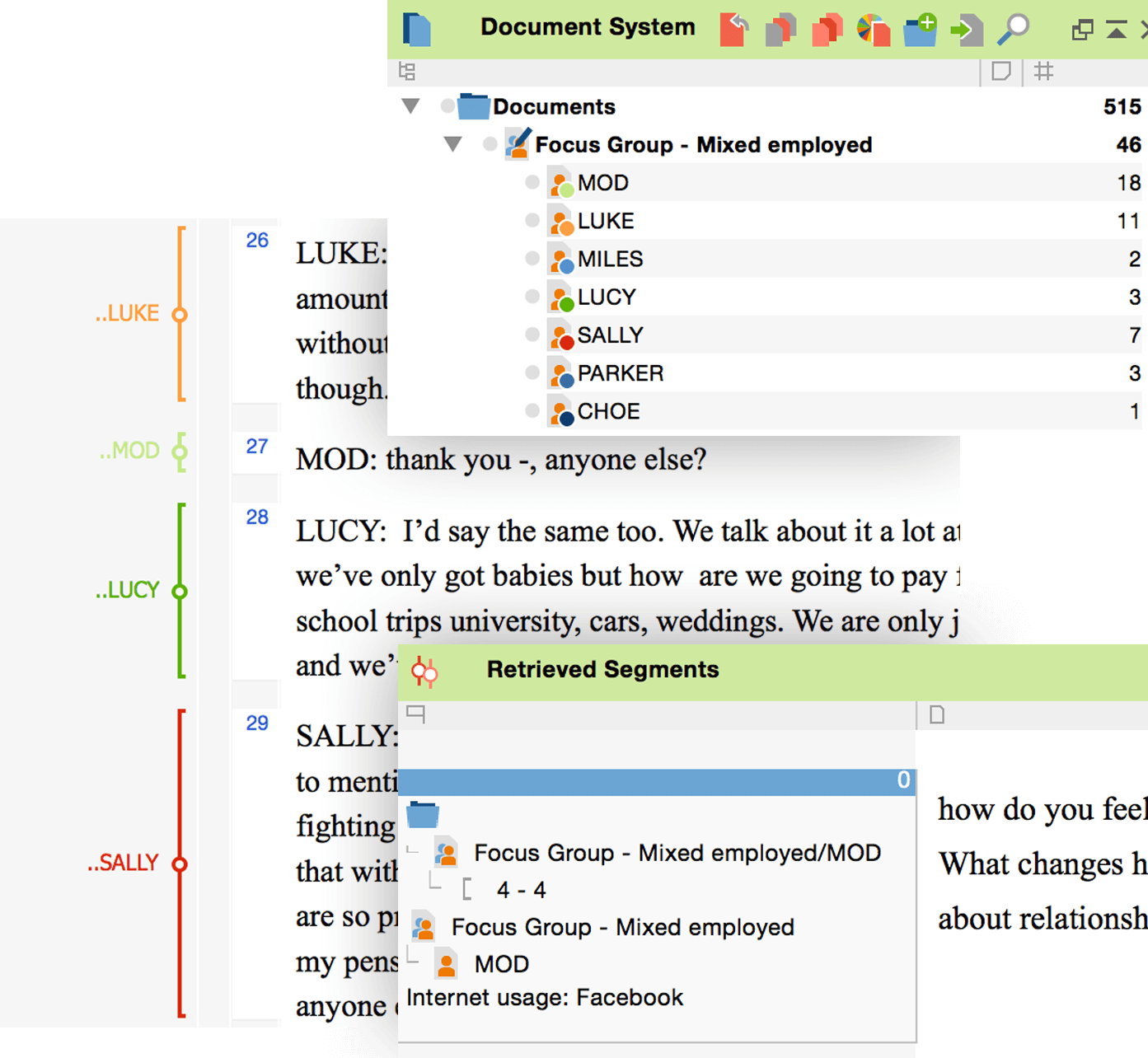 Easily analyze group interviews – Focus group analysis
The most innovative focus group analysis tool in the world.
MAXQDA 12 automatically creates categories and codes for all actors in your focus group. This enables you to easily review all statements of an actor in various group interviews, to compare the statements of all female participants, or to put together all statements of actors within a specific age range regarding a specific topic. Of course, a quantitative comparison works as well: Who spoke how often? How extensive in words and letters are the statements of various participants?
Social Media Research – Import data from Twitter
MAXQDA 12 is the first qualitative data analysis software worldwide that enables a direct import of Twitter-Feeds.
A table document shows the Feeds in columns. Authors names and hashtags can be coded automatically. Research questions can be answered promptly, for example: What did a user post within a specific timeframe and how did others respond?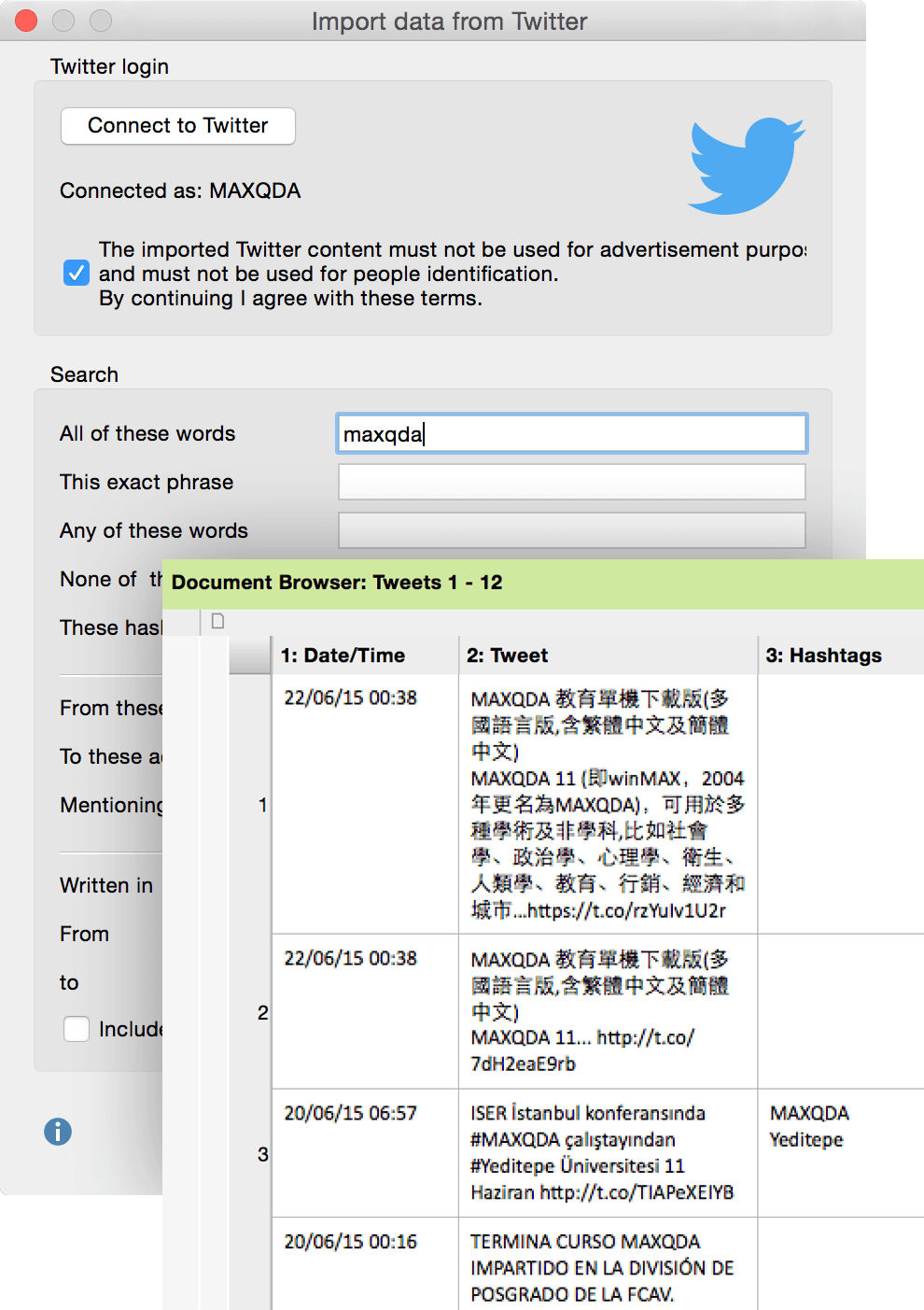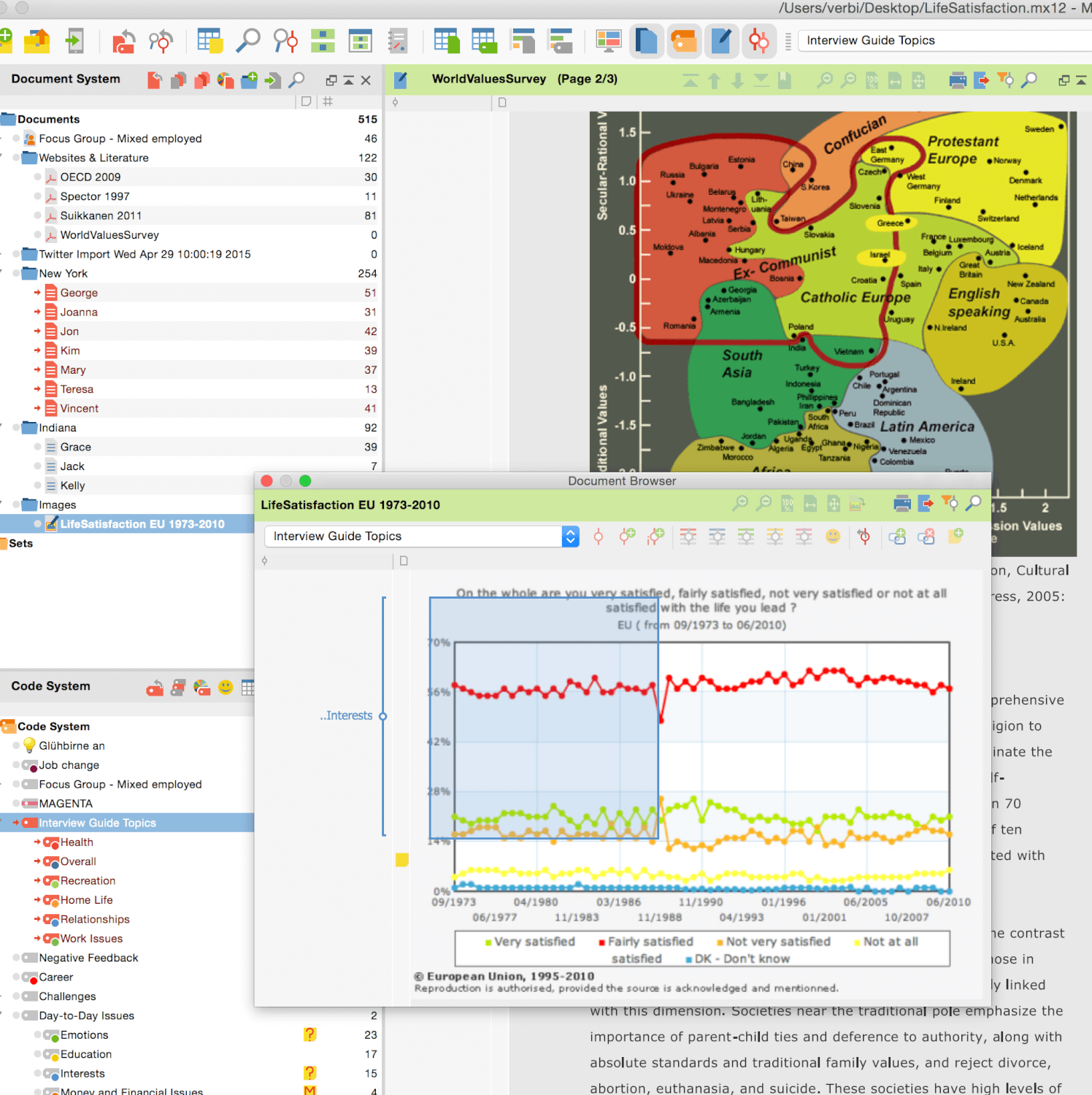 Organize a Variety of Data
MAXQDA is unique in the way it manages your data. In most cases, one research project consists of only one file. MAXQDA allows you to work with different types of data in one project. You can analyze text documents, videos and audio files, pictures, PDF documents, tables, geo- and RIS-data. The conversion to another format is not necessary. Retrieve your data with our powerful search manager and save complex queries so you can spend your time taking your research further.
Visualize Your Data
You will be amazed at the possibilities of illustrating your codes, documents and coded segments. All colors used in your analysis are user-defined and appear in MAXQDA's visual tools. The visual tools are innovative and unique features that provide you with new insights into your qualitative data and produce stunning illustrations.
Compare and contrast different documents in terms of their codes in the Code Matrix Browser, use the Codeline to get a visual impression of your focus group to see speakers and their themes in sequences. Lay out your ideas and hypotheses in conceptual MAXMaps that are interactively linked to your data. Generate pie charts and bar graphs via statistical tables for variables and codes.

Learn more about the MAXQDA visual tools.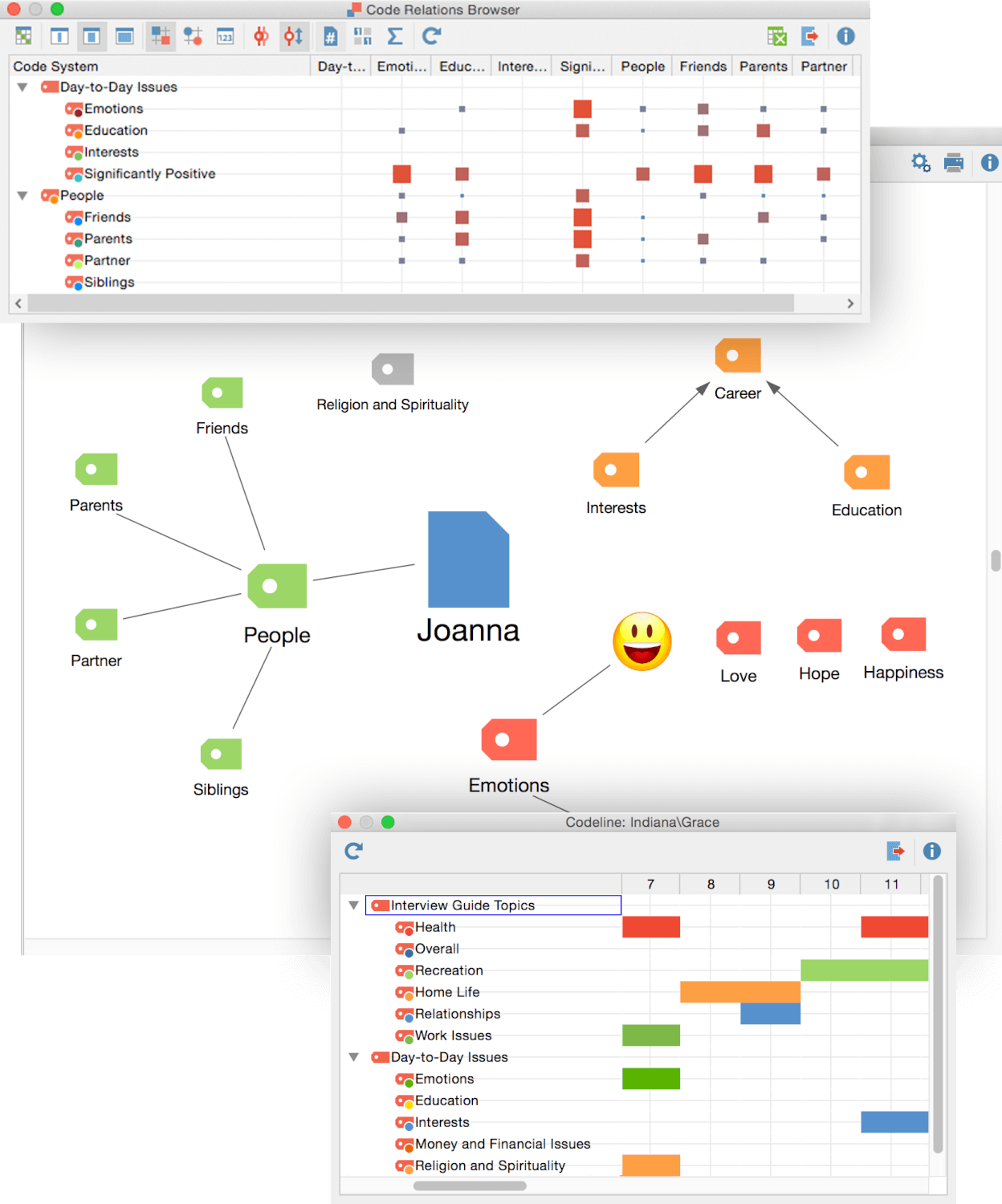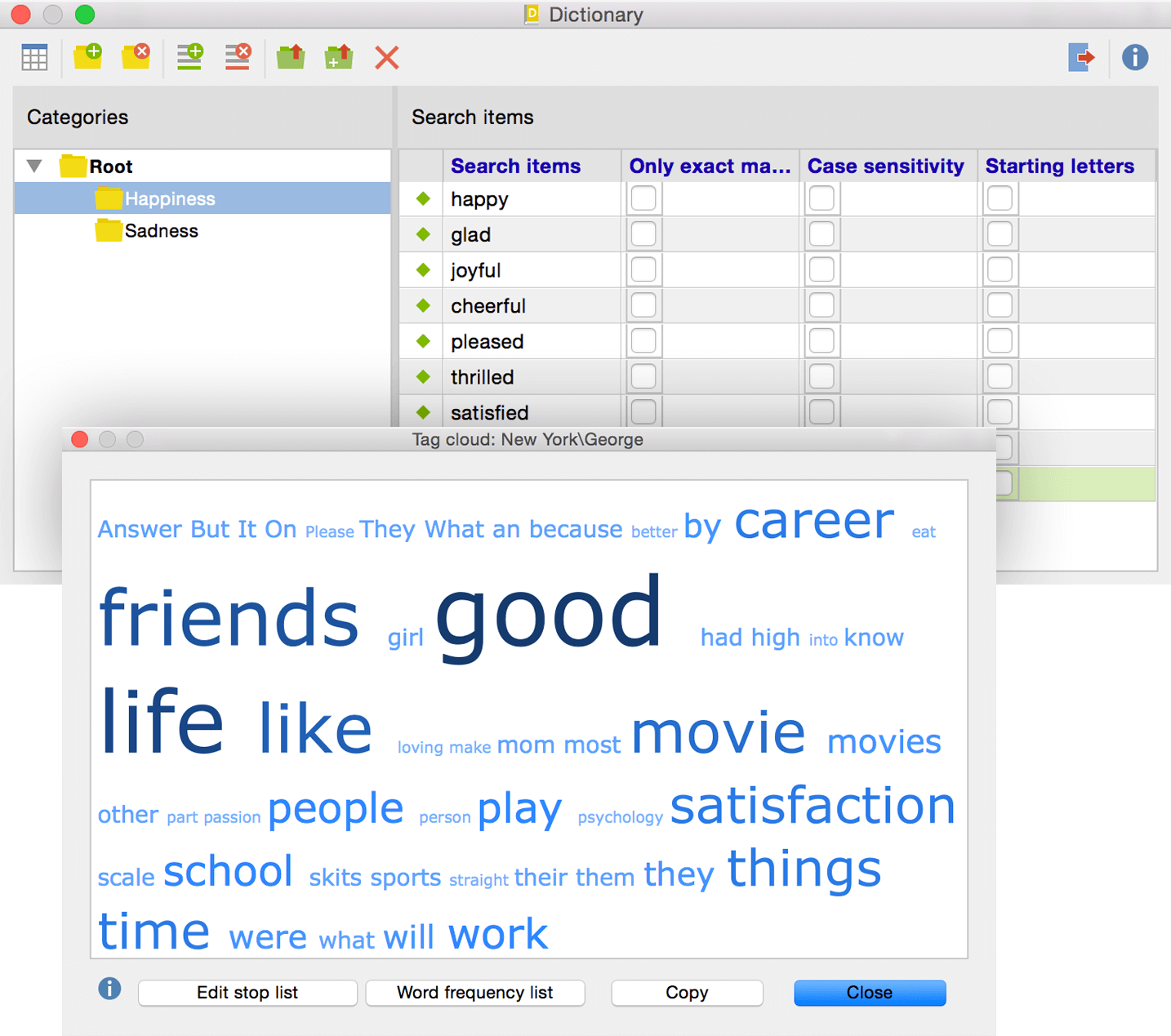 Quantitative Text Analysis with MAXDictio
The MAXDictio add-on is a content analysis tool inside MAXQDA which connects your qualitative data with the world of word-based content analysis. Use the hierarchical dictionaries to automatically and reliably code hundreds of texts in seconds.
MAXDictio is proof that we listen to our customers who repeatedly asked for a tool that would allow them to create an index of the words used in a text, as an additional explorative aid for the evaluation of their texts.
Research from Start to Finish
We make it easy to take your research from proposal to publication. When you're busy researching, reference management clients make it easy to keep track of your sources. But how can you analyze the sources themselves? MAXQDA allows you to import bibliographic data from Endnote, Citavi, Zotero, and any other client that uses RIS format. The tagged components (author, publication year, etc.) will automatically be precoded, and you can convert information into string or integer variables.
You can also generate professional, sleek reports automatically. Each activated main code becomes a chapter, while subcodes mark subchapters and contain the coded text. Fully editable and rooted in Word document templates, the ensuing professional report allows for intelligent presentation of your findings, including a title page and a table of contents.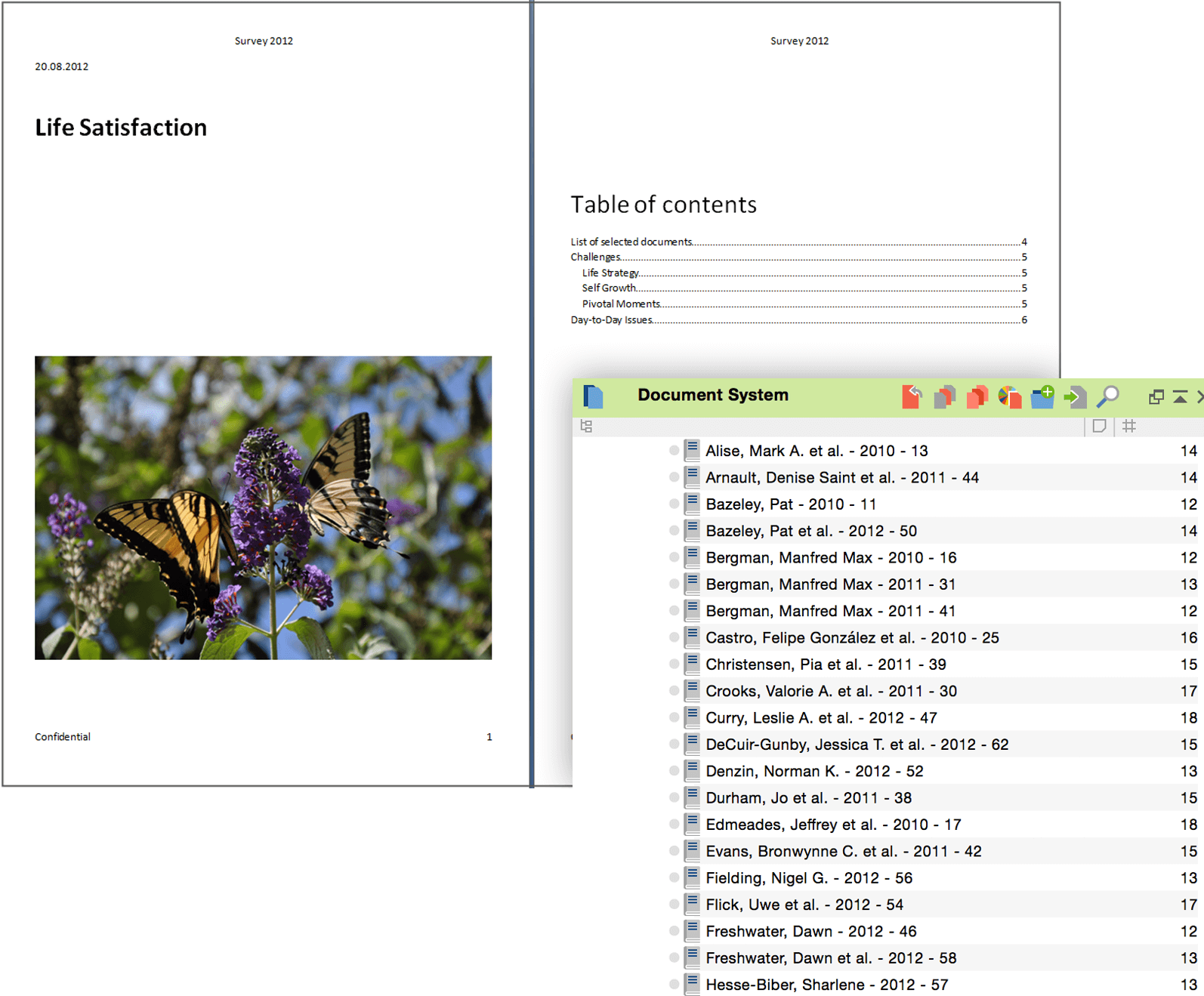 MAXApp – Research on the go
MAXApp is the first QDA App for iOS and Android and the perfect add-on tool for MAXQDA users. With MAXApp you take or import photos, videos, text documents, and audio files. The resulting project files can be effortlessly imported via Dropbox to your desktop MAXQDA for further analysis.
Read more about using MAXApp for field research.
Language diversity
MAXQDA is a Unicode Software, meaning you can not only import and analyze documents in any language (from Japanese to Arabic), but you can also create your codes, memos, variables, document names, etc. in these languages. The Unicode functionality is enabled in every MAXQDA function.
The user interface can be shown in more than 10 different languages.
Flexible License Options
Whatever your situation, you'll find a suitable and affordable licensing option. Whether in a network environment, at home, at work, or on the go, you don't ever have to be without MAXQDA. You can even install the software on a flash drive, making you completely independent of a permanent work station.
We offer special conditions for students and educational institutions!
Follow the link to the MAXQDA license options.
Strong Community
For countless users all over the globe MAXQDA has been the QDA-Software No. 1 since the very beginning in 1989. Research institutions, companies and indivduals in almost every country choose MAXQDA as their trusted tool for qualitative data analysis work.
Connect with other users in the moderated MAXQDA user forum. Read more about what MAXQDA users think about our QDA-software and who is part of the MAXQDA Community.
First Class Service and Support
We are here for you and we take your questions, problems and requests for assistance seriously. We offer free updates, free e-mail support, and our user forum to answer your questions and solve your problems. If you need help getting started or need more informationen about a special feature of MAXQDA, check out our online tutorials or watch our in-depth video tutorials. We want you to be able to get started right away.
On top of that, you can read or download the free MAXQDA manuals or browse our books and literature section, which gives you an idea of how MAXQDA is being used by qualitative researchers all over the world.