I was trying to pull in a Youtube video including the transcript and timestamps but did not see those options in the import dialogue box.
This was because the transcription for the YouTube video I wanted was an automatically transcribed video rather than one in which the user wrote and uploaded a transcript.
I will describe at the end how to work around this limitation.
In the manual, the image of the dialogue box shows a section for "import transcript/closed caption" and an option to "Link existing video file to transcript"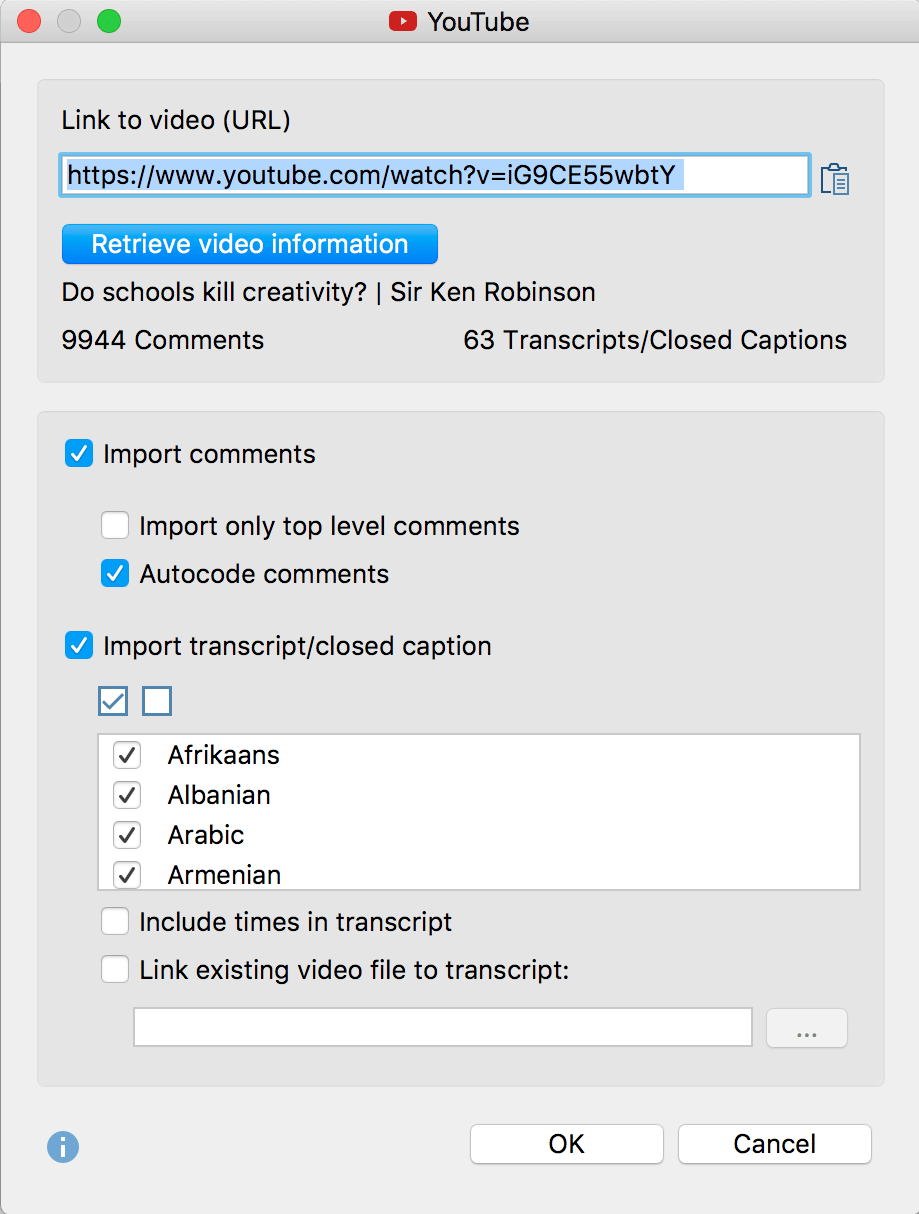 However, when I clicked on import YouTube Data for my chosen video, those options are not visible, and I could therefore not upload the transcript or timestamps or link the video file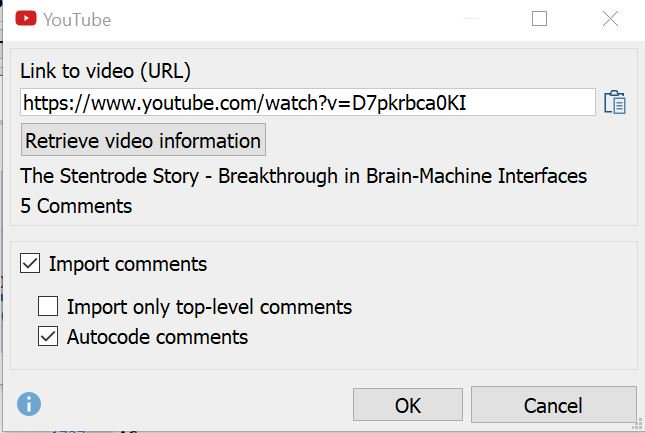 Workaround
1. In the YouTube browser screen, open up the automated transcript by clicking on the "..." icon under the viewing pane, and select "Open Transcript".
2. In the transcript panel select the first few characters, scroll to the bottom, and shift-click at the end to select the entire transcript.
Note: if the timestamps are not visible, click the "..." icon and select "Toggle Timestamps"
3. Open Microsoft Excel or other spreadsheet
4. Select the first column, and format as text (if you don't do this, it may interpret the timestamps and complicate the next step).
5. Paste the transcription into the first column
6. you may see something like the following, with text and the timestamps in subsequent rows.
[Music]
00:14
we are very pleased to present you with
00:17
an inspiring locally made story about
00:19
the development of an advanced in brain
00:21
7. If you import this, MAXQDA will not recognize the timestamps, so these need to be formatted
I used the following equation in column 2:
=IF(ISNUMBER(VALUE(LEFT(A3,1))),"#00:"&A1&"#",A1)
What this does is look at the cell in col 1, evaluates if the value of the first character is numeric, and if it is, adds a hash and a 0 to the timestamp, and adds a hash to the end. If it isn't numeric, we assume it it the transcription text, and just copies that.
8. Select col 2
9. Open a word document (or any word processing app, and past the column as plain text. Save
10. In MAXQDA, click on Import, Transcripts with Timestamps, and select the saved word document.
11. When the dialogue box prompts you, select if you have the youtube media file, and browse to the file.
12. MAXQDA will import the transcript and linked media file.
Hope this helps
Version: MAXQDA 2018
System: Windows 10