Hi,
I often use subcode statistics. Now I create tables for each respondent group separately, and all groups together. But then the numbers in the tables don't match, and I can't explain why.
I try to explain what I mean:
First, I create this overview (Theme: Relations, all groups together):

Number of documents is the same as number of respondents. Each document refers to one person.
So I see in this table that 40 persons said 'partnerrelatie,....' and 7 persons said 'relaties NOS'.
Then I do the same, but only for one group of respondents (ASS):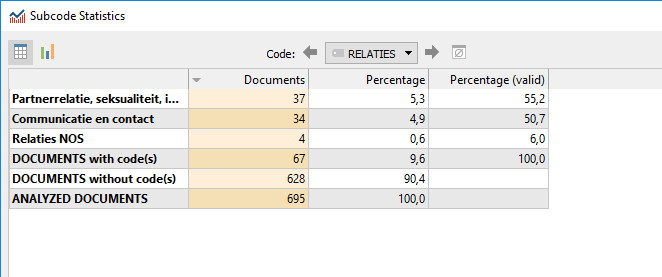 For the second group of respondents (ouders):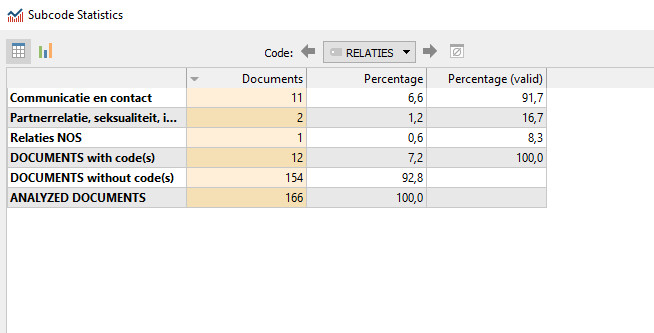 And for the third group of respondents (wettelijk vertegenwoordigers):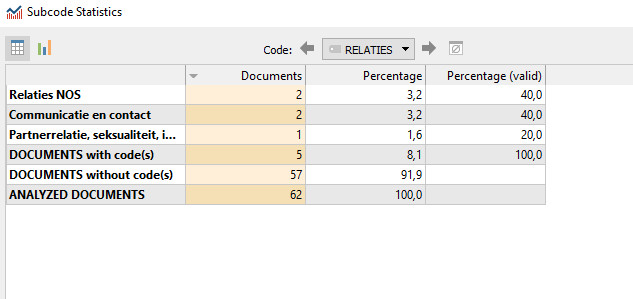 I only look at the column 'documents'.
If I put the results of the 3 groups in a table, I get this:

As you can see in red, these numbers are not the same as in the first picture (overview).
I can not explain the difference.
What is happening here?
Version: MAXQDA 2018
System: Windows 10