[follow-up of https://www.maxqda.com/en/support/forum/viewtopic.php?f=11&t=1295 ]
Andreas:
I figured out the fastest way to aggregate frequencies:
1) Collapse the parent code
2) Doubleclick on it
3) Click on an entry and press CTRL+A on your keyboard
4) Autocode the results with a new code
Then you can right-click on this new code to transform the frequencies into document variables.
--
Response:
I tried this. See this image: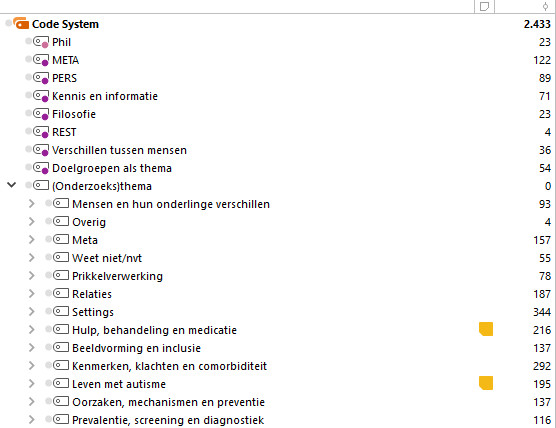 What I don't understand, is why there is a difference in the frequencies between the 'old' code (=collapsed subcodes) and the new code. For instance, after collapsing, the parent code ' Meta' has 157 occurences.
After following your instructions, and recoding these segments with the new code 'META' (purple), this has only 122 occurences instead of 157.
I don't understand where this differences comes from, since I selected all 157 segments and assigned the new code to them.
Version: MAXQDA 2018
System: Windows 10