MAXApp for iOS is the perfect MAXQDA companion for your tablet and smartphone!
Perfect for field work, the app allows you to take notes, take or import photos and videos, and record audio. All of your data can be effortlessly coded and structured in MAXApp and then imported to MAXQDA via Dropbox or iTunes.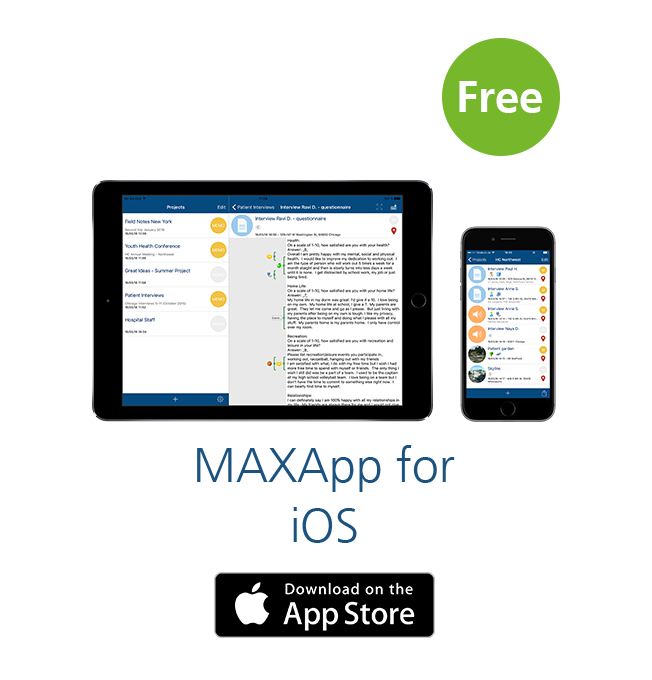 Table of Contents
1. Create a MAXApp project
As a first step, you need to create a MAXApp project. For doing that, just click + and enter a name for your project.
Now you can find your project in the project list. Click on the new project to open it and start importing or editing your data.
2. Create or import data
After creating and opening a project you can add your data.
With MAXApp you can work with four different types of data and documents: Text documents, pictures (taken with camera or imported from gallery), videos (recorded or imported from gallery) and audio (recorded).
Create or import your data by selecting one of the presented options.
For example, click Text Document to create a document you can write in. Enter a name for your document in the box that pops up. After naming it the document opens automatically and you can type or insert text.
All of your created and imported data is now listed in the Document System and you can easily switch between your documents.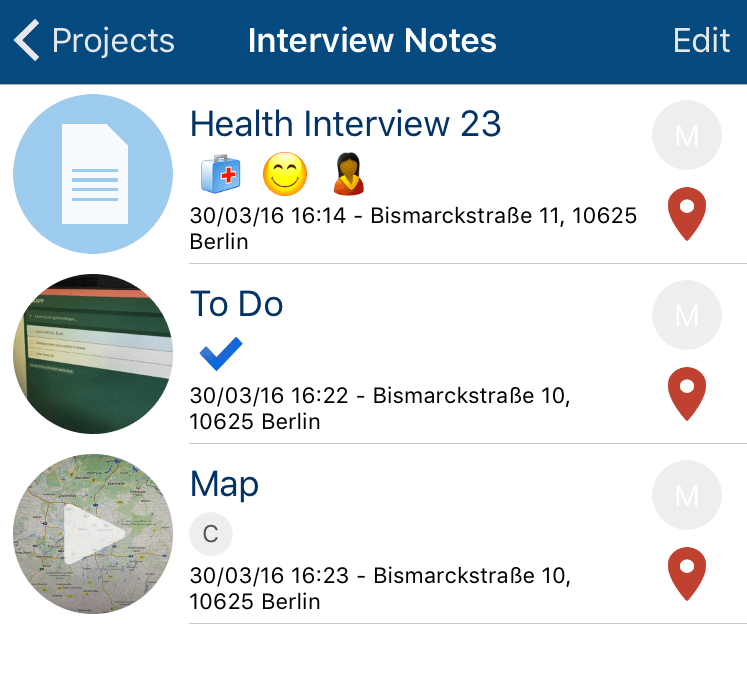 3. Code your data
Just as in MAXQDA, one of the main functions of MAXApp is helping you "code" your data, that is, to assign a textcode or emoticode to a particular part of a document or the document itself.
You can code text segments within your texts, while pictures, videos and audios can only be coded as a whole.
Coding text segments with text codes
Open a text document you want to code. Double-click on a word of your text or select the segment you want to code and tap on "Text Code". You will be redirected to the list of text codes of your project.
Enter the name of your text code into the field Create new text code and assign it to the selected text segment by clicking on + Create new text code.
Every code you created is saved in the code list in your project. Whenever you want to code a segment with a text code you've already created, just mark the segment you want to code and choose Text Code as usual. The code list appears and you can assign the existing code to the segment you have chosen by clicking on it.
Code text segments with emoticodes
If you want to assign an emoticode to a text segment just mark a segment in your text document and click emoticode.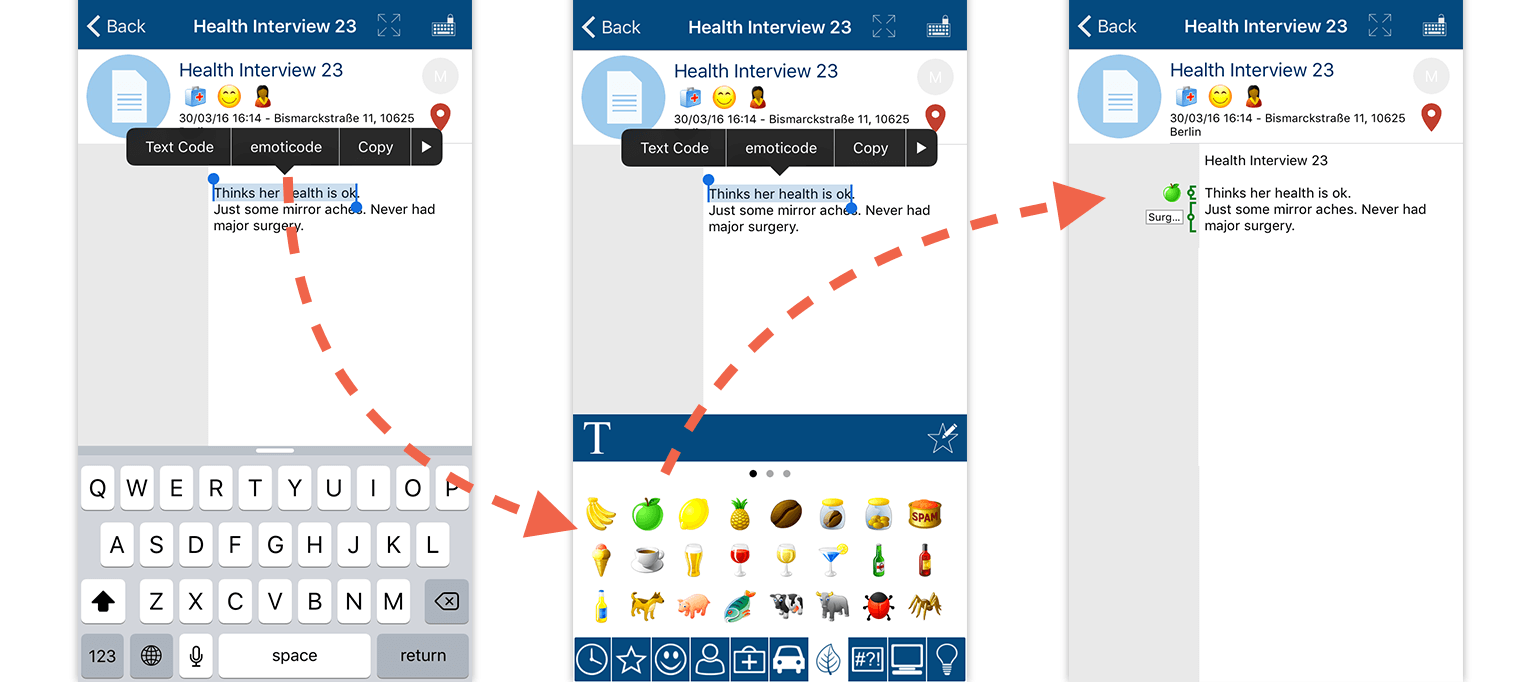 The emoticode browser appears. Just choose from one of the various icons by clicking through the different tabs. After coding other text segments the same way, our text document looks like this:
Tip: You can easily switch between your emoticode and text code browsers by clicking the respective icon.
Coding the whole document
Every type of document can be coded as a whole with a text code or emoticode. You can use emoticodes or text codes to code the whole document. The codes are displayed underneath the document's name. The advantage: All codes can also be viewed in the document browser.
To code a whole document click the C icon beneath the name of your document.
You will be redirected to the code list. Now you can choose between text codes and emoticodes and code the whole document the same way as it is explained above for text segments.
4. Manage your codes
Delete codes from whole document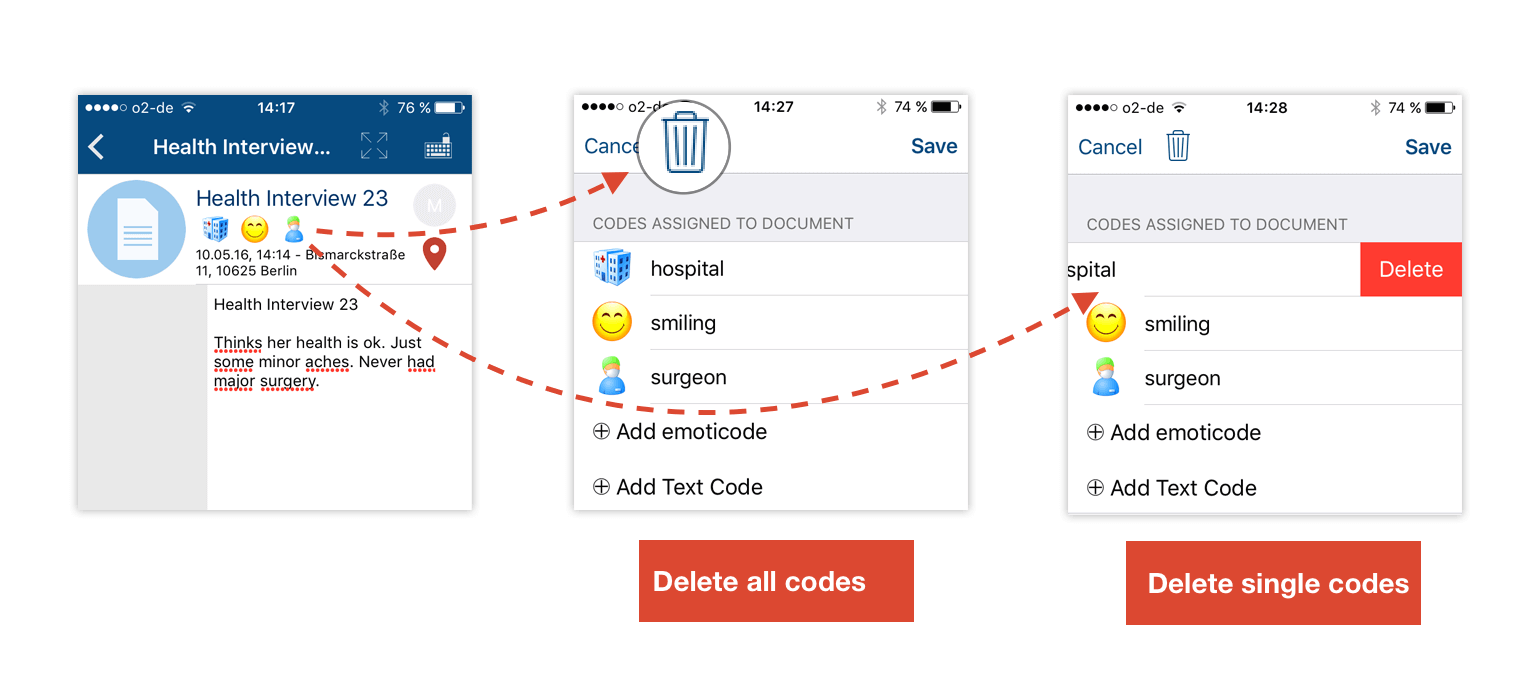 If you want to delete codes from the whole document click on one of the codes beneath the document name.
The code list appears. You can either delete all the codes by clicking on the trash icon on the top of the document or delete single codes by swiping the selected code to the left until the delete button appears.
Deleting codes from text documents
If you want to delete a code from your document you need to click on the code icon next to the text. The text segment or word which belongs to this code is shown. Select Remove Code to delete the coded segment.
Adding your most used codes to your favorites
As in most qualitative research processes, you will use some codes more often than others. You can save time if you use the option to mark your favorite codes and collect them in one single folder.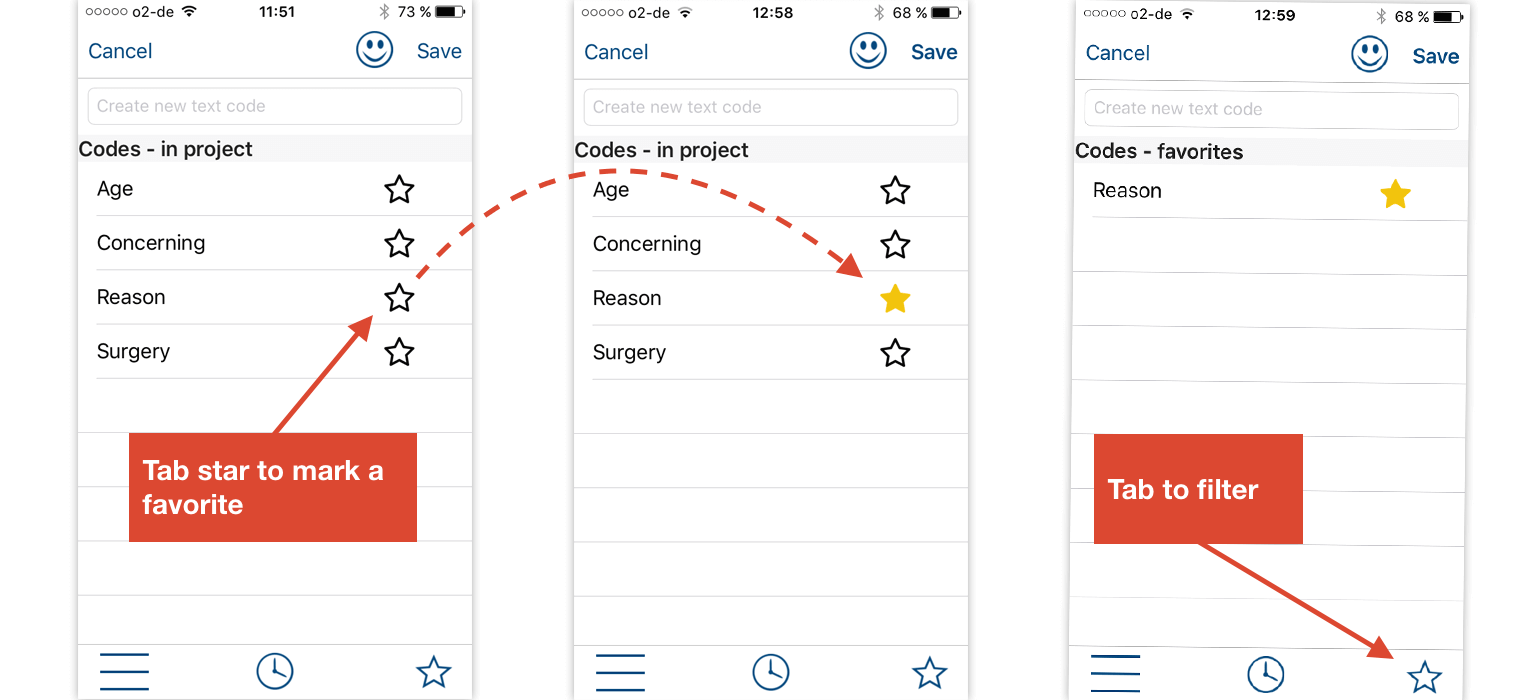 For marking Text codes as your favorites just click on the star icon next to the codes in your code list.
The code is now marked as one of your favorites. Now, if you click on the star icon on the bottom right corner, you switch to the folder where only your favorite text codes are listed.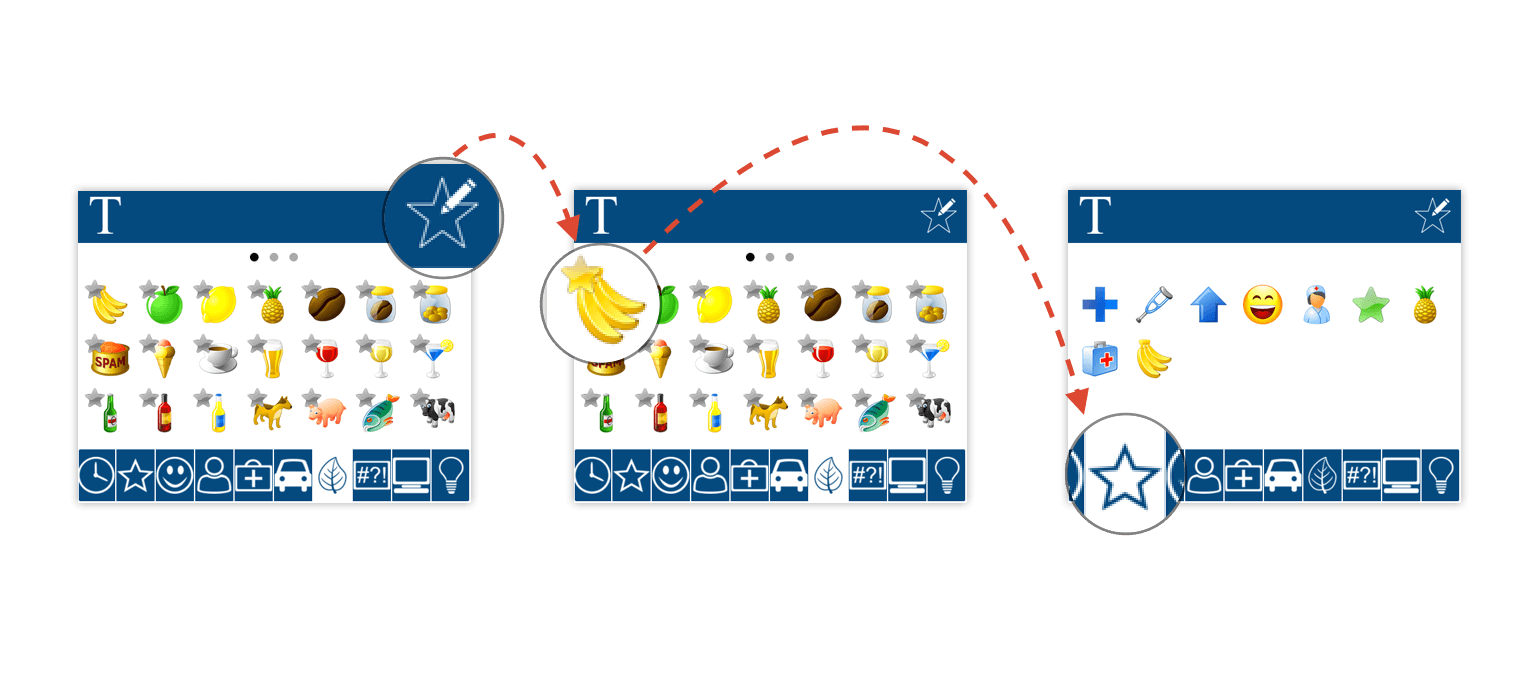 If you want to mark emoticodes as your favorite codes, just open the emoticode browser and click on the edit star icon.
Now every icon is marked with a little star, meaning that you can choose the emoticodes you want to add to your favorites folder by clicking on them.
The codes you chose are automatically saved as a favorite. You can reach the folder by clicking on the tab marked with a star.
5. Manage memos
How to create memos in MAXApp
Important information, suggestions, and ideas concerning your MAXApp projects or documents can be written down in a memo. Click the memo icon in your project or document list to add or edit a memo.

Enter or edit the text and then save by clicking Done.
The memo icon changes its color into yellow to indicate an existing memo. Click on it to view the content.
Delete memos
To delete a memo open it and click on the trash icon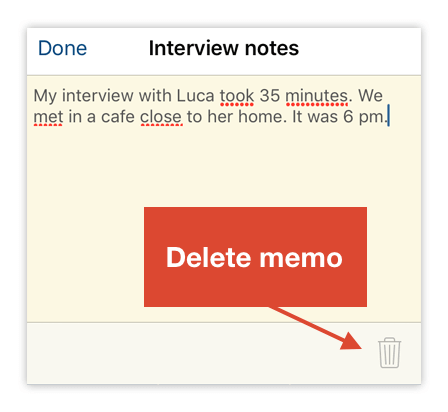 6. Add locations
Add geolinks automatically
MAXApp connects your documents automatically with the location where they were created, unless you haven't deactivated this function in the App settings of your device. The icon's color is red when a location is defined. Additionally the address is shown beneath the document's title.
Adding geolinks manually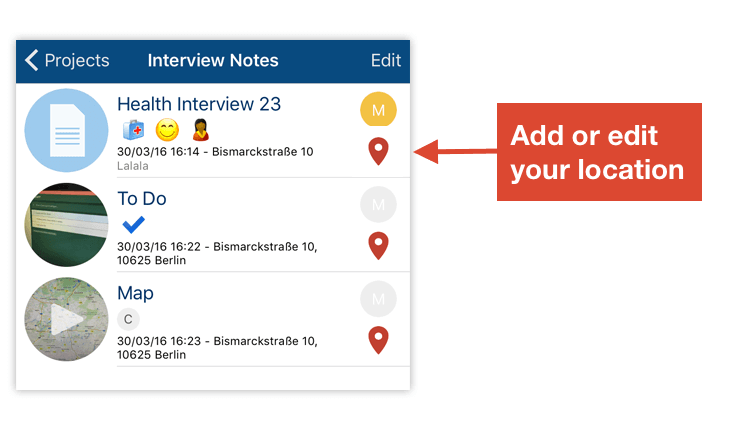 After clicking the map icon, you will view your current location on the map (if no location was defined). Here you can edit or delete the location.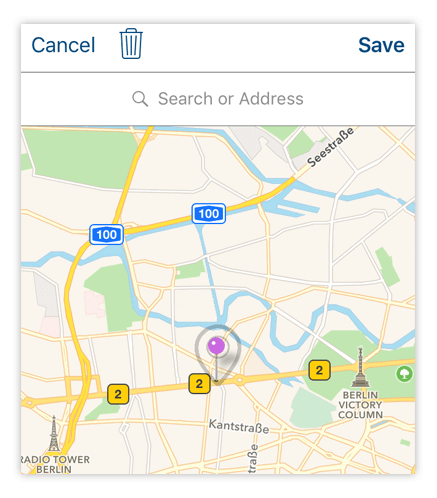 If you want to change the location, just move the needle on the map to the right location. For doing so just click on it and hold your finger down while you are moving the needle to the right location. You can zoom in or out the map if you need a more detailed view. After you have chosen a new location, click Save to link the document to this location. The new location will be shown beneath the document`s name in the list of your documents.
If you want to delete a location, click on the trash icon.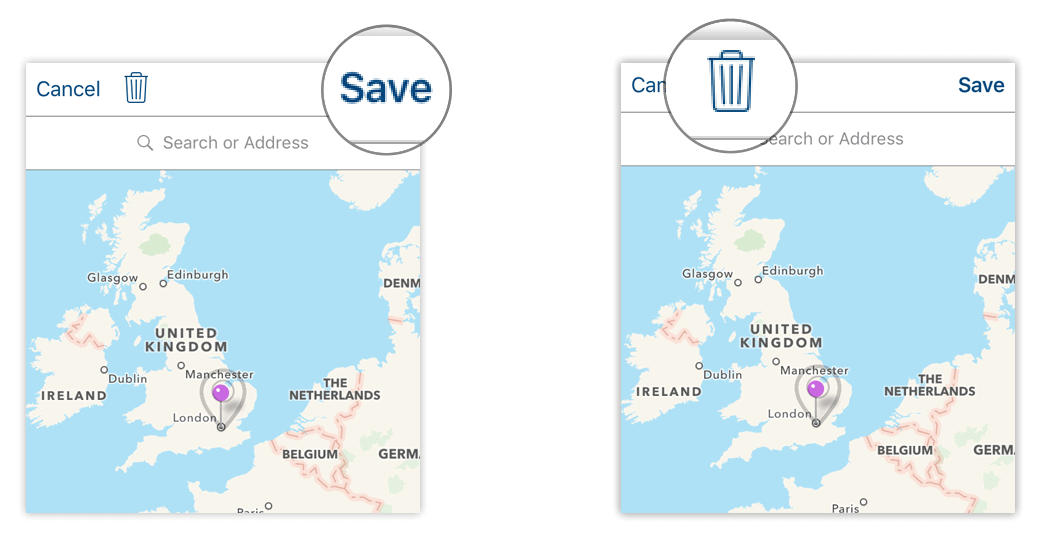 7. Settings and saving options
Open the MAXApp settings by clicking the settings icon in the project list view.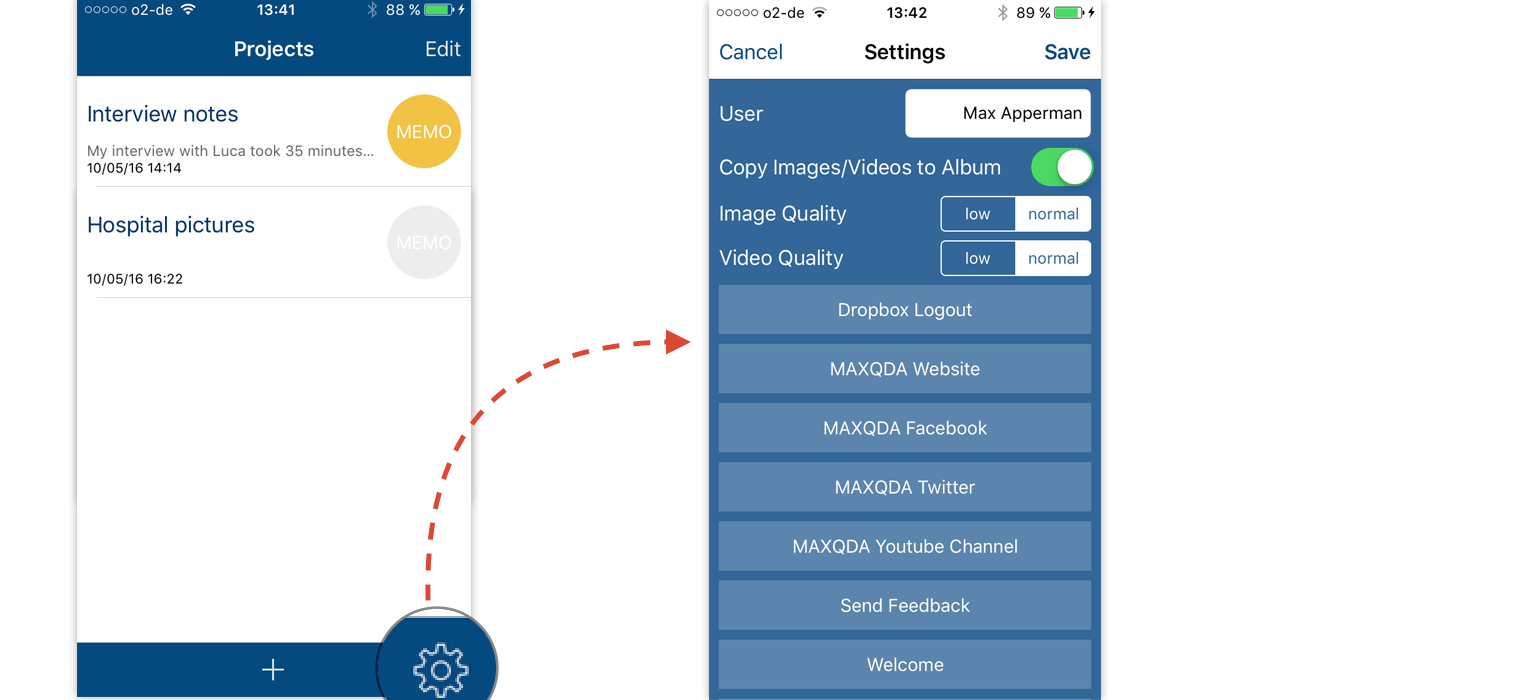 Here you can edit your user name, choose if your pictures and videos should be saved in your library, and determine the quality of your video and audio recordings.
8. Export your MAXApp projects to MAXQDA
Export to Dropbox
You can export your MAXApp projects to MAXQDA via Dropbox or iTunes.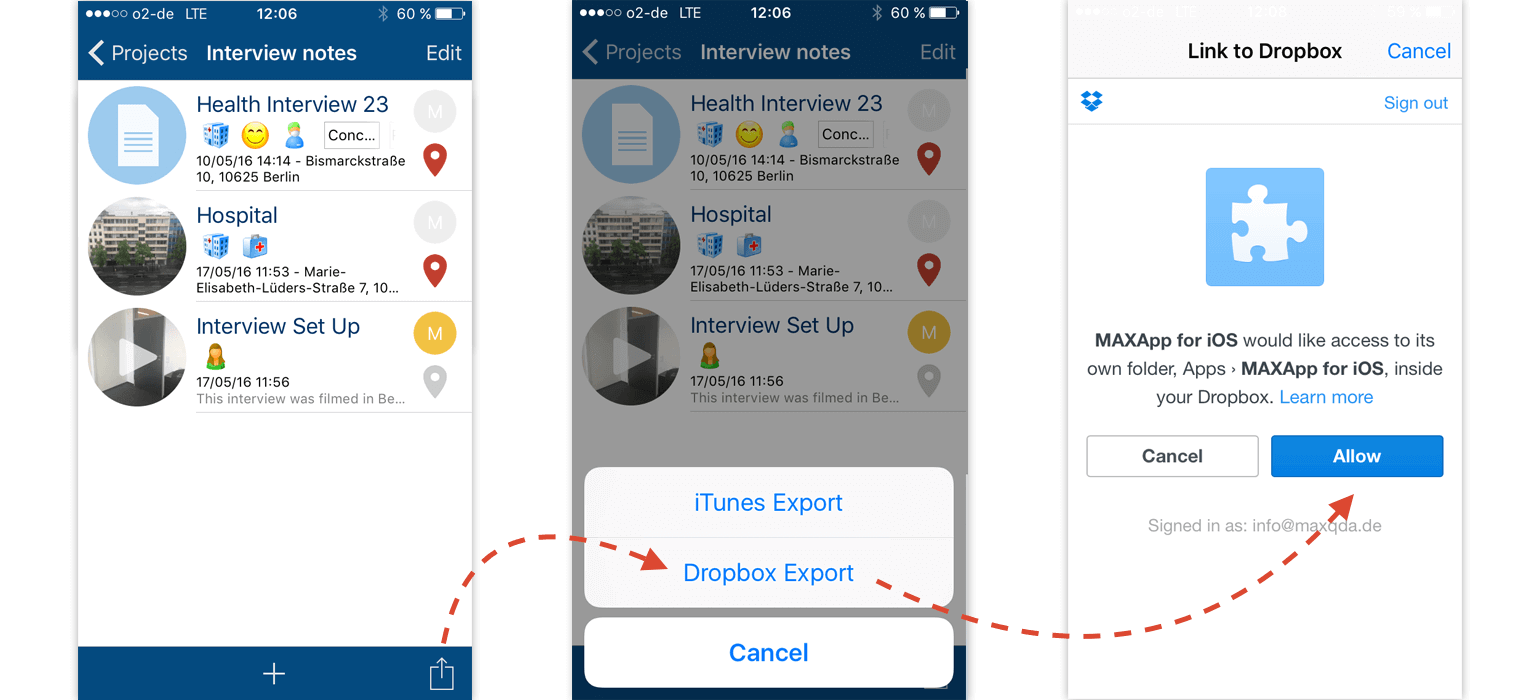 For example, if you want to export your project to dropbox, just open a project, click the sharing icon and Dropbox export.Now you need to allow Dropbox to export your projects.
Your project will be saved to this location: Dropbox/Apps/MAXApp for iOS/(name of the project).
Exporting to iTunes
In case you don't want to save your data in a cloud or you just don't use dropbox, you also have the possibility to export your project to iTunes.
For doing that make sure your device is connected to your computer via USB cabel and choose iTunes export instead of Dropbox export.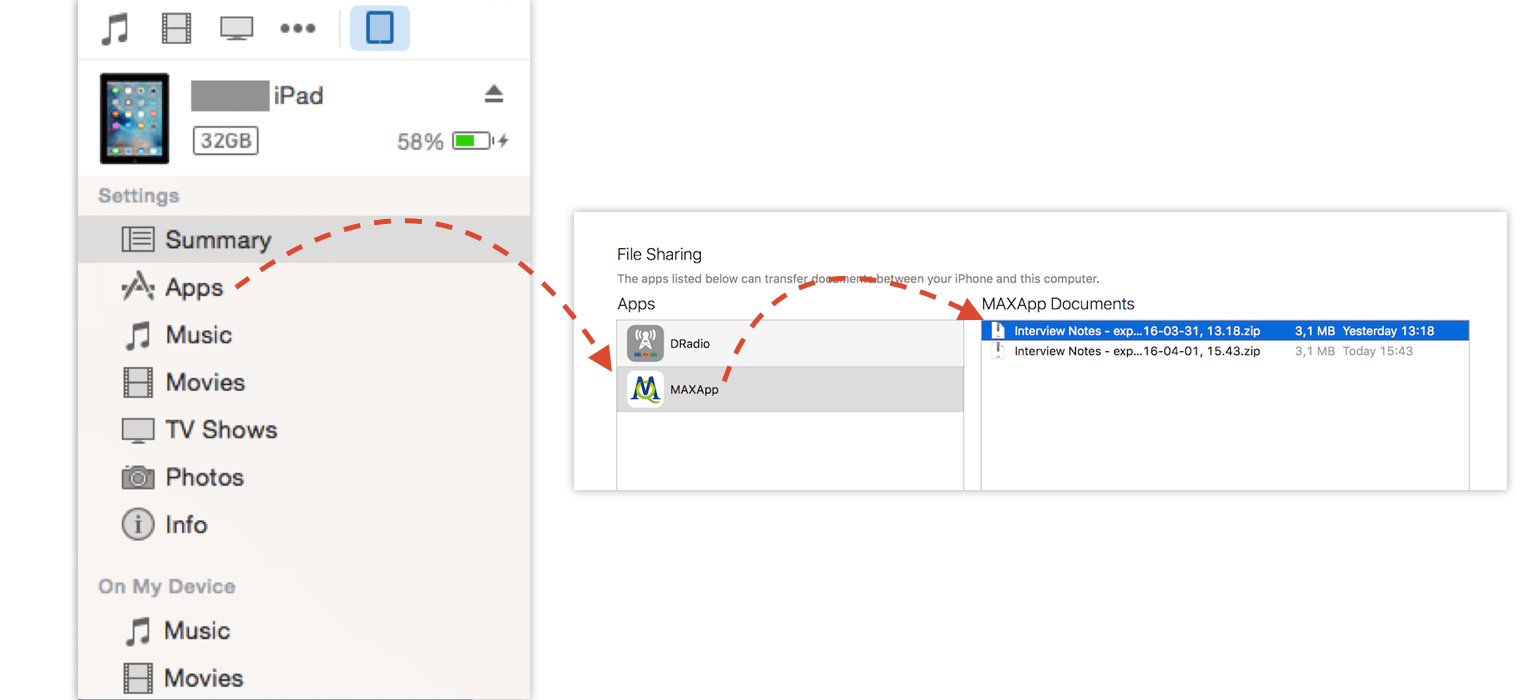 Synchronize your device and click on Apps in the left navigation.
Now scroll down to File Sharing and choose the Documents you want to import from the list. You can easily drag the files on your desktop.
Importing into MAXQDA
After exporting your project from MAXApp you can import your saved data from Dropbox (or iTunes) to MAXQDA.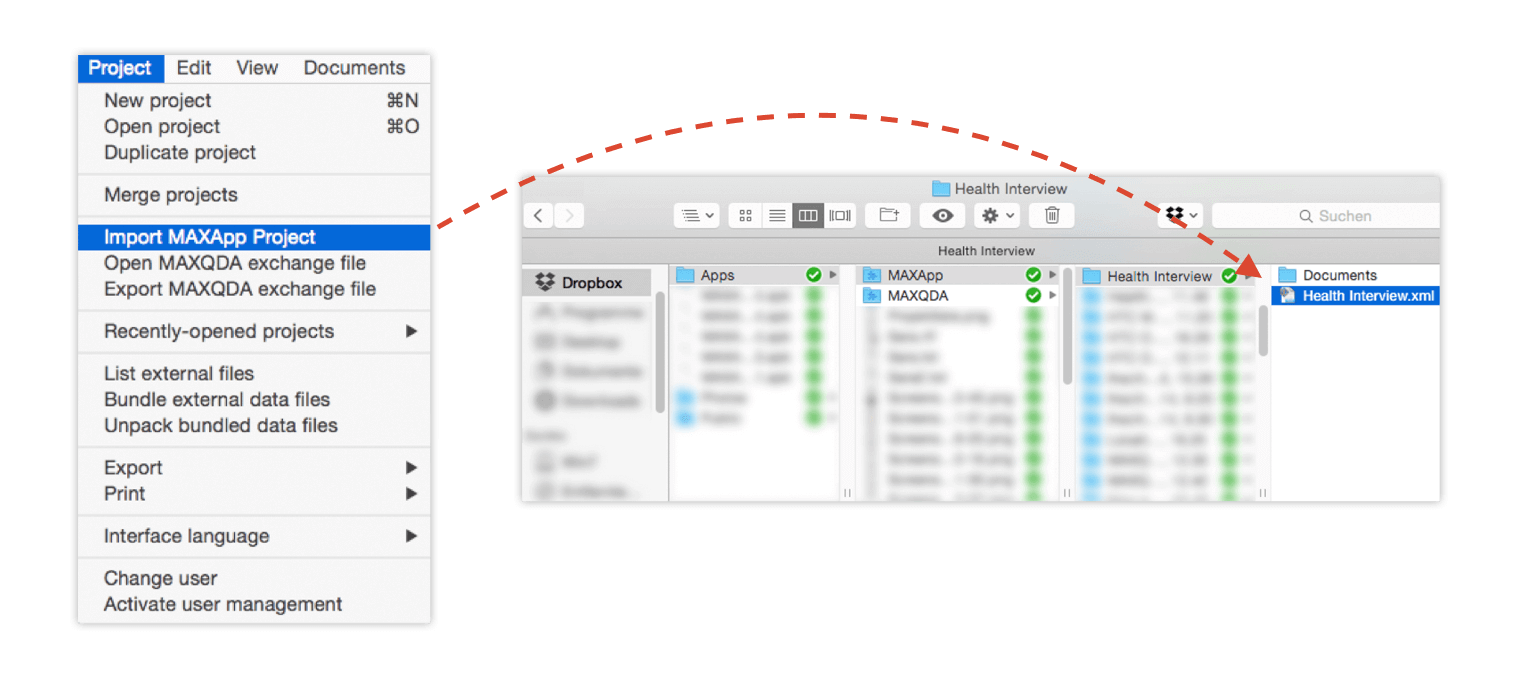 To do so, open MAXQDA and choose the option Import MAXApp Project. In the folder of your MAXApp project you will find an .xml-file. Choose this file so that all documents with the corresponding codes, memos, and locations are imported into MAXQDA.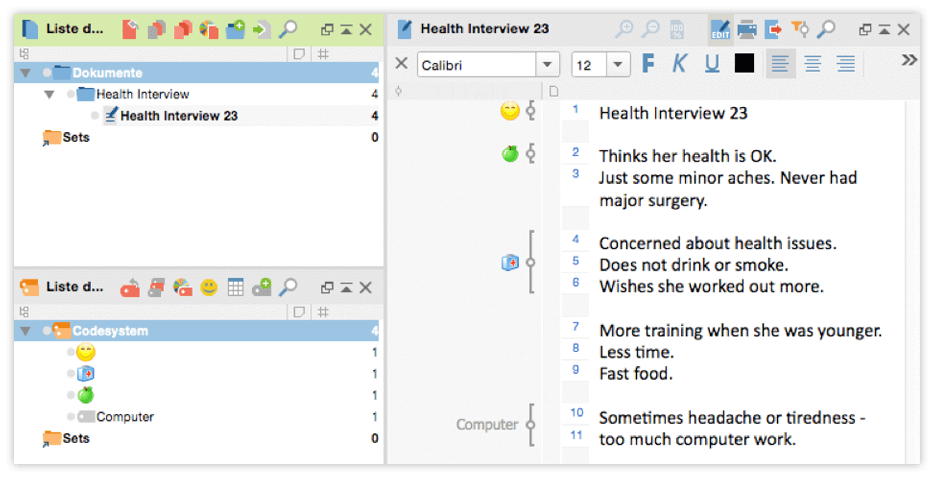 Your MAXApp documents and codes can now be viewed and further analyzed in MAXQDA.
Downloading data from Dropbox website
If you haven't installed Dropbox on your computer, you can log-in online and download the file with all of your MAXApp data from the web interface.
For doing that just choose Apps/MAXApp/[Name of the Project] in your Dropbox Folder and continue the same way presented above.