❄︎ Seasons Greetings from MAXQDA ❄︎
MAXQDA Winter Surprise: Free textbook with every purchase
A very successful year 2016 is coming to an end. We are happy to celebrate the holiday season by giving out free textbooks with every MAXQDA license purchase*. Thank you for being a part of the MAXQDA community. We wish you and your loved ones a happy holiday and a prosperous new year.
Start into the new year with new software and the perfect method textbook to go along with it. "Qualitative Text Analysis. A Guide to Methods, Practice & Using Software" by Udo Kuckartz provides an in-depth introduction to qualitative text analysis. What makes it especially great for MAXQDA users is that it connects the methodological background with step-by-step examples on how to implement different steps of your research in MAXQDA. It has never been easier to add this valuable knowledge to your book shelf.
❄︎ How to add the free textbook to your purchase ❄︎
Select a license from the MAXQDA onlineshop and put it into the shopping cart (If you are a student, you will receive a link to your shopping cart after a successful verification of your student status)
Click the + Button next to the free textbook offer to add the textbook to your order
Finish your order. Your textbook will be sent to your delivery address.
❄︎ About the book ❄︎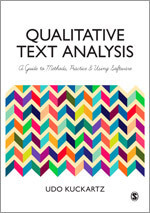 Kuckartz, Udo: Qualitative Text Analysis. A Guide to Methods, Practise and Using Software. Sage Publications, London, 2014.
Qualitative text analysis is ideal for different types of data and this textbook provides a hands-on introduction to the method and its theoretical underpinnings. It shows in detail how to use software, from transcribing the verbal data to presenting and visualizing the results. (MRP $48.00)
*Offer available while supplies last. Only one textbook available per person and purchase.